Our Year in Industry (YII) students' time with us is coming to an end soon, and as their first blog posts were so popular, we thought we'd catch up with them all again with a Q&A session. We wanted to find out what they've been working on, what they've learned through their placement on one or more sites, and what they're looking forward to as they prepare to enter their final year of university.
We start with Hollie Parkes – who is studying for a Bachelor of Science degree in Civil Engineering at Nottingham Trent University – and you can read about her earlier YII experiences here. While many of the females on her course chose to pursue office-based design roles, Hollie was keen to get closer to the action on-site. Having worked on key developments including the SEGRO Logistics Park East Midlands Gateway (SLPEMG) spur road and the Prologis Logistics Operations Centre (LOC) in Solihull, she's been right in the thick of it. We caught up with her to find out more about the activities she's undertaken and her responsibilities as a Trainee Site Engineer.
What responsibilities have you had in the last six months?
Some of my key responsibilities on the SLPEMG spur road were based around setting out of both foul and storm drainage, services, kerbs and road surfacing. It was crucial that I maintained accurate as-builts (which are a record of the work we've actually constructed) throughout this project, so they could be referred to and relied upon when necessary.
I also had involvement in other jobs on this project, including setting out for fencing and landscaping. I created the Operations & Maintenance file for SLPEMG Infrastructure, set weekly targets for groundworkers and update daily progress records. On the Prologis LOC, I have been overseeing the construction of foundations, organising and carrying out daily briefings for groundworkers, and managing concrete reconciliation for foundations.
In comparison to the first six month period of my placement, I have become a lot more confident with my work and have been given more and more responsibility on day-to-day tasks. Twelve months ago I was supervised with almost every piece of setting out work I was doing, so it's great to see my own progression. I am now largely unsupervised daily apart from the odd check-up – which illustrates my progression and Winvic's trust in my abilities.
Give an example of a challenge you helped to solve?
Working on-site can present challenges every day, and every day you must be ready to find a solution. That is the part of the job I love the most: applying the knowledge to real-life situations and helping to create practical and workable solutions. It's important to keep things simple, particularly when there are multiple workers on-site, sometimes from multiple suppliers.
One of the main jobs I have been undertaking whilst at Prologis LOC has been overseeing the construction of 600+ foundations. There are 35 foundation types on site, all of which have different depths, top of concrete level, types of mesh and bolt type required. As we were digging and pouring various foundations each day, it became challenging to remember the requirements for each foundation type. Therefore, the solution I came up with was to spray the ground with all the information for each foundation as I was setting them out, to make it easier and faster for us to know what was required. This also meant the sub-contractors were more organised and efficient, as they were able to prepare every base without having to ask.
What's the most interesting element you have worked on?
The spur road which we completed at SLPEMG was definitely the most interesting, as I was able to experience the construction of the road from start to finish. As I was the primary 'setting out' engineer for the road, I was involved with every feature of construction, including drainage, soil testing, services, kerbing and surfacing. The road being constructed was to provide access to a new industrial warehouse that was completed in January 2020; we had a tight program to stick to in order to finish on time. I found this project particularly interesting as I had the opportunity to sit in progress meetings and adjust the programme accordingly, as well as sit with a Quantity Surveyor every two weeks and understand the values associated with the road and the wider commercial side of things.
With 10 months site experience, what is your focus for the next two months?
Over the next two months, I am hoping to cram in as much learning as I possibly can before I return to university. My aim is to get involved with activities that I have not necessarily come across before, including the setting out for the siphonic drainage, the yard slab, the internal floor slab and slot drains – all on the Prologis LOC site.
How has it felt to socially distance at work?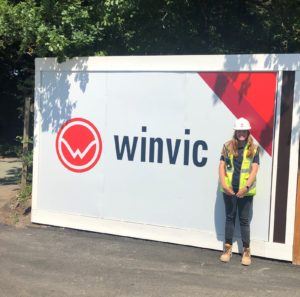 It has been very strange as we are so used to being able to work within 2m of people. However, over time, we have been able to successfully adapt our work to incorporate social distancing on-site for every day-to-day activity. Winvic has implemented Site Operating Procedures which provide information on how sites must operate in order to keep people safe during these times. The site now has various signage throughout, which reminds people to social distance and wash their hands while out on-site, and there is a limit to the amount of people allowed in each office and canteen. Hand sanitising pumps have been located on the entry/exits to offices and hand washing stations have been located around site so it's very easy for everyone to wash or santise their hands.
We have also been provided with new high visibility PPE which feature the guidelines to follow – 'Keep 2 Metre Distance, Wash Your Hands' – as well as 'Please keep your distance' helmet stickers. In addition, external Winvic staff and visitors are only permitted to visit site if it's essential, in order to avoid overcrowding. It has been good to see how quickly Winvic has reacted to these changes. The numerous approaches the company has implemented make it really easy for us to follow the guidelines.
After work experience, what are you looking forward to in your final year of university?
Although I will miss working with Winvic, it will be nice to go back to university life and see all my friends. I am looking forward to seeing how the other students' placement years have been and what sort of projects they have been involved with, as well as sharing my experiences with them.
My experience with Winvic will help in my final year as I have so much more knowledge on the construction side of engineering, which will be particularly useful with my construction and surveying based modules. I have been able to meet a wide variety of knowledgeable and experienced people at Winvic and so many have said they will be happy to provide me with their opinions when writing I'm my dissertation. I feel very lucky to have been able to work at Winvic and I recommend that anyone studying a construction industry related degree should apply for a placement here.
Hollie Parkes, Trainee Site Engineer
Please get in touch with Rebecca Schwarz on rebeccaschwarz@winvic.co.uk for more information on our year in industry placements.