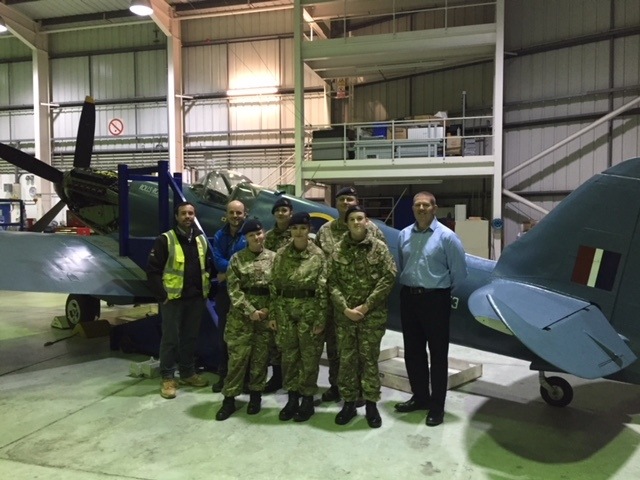 On Thursday 18th October cadets from Castle Donington Army Cadet Force were invited to take a look around an aircraft hangar that currently houses a 1944 mark 19 Spitfire which Rolls Royce are currently refurbishing. Also invited to the event were Winvic's Project Manager Mark Allan and Site Manager Tim Crocker who are currently managing the construction a of a new hangar for client Stoford Developments at East Midlands Airport known as Project Mitchell, which the iconic Spitfire will soon relocate to.
At the event, Rolls Royce's Chief Engineer Mark Crosby gave an insight into the history of the 1944 Spitfire from how the concept began to its development through the Second World War along with other aircrafts with Rolls Royce engines. The cadets were also given the opportunity to get up close to the Spitfire which saw service in the Second World War and if this wasn't enough everyone was given the chance to sit in its cockpit.
Mark Allan reported the event as a "fantastic evening and highly interesting opportunity for all, were Mark Crosby and his team were incredible"
Project Mitchell will not only be the new home of the 1944 mark 19 Spitfire it will also be a STEM training facility where Mark Crosby and his team will be able to keep the history and heritage alive for many years to come.