We think our track record speaks for itself, but let's talk about the awards we win year after year. They recognise our commitment to clients, celebrate the determination and dedication to our teams and endorse the excellent project outcomes that we achieve.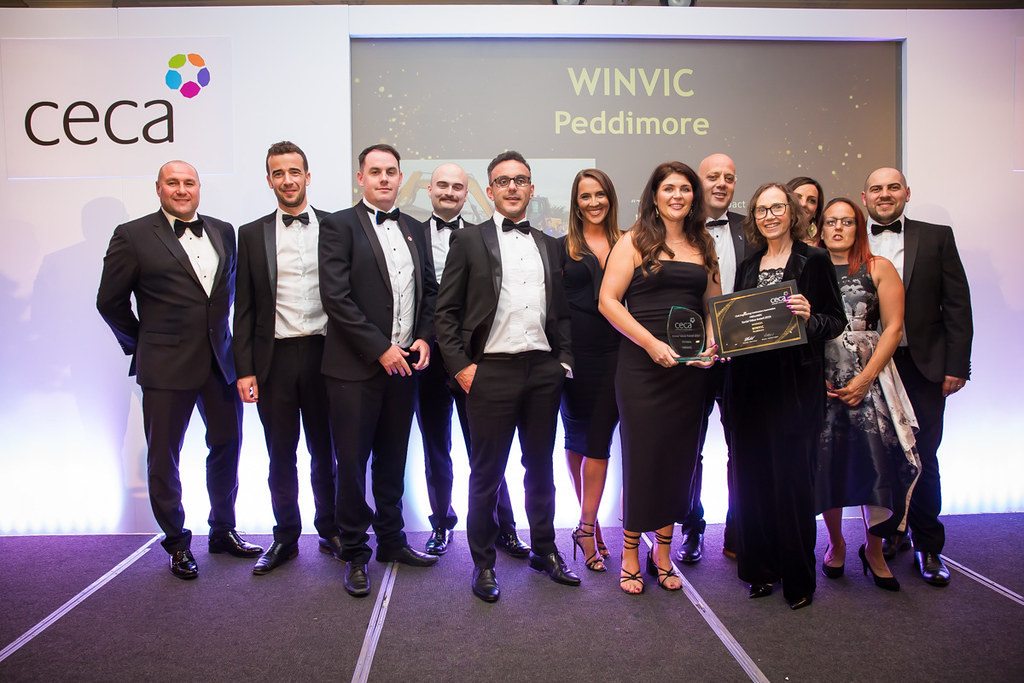 ACCREDITATIONS & AWARDS
We think our track record speaks for itself, but let's talk about the awards we win year after year. They recognise our commitment to clients, celebrate the determination and dedication to our teams and endorse the excellent project outcomes that we achieve. We regularly win Considerate Constructors Scheme National Site Awards and other project specific awards for best practice, and we have been awarded the Royal Society for the Prevention of Accidents (RoSPA) President's Award for achieving eleven consecutive golds.
With health and safety high on our agenda we are not only strong supporters of the RoSPA Occupational Health and Safety Awards, but we also hold the high level accreditations you would expect from an experienced contractor. For example, ISOs are internationally recognised standards that are a guarantee of our exemplary processes, products and services across areas of health, safety, the environment and quality, as well as our commitment to optimum cost efficiencies and best value.
Read more about the awards that Winvic has won and the accreditations we hold here.
SUSTAINABILITY AND ESG
We are guided by our 'Doing It Right' ethos and The Winvic Way values whilst delivering construction and civil engineering projects for our clients nationally. As well as protecting the planet for future generations, we want to raise the bar for delivering sustainable buildings and assets for our clients, whilst leaving a lasting positive, social, environmental, and economic legacy.
Our Sustainability Strategy uses the pillars of People, Innovation, Planet and Community to give us a roadmap to work towards our sustainability goals. Since we started measuring and externally certifying our carbon footprint ten years ago, carbon reduction has been a key focus at Winvic. We have successfully achieved year-on-year reductions in our carbon emissions whilst growing our employee numbers and onsite operations. In doing so, we have aligned with seven of the Global Sustainable Development Goals (SDGs).
Our specialist expertise, technologies and forward-thinking approaches to construction puts us in the ideal position to support the Environmental, Social, Governance (ESG) commitments made by our clients. This has led to us working on multiple low carbon and Net Zero projects in construction and operation since 2021, upholding our position as an industry leading principal contractor.
Being a partner in the Considerate Constructors Scheme and an Achilles Carbon Reduce accredited company are just two ways that we adhere to sustainability and social responsibility and codes of practice.
Understand more about Winvic's approach to Sustainability and ESG by clicking here.
HEALTH & SAFETY
Our robust systems and controls are enabling us to maintain an exemplary health and safety record, while our culture of continuous improvement is empowering us to make significant progress towards zero reportable incidents. All of our staff, from directors to gap year students, undergo comprehensive health and safety training, and hold operational qualifications and CSCS cards where required. Strict compliance with statutory regulations is fundamental to every aspect of Winvic's operations; we safeguard the health, safety and welfare of staff, clients, contractors and the neighbourhoods we work in.
Health, safety and welfare isn't just about hard hats, and although it comprises the wellbeing of our workforce, the subcontractors and all visitors to the sites we operate, it is much more. Procedures and processes have been carefully designed to ensure risks are controlled and legal requirements are complied with, from the length of a working day to the way a scheme can impact a community.
As a company, we hold the ISO 45001 occupational health and safety accreditation and are accredited members of the Contractors Health & Safety Assessment Scheme (CHAS).
We:
Have created, implemented, maintained and continually improve on our management system that seeks to eliminate or minimise risk to employees and others exposed to risks
Identify hazards and put in place controls to manage them to reduce workplace accidents and illness
Create the best possible working conditions which engages and motivates staff
Can demonstrate all compliance to staff, clients, suppliers, contractors and communities
Have launched a cultural change programme to further improve behavioural safety
Learn about our modern approach to managing health and safety here.
TECHNOLOGY & INNOVATION
We have placed ourselves at the forefront of technology and innovation because building smarter, faster and in the most cost effective way is in the best interest of our clients. Exploring new technologies, sharing the latest thinking and embracing opportunities is an integrated process at Winvic, meaning successful approaches are applied across the company. Whether it's a process, design or product, we are determined to deliver ever-better results.
For more information about Winvic's dedication to new technologies and innovative solutions, click here.