Winvic double up at premier logistics location
20 Oct 2017, Posted by Project Updates
in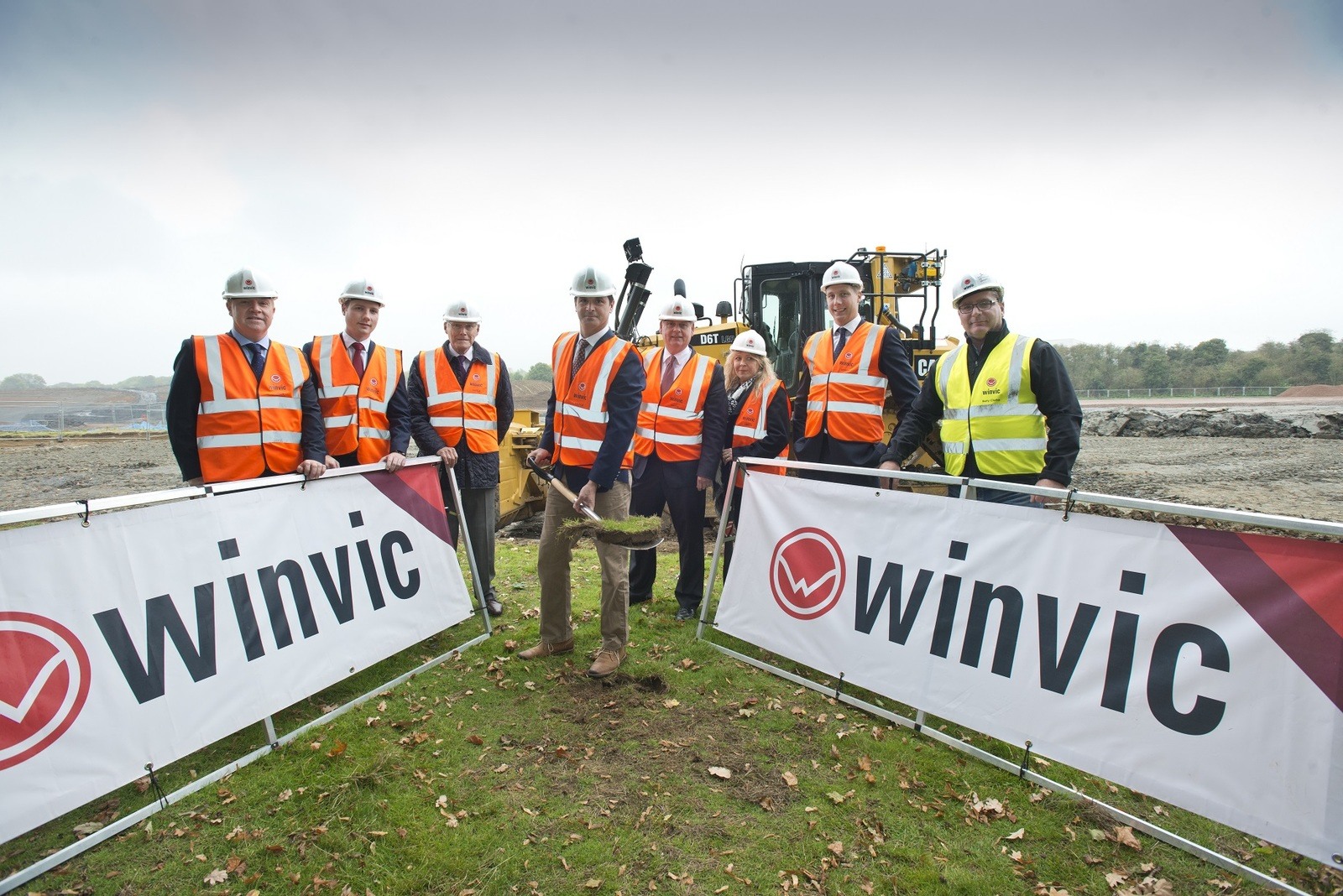 WINVIC will be doubling up with the construction of two new distribution centres on the same site after being contracted to complete the final phase of Brackmills Point in Northampton.
A ground-breaking ceremony has heralded the start of construction work on the speculative build of a 172,000 sq. ft. warehouse adjacent to a new logistics hub for sports retailer Decathlon.
We have been engaged by developer Roxhill to undertake this transformation of farmland on the eastern fringe of Brackmills Industrial Estate in a development which further enhances Northampton's growing reputation as a logistics hotspot in the United Kingdom.
Decathlon will double the size of their distribution operation at Brackmills once they occupy the new facility in the second quarter of 2018, while the development of C172K, the name for the spec build, is now proceeding simultaneously following investment from the United States.
Our Project Manager, Barry Clarke, joined Jed Raymond, Senior Vice President, Asset Management, for Boston-based Cabot Properties, Councillor Jonathan Nunn, leader of Northampton Borough Council, and other stakeholders for the ground-breaking ceremony.
"When we first started on site at plot 1, we were able to proceed with the earthworks for plot 2 which gave us a definite advantage on programme and made the balancing of materials a lot easier to carry out" said Clarke.
He added: "To be able to run the two projects together certainly does have significant benefits in terms of delivering it in the most cost effective and efficient way."
Like Decathlon, Cabot Properties have recognised the considerable potential of being located in what is regarded as the premier logistics location in the United Kingdom.
Cabot Properties is a private equity real estate investment firm which over the past 30 years has invested almost 8 billion dollars in industrial real estate, primarily in the United States and Canada, but also in the United Kingdom.
"We have been investing in the United Kingdom since 2010 and, more recently, that has focused on the very strong logistics market," explained Raymond.
"C172K was identified as an excellent investment opportunity, due to the quality of the facility and the excellent location within the transport network."
Cabot's commitment to this project was welcomed by the leader of the local authority as a further endorsement of Northampton's market status.
"Logistics forms such an important part of Northampton's economy, so Cabot's decision to invest here is a further boost for the area and enhances our reputation as a market-leader in that sector," commented Councillor Nunn.
"This fantastic project will create new jobs and bring more prosperity to help drive forwards our strategic plans for growth in the area."