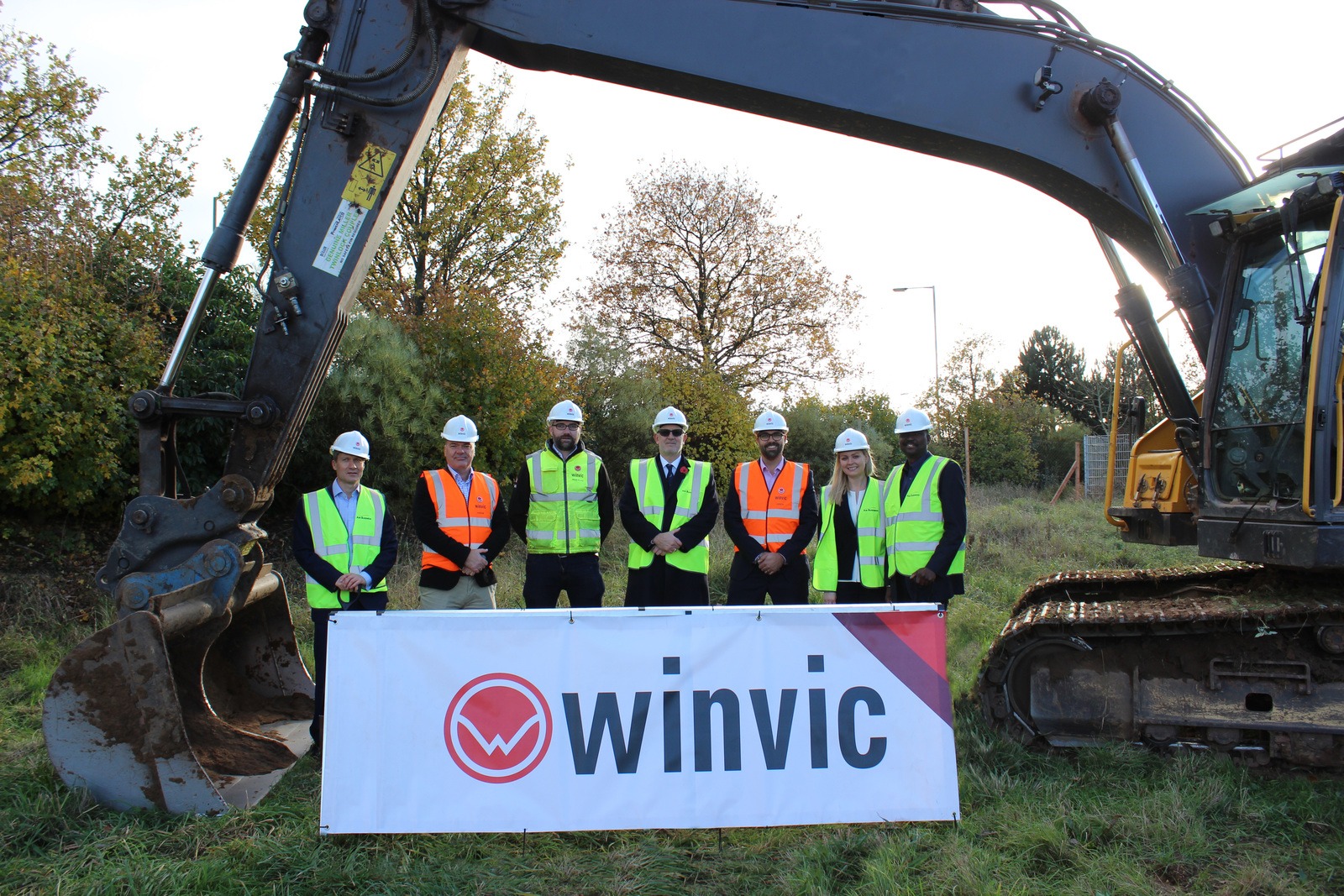 A groundbreaking ceremony has taken place at Hatfield Business Park for a 70,000 square foot industrial scheme. This is the third project Winvic has undertaken for client Arlington on this prestigious 3.5 million sq. ft., mixed-use development set in 400 acres of land.
"Having won yet another contract with Arlington illustrates how Winvic and its team members are seasoned in building client relationships and delivering first class schemes time and again."

Mark Gould, Project Manager
The self-contained landscaped site, which is set for completion in summer 2018, will be the future home of Air Business, a market-leader in global mail, fulfilment, distribution and subscription management. The site will comprise a Headquarters, warehouse, and light production building totalling nearly 70,000 sq. ft. There will also be an associated service yard and car parking for 100 vehicles within the construction and partly fitted out project.
The principles of Life Cycle Design are providing important guidelines for the selection of building materials, of which a significant number will be renewable or recycled. The scheme will incorporate a refrigeration volume air conditioning system with heat recovery, passive ventilation and the installed sanitary ware will create a 40 per cent improvement over the notional potable water consumption benchmark. Landscape and planting design will optimise screening and individual buildings' thermal performance, while shadowing will be avoided and daylight will be maximised.
At the former site of the renowned Hatfield Aerodrome, Winvic previously constructed and fitted out a 231,000 sq. ft. Cross Docked Regional Distribution Facility for Arlington for end-user Arla on a 17.25 acre site. Also a 38,500 sq. ft. distribution centre was delivered for Arlington for end users Toolbank, which boasts a Twin Therm cladding system and solar control double glazed windows.
Mark Gould, Winvic's Project Manager on the development, said: "Having won yet another contract with Arlington illustrates how Winvic and its team members are seasoned in building client relationships and delivering first class schemes time and again. This project will see Air Business relocate its main facility to just five minutes down the road to Hatfield Business Park and I'm looking forward to facilitating that move to the more energy efficient site, on time and on budget, next summer."
John Staker, Construction Director of Arlington, commented: "Working with Winvic again at Hatfield is fantastic news for us and it strengthens our already established relationship with the Northamptonshire based contractor. There is no doubt we will together deliver another best in class scheme, this time for Air Business."
Adam Sherman, Air Business Group Managing Director, added: "Our new head office and warehouse premises will not only accommodate our growth, but it will also be a more energy efficient workplace and help create more effective processing. We are in no doubt that Winvic is the right constructor to deliver the headquarters because of the company's vast experience, impressive track record and solid partnership with Arlington."
Winvic is committed to working in a respectful way on all sites, not only being mindful of its workforce, but also the public and the environment. As such, in the run up to work starting on site Winvic was keen to build a strong relationship with staff in Howe Dell Primary School, which is adjacently located. Considerable engagement has been undertaken and a site visit is currently being discussed for early 2018 to continue the two-way dialogue, which is hoped to bring unique learning opportunities for pupils.
The Considerate Constructors Scheme monitors against a five point code of practice, and Winvic is a nationally recognised member. In 2017 it has so far received special recognition and won three awards, something Winvic is striving to achieve with projects in 2018.
ENDS
About Hatfield Business Park
It is the former site of the renowned Hatfield Aerodrome, which was home to de Havilland, Hawker Siddley and later British Aerospace (BAE). These companies were responsible for many aviation breakthroughs, including the Comet, the world's first commercial jetliner, halving travel times from London to New York.
Over 75 years since its establishment as the heart of commerce and industry in Hatfield, the new Business Park is still home to an impressive array of businesses. It has grown into one of the UK's most established and successful mixed-use business arenas.
For more information about Hatfield Business Park, please visit www.hatfieldbusinesspark.co.uk.
About Winvic
Winvic Construction Ltd is a multidisciplinary main contractor that excels in the delivery of construction projects on a national scale. Formed in 2001, privately owned and this year will turn over in excess of £500 million for a growing list of blue chip clients.
Widely known as the UK's leading 'shed' specialist, delivering millions of square feet every year for the industrial and distribution sectors. However, the business has grown and diversified significantly over the years, with design and build, fit-out and civil works expertise benefiting projects across:
Fit-out – standalone and as part of a base build, including installing high value storage, complex MHE, and mechanical and electrical services
Earthworks, remediation, infrastructure and civil engineering
Multi-room student and residential accommodation
Education, retail and leisure
Current projects include the prestigious Rushden Lakes retail and leisure scheme, one of the UK's largest out of town schemes of its kind, nationally significant infrastructure developments such as East Midlands Gateway and several high-profile, multi-room commercial projects following strong growth in the student accommodation and private rented sectors.
Contact Details
For PR/media enquiries please contact Heidi Salmons on 01604 678960 or heidisalmons@winvic.co.uk.