As part of an ongoing partnership with the Institution of Civil Engineers (ICE), which has this year seen the launch of Winvic's new ICE accredited training scheme for graduates and a visit from ICE President Andrew Wyllie to the Nationally Significant Infrastructure Project (NSIP) SEGRO Logistics Park East Midlands Gateway (SLPEMG), Winvic Construction Ltd was delighted to team up with Collins Earthworks to support and sponsor ICE's Bridge to Schools programme.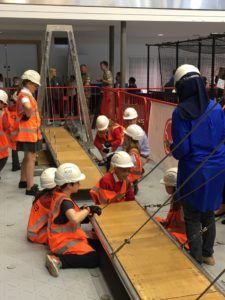 Winvic and Collins Earthworks ensure safe storage and transportation of the bridge during its travels across the East Midlands, providing school children with the opportunity to build a bridge first-hand using a 12m model cable-stayed bridge. The purpose of the initiative is to encourage young people into the field of engineering which is facing an ageing workforce and skills shortage. By engaging with children, ICE Bridge to Schools showcases the promising career paths in civil engineering and breaks down the stigma of the construction industry, by not only encouraging men, but women into the sector. This is something which is close to Winvic's heart as a Partner of the Considerate Constructors Scheme.
During the tour, the ICE Bridge visited the annual Big Bang Fair East Midlands, where young people across the region came to engage with all things STEM. The fair provides hands-on activities, as well as inspiring talks and workshops. The fair was a fantastic opportunity to reach out to young people as they were suited and booted in appropriate PPE tackling their first engineering project. After successful completion of the bridge, which is the same design as the Second Severn Crossing, each child was able to test their newly found skills by confidently walking across the structure.
Rebecca Schwarz, HR & Training Manager for Winvic said: "Winvic are proud to assist with the Bridge to Schools programme, it's great to see so many school children involved and inspired by the initiative. It generates excitement for young people who may not have had any exposure to the world of civil engineering and encourages key skills such as team work and communication. Innovative projects like this are close to our hearts at Winvic and we look forward to helping with many more successful events."
ICE Member James Kirkham said: "The Big Bang Fair East Midlands is a great opportunity to raise awareness of STEM to thousands of school children across the East Midlands and encourage a career in Civil Engineering.
Through a variety of exhibitions and fun activities, including the Bridge to Schools Challenge, we aim to inspire the next generation of Civil Engineers and showcase the positive impact the profession has on society."