Winvic Construction Ltd would like to invite contractors, in particular SMEs, who would like to have the opportunity to meet our team online
About this event
Have the opportunity to meet our team online to register an interest in working with us as a supply chain partner for the civils and infrastructure works for the Peddimore Birmingham project.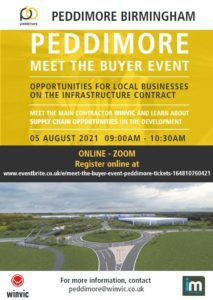 The event is aimed at contractors who operate in the civils and infrastructure sector specifically for the following work opportunities:
Drainage installation
Groundworks – onsite incl. kerbs, ducts, footpaths,
Groundworks – Highways incl. drainage, kerbs, ducts, footpaths
Surfacing – Highways and onsite
Reinforcement Concrete Formwork – Bridge Abutment
A38 Footbridge
Foul – pump station
Foul – rising main
Road markings
Fencing
Landscaping
Street furniture and onsite footbridges
Gatehouse
The event is being held on Zoom on 5th August 2021.
Agenda
09:00 – 09:10 Welcome and opening address
09:10 – 09:20 Peddimore vision – IM Properties
David Smith, Planning Director, IM Properties
09:20 – 09:30 Winvic Construction – a company worth doing business with…
Rob Cook, Director of Civils & Infrastructure, Winvic Construction Ltd
09:30 – 09:45 Q & A
09:45 – 10:15 One-to-ones  with Winvic project management / procurement teams
Visit https://www.eventbrite.co.uk/e/meet-the-buyer-event-peddimore-tickets-164810760421 to register your interest.
You can also view current opportunities on Find it in Birmingham https://www.finditinbirmingham.com/company/winvic-construction-ltd
For more information, contact peddimore@winvic.co.uk or 01604 678960.