A major new junction on Nottingham Road providing future access to the new £800 million Fairham site in Nottinghamshire has been completed.
Multidisciplinary main contractor Winvic Construction Ltd built a staggered road junction to create road access to the new development either side of Nottingham Road.  The access will eventually meet up with a new road layout close to the NET tram's Clifton South Park and Ride site.  The new staggered junction forms part of the longer-term ambitions for traffic calming in the area.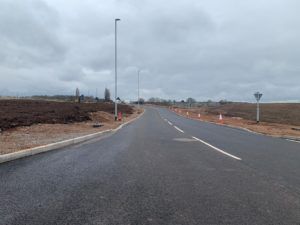 The new junction is part of £100 million of infrastructure improvements scheduled for the site which is in the process of becoming a whole new neighbourhood for Nottingham with 3,000 new homes, one million sq ft of employment space and 200 acres of open green space. There will also be new educational, community and sports and leisure facilities.
Ali Malik, infrastructure director at Clowes Developments, said: 'This new piece of infrastructure has been finished on schedule – despite the challenging weather conditions over the last two months and is an important new access junction to be created for Fairham. This will now allow us to continue to build the development's internal road network to service the new homes and facilities we will be creating over the next few years.'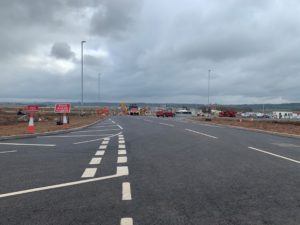 Rob Cook, Winvic's Director for Civils and Infrastructure, said: 'Creating this new road junction required a whole road closure to ensure the safety of our workforce and we'd like to thank local people for their patience while we completed the essential works. I'd like to also thank every person in the Winvic team for doing a great job. It was one of the final pieces in the puzzle to bring a swift and successful conclusion to the highways junction programme. We will now remain on site to deliver the remaining civils and infrastructure activity required to facilitate the new Fairham neighbourhood.'
Due to the limited width of the road, a full road closure was essential for the safety of the public and the workforce. The works, which started on 18 January, included the creation of new deep drainage on either side of the new road designed to capture the overland water flow from the road surface and new access to development sites either side of Nottingham Road. The works completed on schedule with the road reopening on 1st March 2021.
Derbyshire-based Clowes Developments is working in collaboration with Homes England, the government's housing accelerator, to bring Fairham forward.