Winvic Construction Ltd, a leading main contractor specialising in turnkey solutions for industrial, build-to-rent, student accommodation and commercial projects, has reached practical completion of its first privately-rented-sector scheme, also the first purpose-built accommodation of this type in Leicester city centre. The Wullcomb on Vaughan Way – comprising of 297 modern apartments and four ground floor commercial spaces – is owned by Long Harbour, managed by Way of Life and delivered in partnership with local developer, the Sowden Group.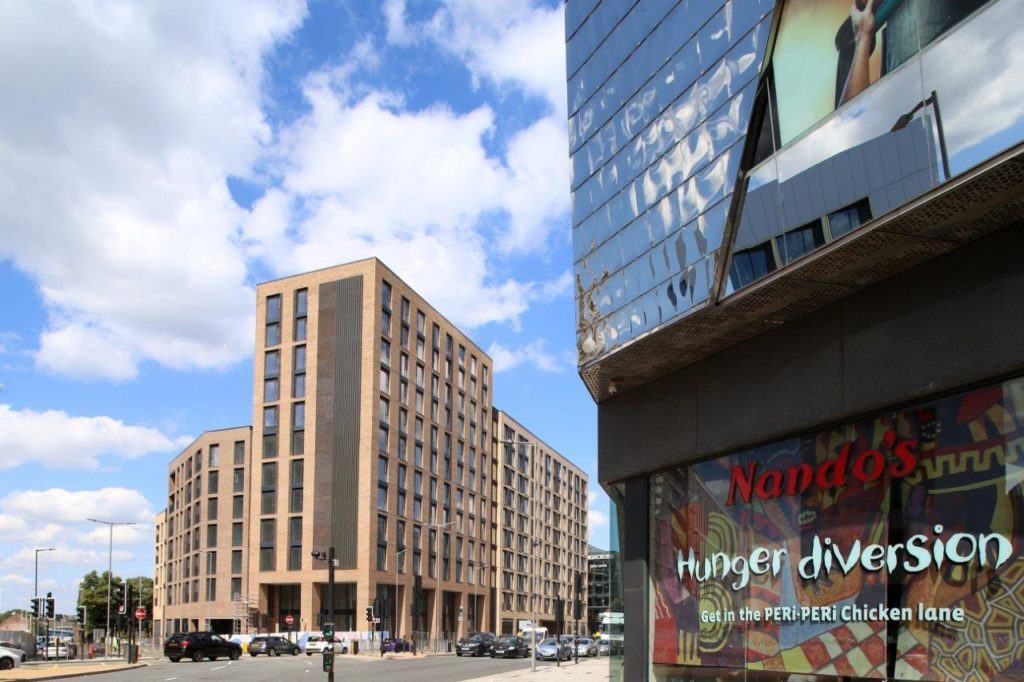 Winvic's design team worked closely with lead architect Franklin Ellis to find solutions to a number of challenges and to create high quality living with a sense of community, ideal for young professionals; significant design changes were managed during construction at ground and fifth floor whilst managing a live site process. The compact plot is strategically important site as it sits at the edge of Highcross – providing a link to future development sites at the waterside – located on the busy A50 arterial route and is land-locked on three sides; this led to the creation of an unusual donut shaped building using a precise programme around accessibility and a design where cascading heights and local materials harmonise with the urban surroundings.
Adjacent All Saints Church – Particular consideration was given to the impact on the oldest place of worship in the city, with history going back to 800AD. Stepped building heights sensitively minimise impact on the church and adjacent residential properties, and Winvic successfully negotiated cemetery boundary works without disturbing sacred ground.
Complex utility connection – Road closures on consecutive days were not feasible on the A50 so Winvic employed traditional mining and backfill methods to tunnel under the live highway in order to connect to the mains sewers.
Up-to-the-minute construction methods and materials – The brick façade has been installed on carrier brackets originating from the steel frame and concrete floor system. Aesthetics were not restricted by the unusually shaped building and a robust approach has been taken to material and design to maintain a level of quality over many years.
Sustainable focus – High quality materials and insulation in the building fabric and roof PV panels provide an exceptional thermal performance and support an all-electric building strategy.
A vision of Leicester's heritage – The city's hosiery and clothing manufacturing history has been reflected in the design through a stylised knitted pattern, and the four towers blocks are expressed in high quality, locally sourced bricks with contrasting dark bricks to provide visual interest.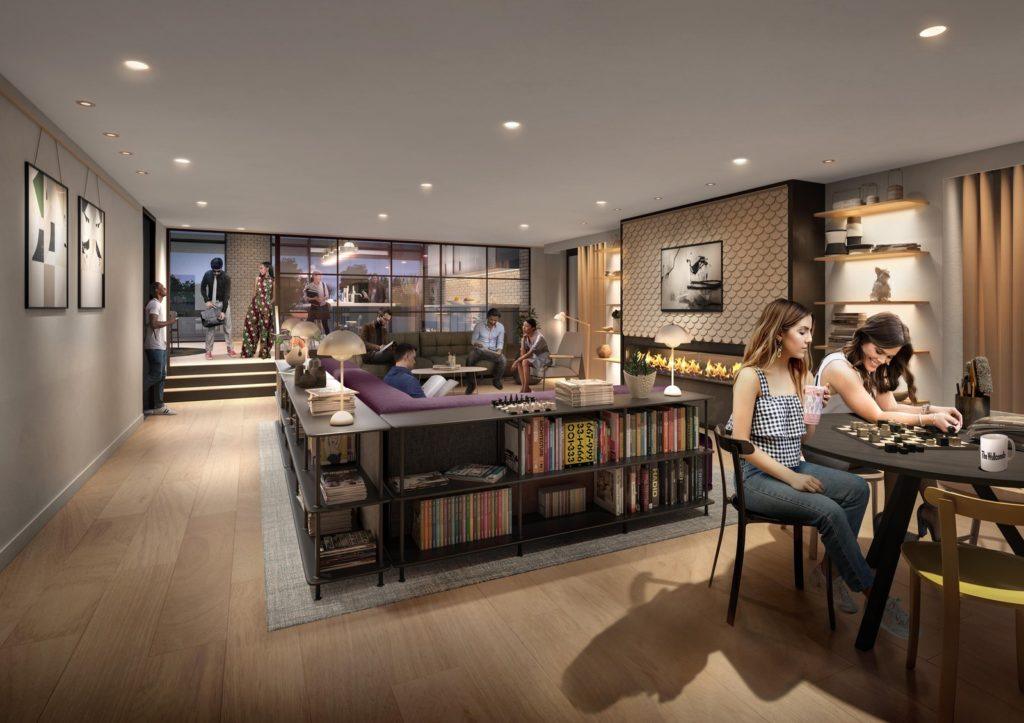 Residents will enjoy a number of communal areas including a games and TV-room called The Bower, modern lounges with fireplaces, a kitchen/dining area known as The Perch and a fifth-floor rooftop terrace with panoramic views over Leicester, providing comfortable seating, a firepit, a BBQ and wood-fired pizza oven. Winvic's move into build-to-rent (BTR) and student accommodation sectors – dubbed multi-room – has realised a sector turnover of £115m (2020 target, £250 million). Currently Winvic is constructing 10 city-centre, multi-room projects and almost 5,500 bedrooms will be completed by the end of 2019.
Winvic's Director of Multi-room, Mark Jones, commented: "The handing over of Vaughan Way marks a significant stage in Winvic's history of delivering high quality projects, because it is our first in the privately rented sector. Our company values, turnkey contract experience and project management expertise allowed us to transfer skills to this sector without difficulty; working as one team with Franklin Ellis architects to find design solutions to complex challenges and creating robust relationships with Long Harbour, Sowden Group and Way of Life has made this scheme a delight to deliver. This is the first in a flurry of upcoming completions and Winvic's controlled strategic move into this growth market, along with student accommodation, will see us reach completion of almost 5,500 bedrooms by the end of the year."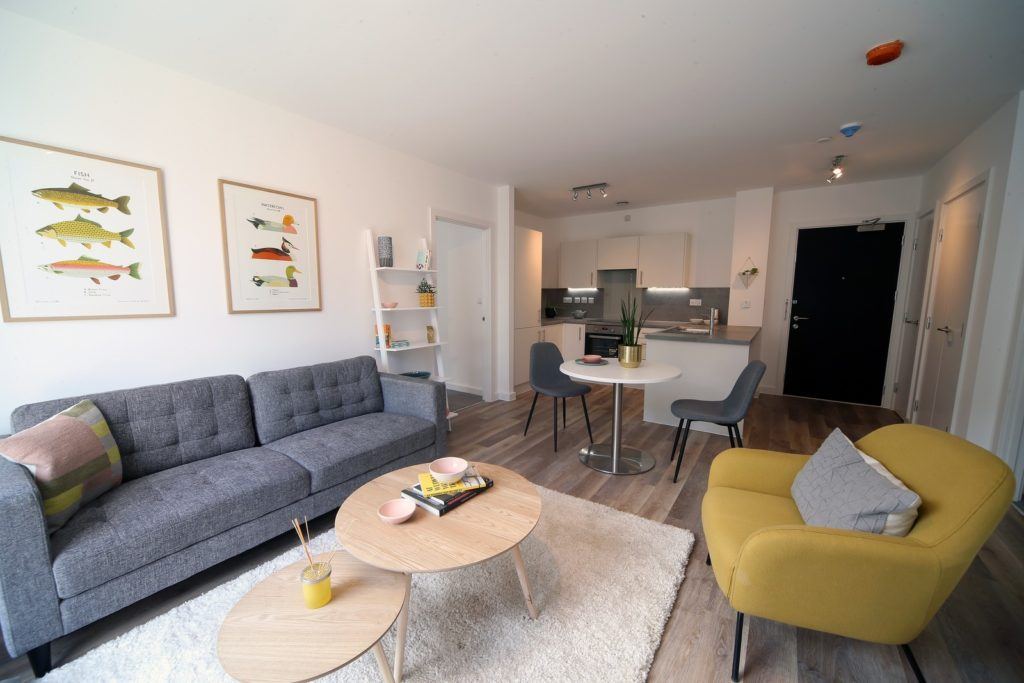 Long Harbour's Managing Director of BtR, Rebecca Taylor, said: "It is fantastic to see The Wullcomb as Leicester's first Build to Rent scheme being handed over. This was a true partnership from the outset with Sowden, Winvic, Franklin Ellis and our team all driven to set a new benchmark of quality in the city. The team at Winvic adopted a can-do attitude from the outset and it's exciting to see The Wullcomb enter its next phase as it opens its doors to the city and our bespoke in house management team, Way of Life take over the management, looking to set yet another new benchmark in customer service."
Joe Taylor, partner at Franklin Ellis Architects, said: "We are very pleased to have joined forces with Winvic and Sowden Group on The Wullcomb development. The building's design is complex and takes its inspiration from many different sources, including Leicester's manufacturing heritage and the desire to provide opportunity for future developments towards the waterside. It has been wonderful to work alongside Winvic on its first build-to-rent scheme which has set a new benchmark for high quality living accommodation."
Find out more about Winvic on our website www.winvic.co.uk or follow us on Twitter – @WinvicLtd – and LinkedIn.
To find out more about renting a studio or apartment at The Wullcomb, please visit www.thewullcomb.com.