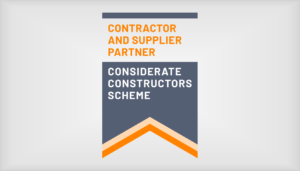 We are proud to be a Partner of the Considerate Constructors Scheme, after proving our commitment to improving the image of the construction industry by striving to promote and achieve best practice under the Scheme's Code of Considerate Practice, which focuses on Care for the Environment, Respect the Community and Value the Workforce.
We:
Voluntarily register all of our projects with the Considerate Constructors Scheme (CCS) and strictly adhere to its code of practice
Are independently audited throughout the construction process and the scheme scores our sites' performances
Regularly monitor scores through KPIs within our Sustainability Strategy Community Pillar, and use auditors' feedback to continually improve
Are in the country's top 10% due to our elevated standards
Respect the Community
Constructors must manage their impact on their neighbours and the public to support a positive experience, by:
Ensuring courteous and respectful language and appropriate behaviour in and around the construction activity
Providing a safer environment, preventing unnecessary disturbance, and reducing nuisance for the community from their activities
Proactively maintaining effective engagement with the community to deliver meaningful positive impacts.
Care for the Environment
Constructors must minimise their impact and enhance the natural environment, by:
Prioritising environmental issues to protect the natural environment and minimising negative impacts
Optimising the use of resources, including minimising carbon throughout the value chain
Engaging with the community to improve the local environment in a meaningful way.
Value the Workforce
Constructors must create a supportive, inclusive, and healthy workplace, by:
Actively encouraging and supporting an inclusive and diverse workplace
Proactively supporting safe working, mental and physical wellbeing at work
Providing workplaces that are, well maintained, clean and secure from physical and biological hazards.
National CCS Awards
Winvic has been acclaimed for its ongoing contribution to improving the image of the construction industry and operating to the highest professional standards by regularly winning prestigious Considerate Constructors Scheme Awards. These awards are testament to the emphasis we place on being considerate to the community, general public and environment, as well as ensuring our staff welfare, facilities and training opportunities are of high quality so we provide the best working conditions for our staff.