Read about how Winvic is helping parents to understand the breadth of jobs in construction in the latest issue of All Things Business, May 2018.
Could one of your parents describe any tasks that you undertake as part of your chosen career? Or do they even know your exact job title? If you answered no to one of these questions, you've underlined a hidden issue that many industries face when trying to recruit the brightest minds. Teachers and career advisers can help to steer young people in the right direction, but it is also the role of parents to nurture, guide and open their children's eyes to the endless career possibilities that are matched to interests and skillsets. Nevertheless, how do you highlight potential vocations to your sons and daughters when you don't know they exist?
Go Construct, developed by the Construction Industry Training Board (CITB), recognises this challenge that parents' face, and alongside supporting employees, employers and education professionals, it has launched a campaign targeting mums and dads. Pride and Joy aims to facilitate parents in helping their children consider one of the many careers in construction – there's a mere 173 listed and described on the Go Construct website. The sector is one that has suffered from stereotyping in the past, but the view that builders drink strong tea all day and shout "oi, oi" from the top of scaffolding is seriously outdated and couldn't be further from the truth… and neither do you have to be a Lego aficionado.
Northampton based Winvic Construction Ltd. is acutely aware of attracting talent, and works hard to appeal to graduates and gap year students from a range of subjects, as well as seasoned professionals, to join its ever growing company. "Winvic jumped at the chance to be part of the Pride and Joy campaign", says the multi-disciplinary main contractor's HR & Training Manager, Rebecca Schwarz. "Three of our employees invited their parents to be quizzed on their roles and to go to work with them for a day. The assignment offered the parents of Jack Langton and Dan Waterfield unique insights into their children's careers, a genius idea by Go Construct to raise awareness of construction careers to parents."
"This was a rare and enjoyable opportunity to show my mum the type of work I do, but being part of something that can show young people some of the different careers in the construction industry is really worthwhile. British construction is world-class and thrives on innovation, so it's important it attracts new generations."

Dan Waterfield, Design Manager
Dan is a Design Manager, and has worked at Winvic for 18 months. In one of the videos that Go Construct has produced, his mum, Carol, could only name supervising, going to meetings and talking to people as his possible work duties. While her understanding isn't wrong, on schemes like the 11-storey mixed-use residential and commercial block in Leicester that is part of the UK's £25 billion privately rented sector, Dan's role is understandably much more complex. Dan and other Design Managers at Winvic play a pivotal and strategic role between the clients' design teams, specialist consultants and Winvic's commercial and project management ensembles. Spending time in the office and on site, a DM provides focus on the medium to short term, develops the precise designs of the build and fit-out, brings forward changes that are requested and highlights how the programme of works and its financials could be impacted.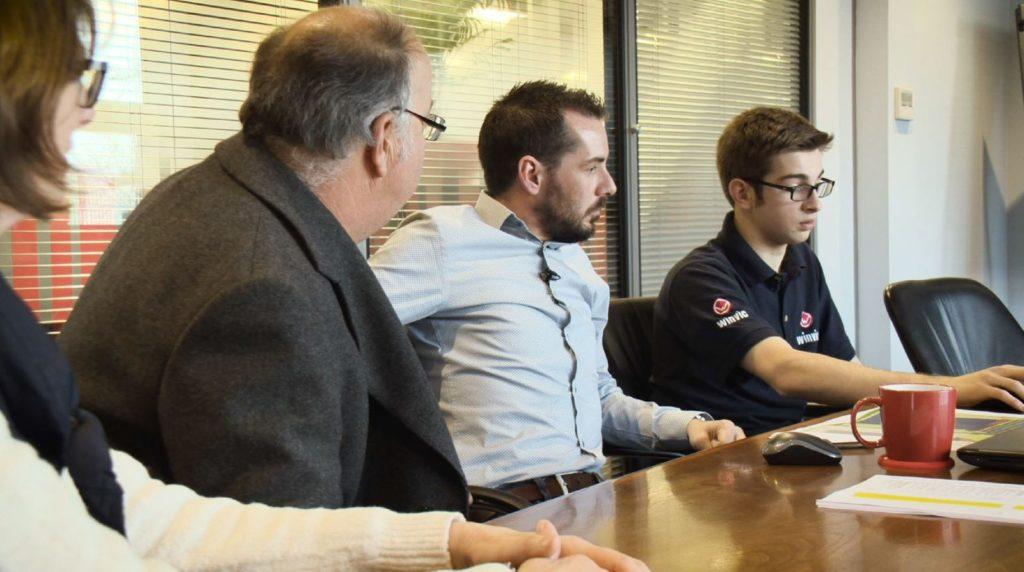 In the video that focuses on apprentices, Jack's dad, Craig, jokes that he "makes tea" and "plays table tennis" in his dinner hour as a Trainee Estimator. However, he and Jack's mum visited the Winvic offices and the Warth Park site in Raunds where Winvic are undertaking extensive earthworks in preparation for building two industrial units; they learnt how Jack accounts for all possible project costs and stipulate prices on schemes like this one and they couldn't be more proud. Craig says, "After watching Jack at work I think I'm quite relieved that he's found something that he enjoys and a career that I think he'll do very well in. I'm obviously proud without a doubt."
Helen Sutton, Marketing Executive at CITB commented "The Pride and Joy videos show the various parent and child relationships that we can all relate to in some way, making them hugely personal and engaging, with a lighter take on the usual 'recruitment' campaigns. They also give a true insight into the construction industry and break some of the stereotypes that come with it by showing young women and men impressing their parents and taking real pride in their role."
Parents can encourage their children to visit goconstruct.org/prideandjoy and not only see the films created and read about the many types of role available, but also to use the Career Explorer Wizard. By choosing places of work preferred, such as the outdoors or a workshop, interests, qualifications and skills, the tool offers a wide range of jobs that the user would be suited too. Job opportunities at Winvic can be found on their website, winvic.co.uk, and the company is happy to speak to individuals about kick starting or progressing their construction careers, whatever their experience or qualifications.