After Peter's and Matt's insights on their Winvic experiences, today it's the turn of George to speak all about his year in industry placement to date, working as a trainee QS on the landmark Segro Logistics Park East Midlands Gateway. George has been assigned to Plot 1, a 1,300,000 sq. ft. modern industrial warehouse, from the start of his placement, four months ago, and has completed two years at Nottingham Trent University studying a degree in Quantity Surveying and Commercial Management.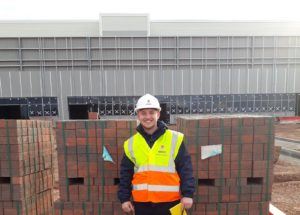 "I feel so lucky to be working on one of Winvic's famous mega-sheds during my placement. I couldn't have imagined working on a £61 million pound state-of-the art warehouse four and a half years ago, which was when I left school, not really knowing what I wanted to do. This journey all started at a school jobs fair for me, where I spoke a few people in construction, but I couldn't see myself training to be a plumber or electrician like my brothers. My dad is in construction management and I've always been quite academic so I thought I had the skills to pursue a professional role in the industry. My college course, a Level 3 Diploma in Construction and the Built Environment offered me a taste of so many areas of construction, but everything fitted into place naturally – I was really good at maths and before I knew it I wanted to pursue a career as a QS. My mind is definitely suited to it.
"I played football with someone that I knew worked in the industry so when I asked his advice about gap-year placements I found out about Winvic and its projects. Winvic was then at the careers fair at uni, and my application turned into an interview and then being offered the year-long placement. Back in July, when I started my Winvic adventure, I didn't know what to expect but I tried to be open minded and put what I had already learnt into practice. Richard is my mentor and he has taken me under his wing, but everyone has to be honest. I learn something new and have lightbulb moments every week as what I have learnt over the past two years is making sense, and it has cemented the fact that this is what I want to do; the classroom compared to real life if very different but context is everything and I couldn't ask for a better team behind me."
"I'm not surprised by my time at Winvic so far because I didn't have any expectations as such, but it's fantastic to be given so much autonomy. I get set daily tasks, for example, taking measurements so subcontractors can progress or raising payment notices, and get on with it. Also, I've learned how important it is to build good relationships, with the team around you, with subcontractors and with clients – this is a major part of The Winvic Way for me, and that's one thing that you can't be taught in a lecture. While numbers are numbers on any project, I would like to be able to work across a wide range of sectors in my career – a position with a company like Winvic would be fantastic after I've completed my degree."
George Johnson, Trainee Quantity Surveyor
Please get in touch with Rebecca Schwarz on rebeccaschwarz@winvic.co.uk for more information on our year in industry placements.