While we have offered industry standard BIM Level 2 to clients for many years, and it was our work on industrial facilities for John Lewis and Waitrose around five years ago – pioneers in truly understanding the benefits – when we first made our mark, we have seen a significant increase in requests for BIM in the last couple of years. Due to this rise, we began to invest more heavily in our people and facilities. We also ensured that our supply chain was ready to ride the wave with us, helping them to be digital ready. Driven by our company values of exceeding expectations, doing the right thing and striving to have a strategic eye on the future of technology, we set our sights high on a state-of-the-art facility.
Our plans culminated in our Centre for Innovative Construction (CIC), which we proudly launched last week. It comprises a BIM CAVE with a 125" screen for 3D model viewing – with an immersive experience via virtual reality (VR) headset – an interactive design meeting room, a training space and quiet study room. Arun Thaneja is one member of the Winvic team who has been steering our use of the cutting-edge technology and designing the specialist CIC that facilitates conversational and collaborative BIM working. He joined us in 2014 and commenced the role of BIM Lead Manager almost immediately as part of his Design Manager duties. We asked him to explain what many people have misunderstood about BIM – it's not a tool only utilised by the design team.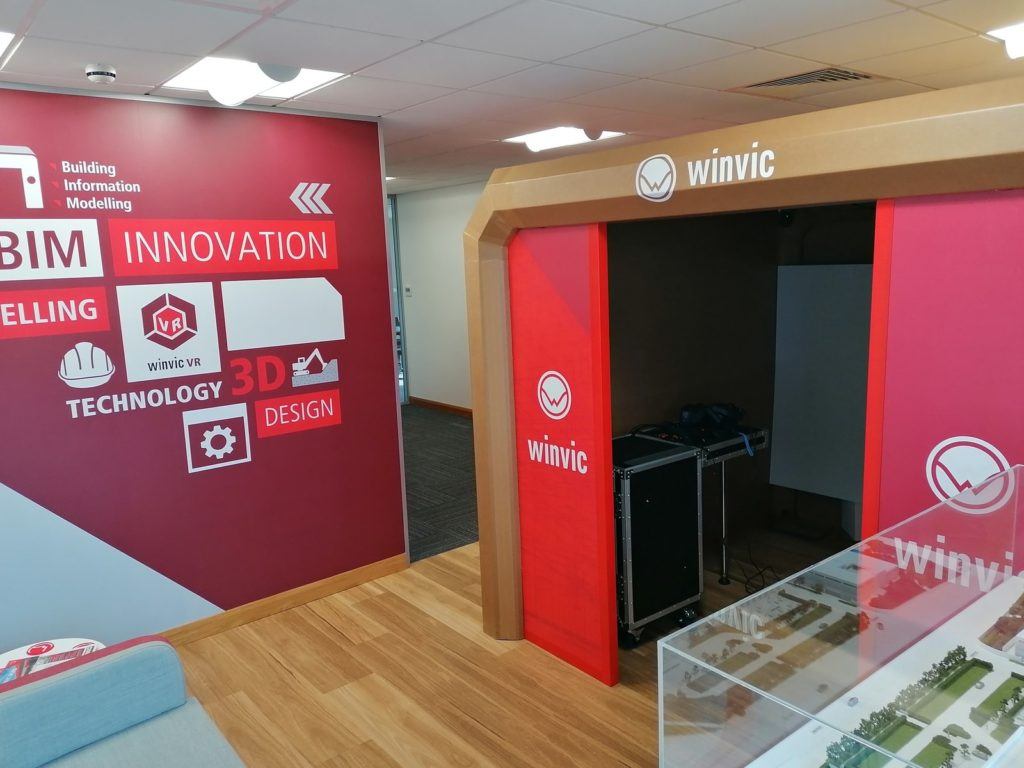 "Building Information Modelling, or BIM, has been predominantly seen as something architects and design professionals use, and this is reflected in the fact that not many main contractors have yet taken the steps to invest in the technology and facilities like our Centre for Innovative Construction. Of course, much of the day to day use involves design changes being worked on – remotely or in the facility – and being experienced in the VR BIM CAVE, in real-time if you want. However, the benefits reach way beyond effective clash detection and design problem resolution.
"For clients, the most obvious benefit is that they can properly experience their building in order to make decisions faster, for example on finishes; we simply load in the materials or colours being considered and with a couple of clicks the client can see the impact of one finish against others. More complex design changes that could take a few weeks to go back and forth on over email, can effectively be bottomed out within a day in the Centre and, once again, can be viewed immediately in 3D – or 4D, if the issue is related to the programme timeline and where tight sequencing is crucial. However, it is the advantages across the life of the building and the quality assurances post-handover where BIM creates the largest and most impactful benefits for clients and end-users.
"The developer or tenant who is responsible for building operations – and we could be talking about five, 10 or 20 years down the line – may not have an absolute understanding of the design intent. Consequently, an industrial facility, build-to-rent apartment block or a commercial office may not run as energy efficiently as it should, areas may not be maintained effectively, staff can accidentally misuse or break equipment and tasks needing doing to meet warranty terms can be all too easily missed. All of this creates additional running costs for the business, and such spend can easily be avoided.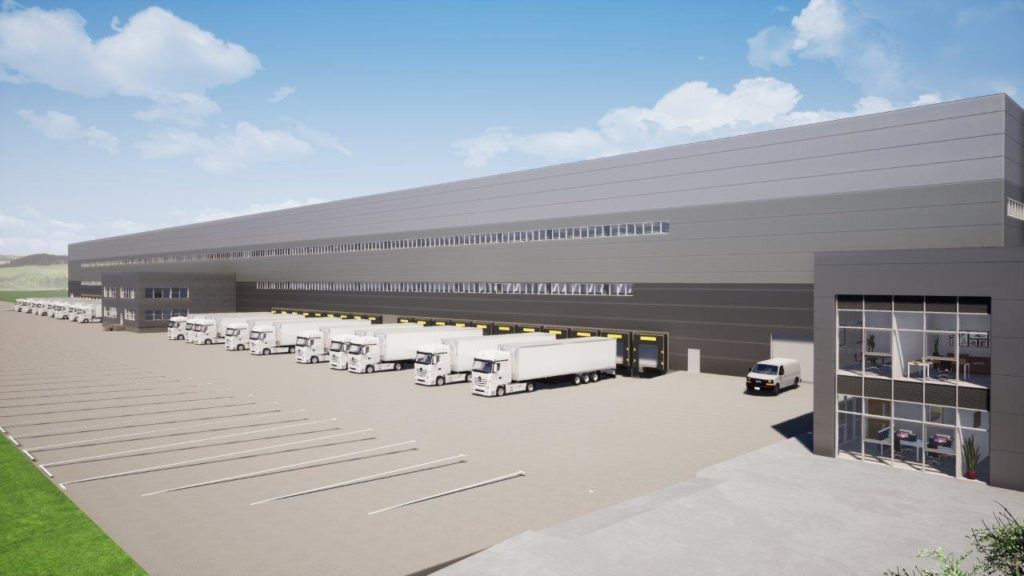 "At the point of practical completion all main contractors provide the necessary, all-inclusive information to run a building, but the difference between 30 lever-arch files full of paper and a document that lives in the cloud and can be updated in real-time is, well, pretty huge. What these digital advancements allow us and clients to do is become much more savvy with the retrieval of information; a simple search can produce the data required, QR codes that link to specific parts of the building manual, images or 'how-to videos' can be strategically placed within drawings – or the buildings themselves – and very soon AI capabilities will support voice activated searches. Mountpark is one of our clients who is committed to improving the way it hands its industrial units over to its customers and together we have been evolving this very practical way of allowing occupiers to proactively navigate operating and maintenance manuals. QR coding is being installed on-site at Unit 1 at Bardon II and smart, digital access to data is already transforming the way that building will function for its life.
"How BIM affects the construction phase is also extremely advantageous to clients. Our project and site managers, site engineers and subcontractors are now able to experience a building in VR and really get to know any package complexities before they've put a foot on site. This pre-works visualisation allows plans to be thoroughly assessed, which leads to enhancements in activity; it can influence a reduction in errors, can lessen material waste and speed up the overall programme. The coordination of work with other trades and special awareness within the building is incredibly valuable and screen grabs can also be provided from within a virtual tour so that key aspects of a build can be recalled once on site.
"Being able to strategize with clients from the tender stage – and to illustrate within 3D – is smart for budgetary reasons, programme planning and faster execution. From a training perspective, construction teams can obtain immeasurable amounts of information before getting on with the job at hand and VR imagery can be developed for specific health and safety instruction; for example, appreciation of working at height and negotiating underground utility hazards. Then for many years ahead, information can be retrieved in the most straightforward of ways to ensure buildings operate at optimum levels, therefore reducing down time and unnecessary costs. For me, there has never been a more exciting time to work in construction, and I couldn't work for a more client benefit and future-focused company."
Arun Thaneja, BIM Lead Manager