VIRTUAL REALITY AND TRAINING HUB FACILITATES COLLABORATIVE BIM WORKING AND CLIENT BENEFITS
As a result of the growing demand from clients and the firm's focus on a digital future, Winvic Construction Ltd, a leading main contractor specialising in turnkey solutions for industrial, build-to-rent, student accommodation and commercial projects has today launched its Centre for Innovative Construction (CIC). It comprises a virtual reality BIM CAVE with a 125" screen for 3D model viewing, an interactive meeting room allowing real-time design changes on 86" smart screens as well as a training space that will enable 360 degree education across the business and the supply chain.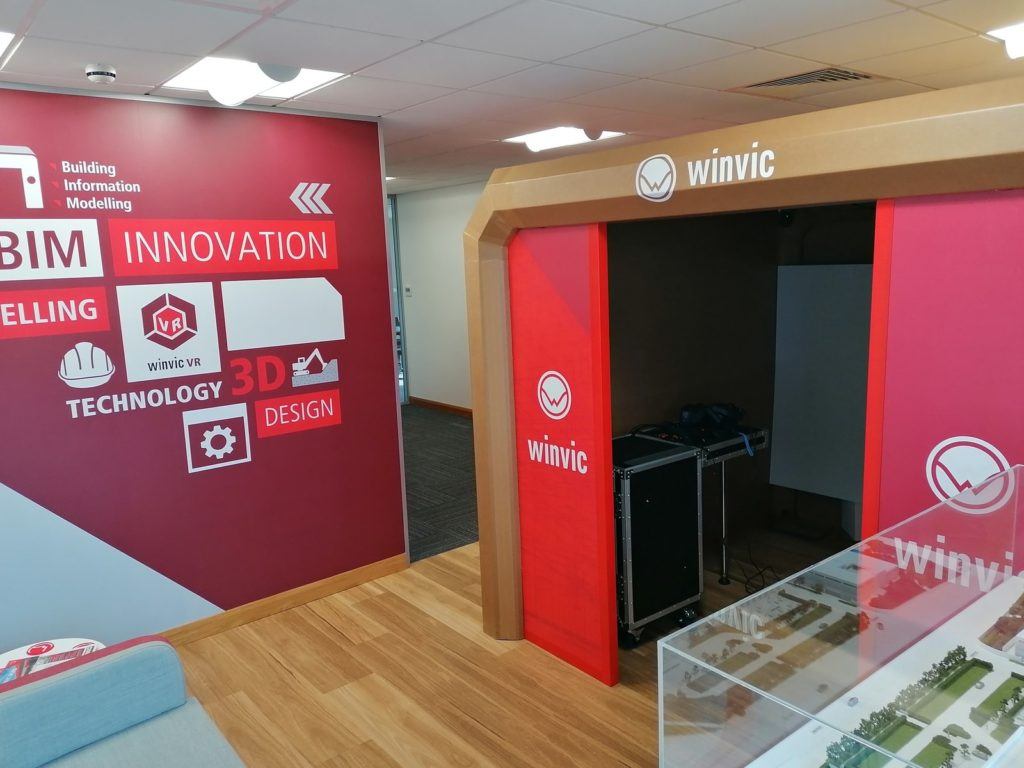 The 2,000 sq ft CIC facilitates interactive experiences within design models – from clash detection and dimensional design checks to spatial awareness assessment and data asset information retrieval – whereby Winvic staff, consultants and suppliers can interact and make live design changes. Variations can be affected remotely or via the interactive design meeting room and be instantly viewed in three dimensions; the 3D headset and controller allows the BIM CAVE user to travel around a site or building. Additionally, key points of information, such as sections of the scheme's design manual, maintenance guidance or 360 degree photos can be added to the model and retrieved with a simple click or via a QR code and QR codes within finished buildings can link to pertinent manual information or other online content. The whole CIC experience has many advantages past the design and construction phases, into end-users' operations.
Being able to strategize with clients, end-users, consultants and suppliers through a digital approach – from as early as the PQQ and tender stages – is transformational for Winvic's business and the companies it works with on a number of levels. Shaping accurate budgets, planning complex programmes using 4D modelling and making situational site training possible are just three benefits; essentially the CIC provides Winvic with the means to manage schemes to meticulous levels, model seemingly considerable challenges into solved problems and execute construction phases faster. Consequently, it is the project developers and building occupiers who ultimately profit from shortened timescales and reduced costs end-to-end.
Tim Reeve, Technical Director at Winvic, said: "While we have offered industry standard BIM Level 2 to clients for many years, in the last two to three we have experienced a significant uptake in the request for BIM on the projects we are involved in. As our main focus is meeting clients' needs – from a practical delivery point of view and also commercially – it was a natural progression for Winvic to become an early adopter of the technology found in our new facility. There was also a clear opportunity to augment our staff and supply chain training, from general health and safety to specifics on projects; in being even more ambitious in our attention to developing future construction skills, Winvic's Centre for Innovative Construction is a multi-purpose tool that will transform many people's expertise, our business and clients' experience of developing a project."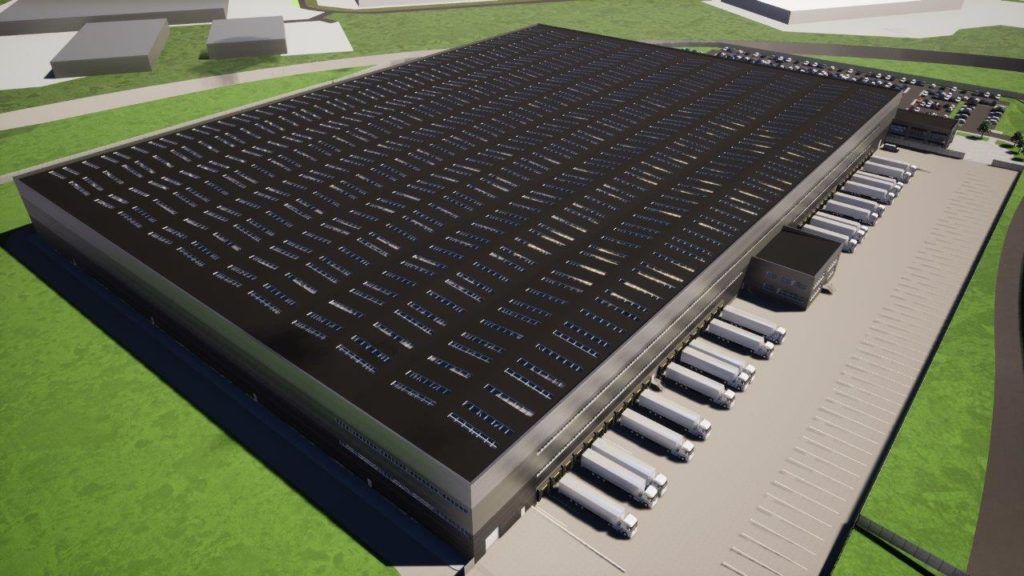 Winvic is currently constructing Unit 1 at Bardon Phase 2 for Mountpark, a 546,435 sq ft industrial facility that will be complete in March 2020, and has used BIM Level 2. Wal Groves, Mountpark's Construction Director, commented: "Mountpark is committed to improving the way we hand our buildings over to customers, so we approached Winvic to help us evolve a practical way of allowing occupiers to navigate operating and maintenance manuals. By combining 3D drawing technology, QR coding, photographs and video guides, which are all interlinked, we have transformed the traditional manual format, enabling occupiers to proactively manage their buildings. At Mountpark Bardon II, this straightforward system will help the customer operate the building at an optimum level – conserving energy, meeting the correct maintenance/aftercare requirements and as a result, reducing down time and unnecessary costs.  We congratulate Winvic on having the vision to invest in the Centre for Innovative Construction, which will deliver these innovative advancements and digital project experiences of the future."
Winvic is also constructing Lidl GB's 250,000 sq ft head office in Tolworth. Recently Jeremy Williams, Lidl GB's Project Lead, saw the new HQ come to life in the virtual reality BIM CAVE within the Centre for Innovative Construction, test driving the powerful technology that simplifies decisions, accelerates timelines and can affect budgetary savings end-to-end.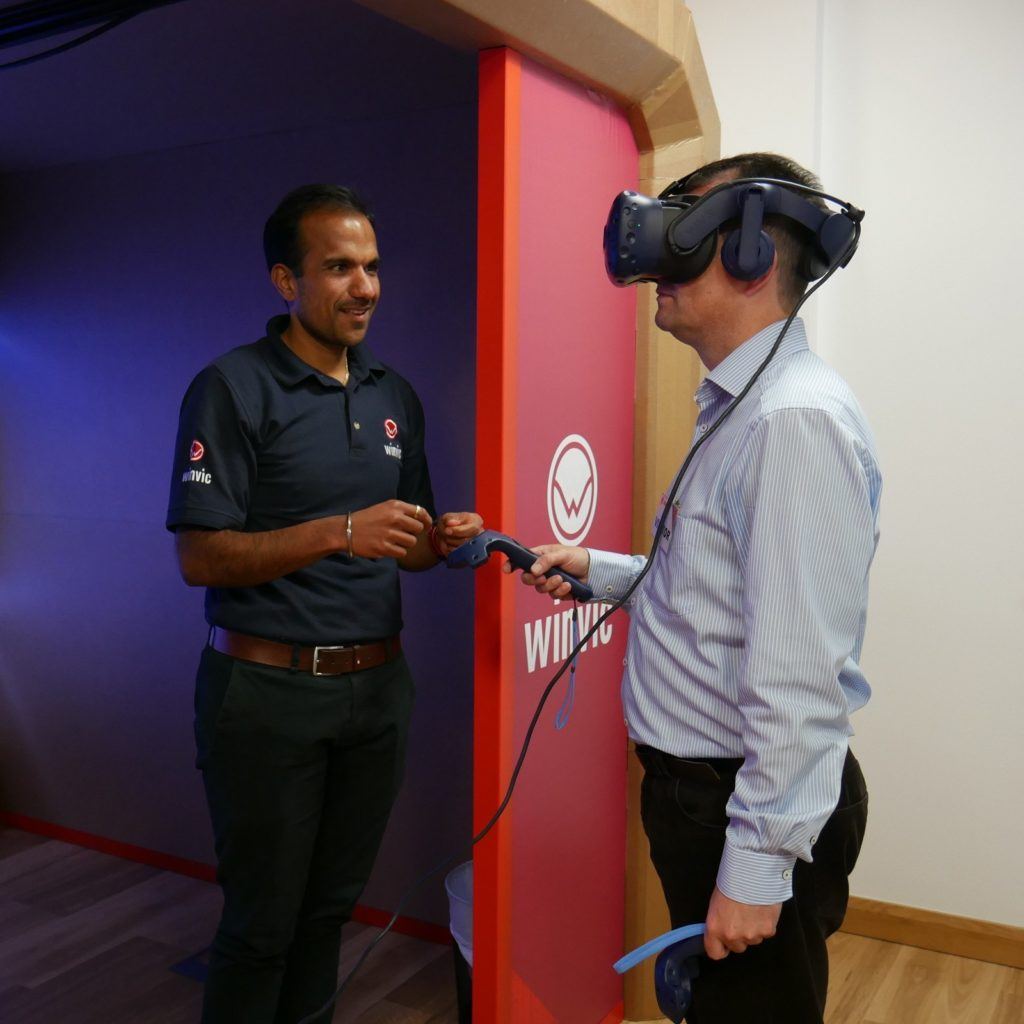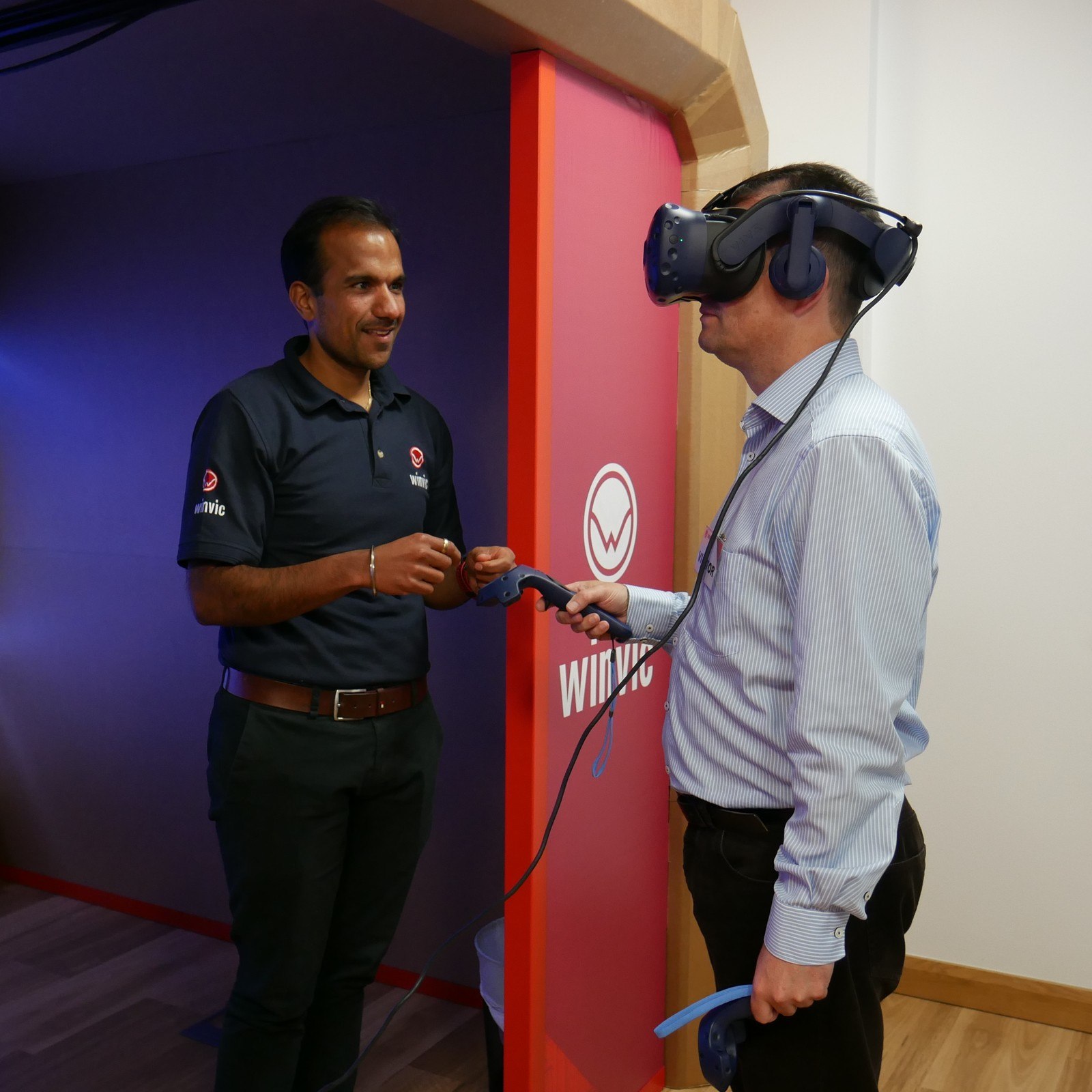 Through the Research Leaders programme in partnership with the University of West England, Winvic is providing BIM data – or 'construction access' – which will be instrumental in the creation of an intelligent voice search headset. Running the Conversational BIM project is Professor Lukumon Oyedele who is not only developing technology to allow people to make voice requests to a BIM model – from an office or on site – but also over time the software will recognise individual users' voices and be able to anticipate requests. When available shortly, Winvic will be one of the first to trial this ground breaking technology on one of its projects.
"Until now, conversational AI has mostly been used in labs and controlled settings," said Professor Lukumon Oyedele, who is Assistant Vice-Chancellor for Digital Innovation and Enterprise at UWE Bristol. "Here we are bringing it into a construction environment, where workers are using their hands and need a quick and effective way to gather information. We hope that this technology will augment workers' capabilities, to make construction more efficient. It is about improving worker's productivity, ensuring a faster delivery process and getting it right the first time by avoiding defects."
Winvic's Tim Reeve added: "It's a real honour to be working with Lukumon on his research project and because we share a vision of doing things right and a passion for technology it is also a pleasure. AI can have relevant applications in unexpected places, and we're eager to test the voice activated headset that our data is helping to create."
Notes for Editors
Winvic Technical Director Tim Reeve will be attending Digital Construction Week on 16 October at the London ExCel and is available for interviews.
Images: Dropbox link – https://www.dropbox.com/sh/hzgexbqe83zf0lc/AACGrhRVSy8nfDkxq2tHChhBa?dl=0  
In the past year, Winvic has created four specialist positions in this area, including a VR Developer (Morgan Hambling) and BIM Lead Manager (Arun Thaneja), while all employees have been upskilling in preparation for the CIC's technological offering.
Winvic is one of the contractors sharing a pot of government funding – the £5m Research Leaders programme – that aims to transform the construction industry through digital technology. Funding provided is part of the total £170m Transforming Construction Challenge, which aims to identify innovative new construction processes and techniques.
Integrating Conversational AI and Augmented Reality with BIM for faster and collaborative onsite Construction Assemblage (Conversational-BIM) – Research by Professor Lukumon Oyedele
Building Information Modelling has transformed the way buildings are designed and enhanced the implementation of building manufacturing technologies such as Design for Manufacturing and Assembly (DFMA).
However, the adoption of BIM by on-site frontline workers for assembly of manufactured building components is non-existent. This results in loss of the productivity gained from using BIM for design and manufacturing phases of the process. On-site frontline workers spend more time interfacing with BIM tools than they spend on completing the actual assembly tasks.
This project aims to utilise Augmented Reality (AR) for providing visual support to access BIM systems and installation guides without obstructing or distracting the view of onsite workers.
This project will therefore exploit advanced AI, computer visions, and AR technologies to develop an end-to-end BIM solution to support onsite assembly operations. In addition to boosting the productivity of frontline assembly workers, this project seeks to eliminate the tedious process of coordinating onsite activities which often involve multiple workers and machinery. The AR-assisted Conversational-BIM system will ensure a coordinated approach for remote experts to guide frontline workers and monitor project progress and productivity.
Project Partners: Winvic Construction; Costain; Geo Green Power; Mobibiz; TerOpta
Contact details: for PR/media enquiries please contact Heidi Salmons on 07526 178 006 or heidisalmons@winvic.co.uk, or Keredy Andrews on 07947 324 194 or keredy.andrews@hannesdigital.co.uk.