Winvic Construction Ltd, a leading main contractor specialising in turnkey solutions for industrial, build-to-rent, student accommodation and commercial projects, has placed the final steel beam on the new Lidl GB Headquarters in Tolworth, just 11 months after it announced the prominent contract win. In addition to the final steel piece being put in place, Winvic has recently completed the upper floor concrete slabs and started works to the envelope and SFS for the decorative brick columns on the contemporary 250,000 sq ft office.
Lidl HQ steel frame facts
Dimension: 26.2m x 30.8m with plant screen
Steel frame size grid: 112m x 43.8m
Biggest beam span: 15.2m
Biggest beam dimensions: 1.1m(H) x 0.5m(W) x 15.2m(L)
Biggest beam weight: 13.8t / 13,800kgs
Total steel tonnage: 1,438.7t
Total piece count steel: only 5,174
The structure is a mix of steelwork, and in situ and precast concrete cores; with an exposed concrete finish, this building will be a focus of the urban surroundings, which is adjacent to the A3. The five-storey building maximises natural light on the upper floors with a fully glazed external envelope and central rooflight, and also comprises a basement within the design.
The building in south west London comprises offices, meeting and conference rooms and canteen facilities – all of which will be fitted out by Winvic, bespoke to Lidl. Sustainability is key to this project too, which will be ready for occupation at the end of 2020, meaning the scheme will be BREEAM 'Excellent' and have an 'A' EPC rating.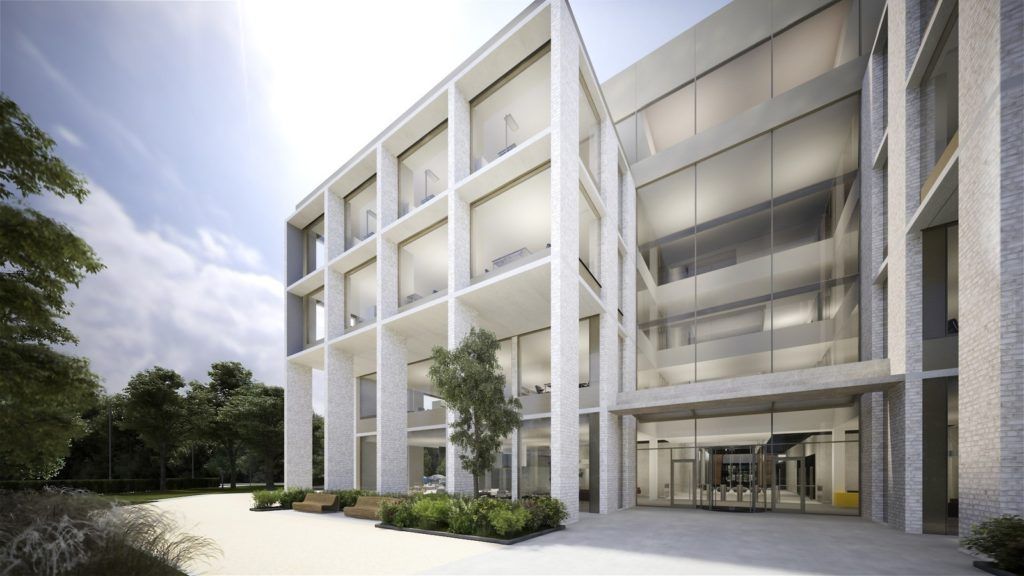 Winvic's Construction Director, Naim Basha, commented: "Our relationship with Lidl has been made even stronger over the past year after securing the contract to construct their new head office, as well as completing two Regional Distribution Centres. We have made excellent progress on this scheme and the whole Winvic team – which not only includes our dedicated staff, but suppliers and consultants – is proud to reach this important steel frame completion milestone. We're now almost halfway through the complex project and the office's fully glazed external envelope is one of the next transformative areas of work, when the exterior design really begins to come to life."
Main image – from left to right with final steel beam in background: Winvic Site Manager Tony Wand with Lidl GB Senior Consultant Jeremy Williams and Lidl GB apprentices.
Contact details: for PR/media enquiries please contact Heidi Salmons on 07526 178 006 or heidisalmons@winvic.co.uk, or Keredy Andrews on 07947 324 194 or keredy.andrews@hannesdigital.co.uk.