Construction is underway on a 1,192 student bedroom accommodation complex with four interlinked blocks in varying heights ranging between 23 and 14 storeys, located on the corner of Fairfax Street and Cox Street in the centre of Coventry. It is the largest new building to be added to Coventry's skyline and to achieve this build two tower cranes have been brought in to complete the job.
The cranes are measured at 85-metres-tall and 75-metres-tall and are the largest tower cranes ever managed by Winvic and can be seen towering over Coventry from the M6.
Due to the dizzying heights of the cranes Winvic has also had to inform the Aviation Authority of the position and height of these tower cranes as they are a potential hazard to low flying aircrafts. At night both cranes display red warning lights to help identify them to aircrafts.
These cranes as you can imagine are reliant on low wind speeds to operate safely. The cranes can operate in wind speeds of up to 38mph and this is monitored by the site team. If the wind speed exceeds this limit then the cranes are stood down and placed into weather crane mode to allow the cranes to move freely in the direction of the wind, this also happens when site is closed.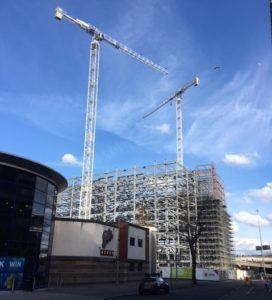 Having two independently working cranes at varying heights also has the added risk factor of possible collision. To avoid these types of disasters Winvic ensures co-ordination meetings and lifting plans take place and the use of anti-collision warning devices.
Managing the cranes has involved specialist training and six individuals have undergone vigorous health checks and rescue training should anything happen to the crane operator. As part of this training they were taught to climb up the crane itself, not something for those with a fear of heights.
Currently in Coventry there are several tower cranes in use, one of the little-known facts is that all the tower crane drivers talk to each other on a two-way radio to reduce the stress of working in isolation.
Find out more about the project Winvic are delivering for Code Student Accommodation here.