There's always something innovative and exciting going on in Winvic's world of digital construction, but the last few months have been particularly busy for our Digital Engineering Manager, Morgan Hambling. We have just launched the Sustainability and Innovation Hub (SIH) at IM Properties' Mercia Park – which is where he is now based – he completed his degree and was given a promotion in June, and our Innovate UK funded projects are progressing into their commercial launch phases.
We caught up with Morgan to ask him about new facility at the IM Properties' site Mercia Park and find out how it is going to help accelerate productivity, promote one-team collaboration and inspire our team and clients to take proactive climate action, particularly in the wake of COP26.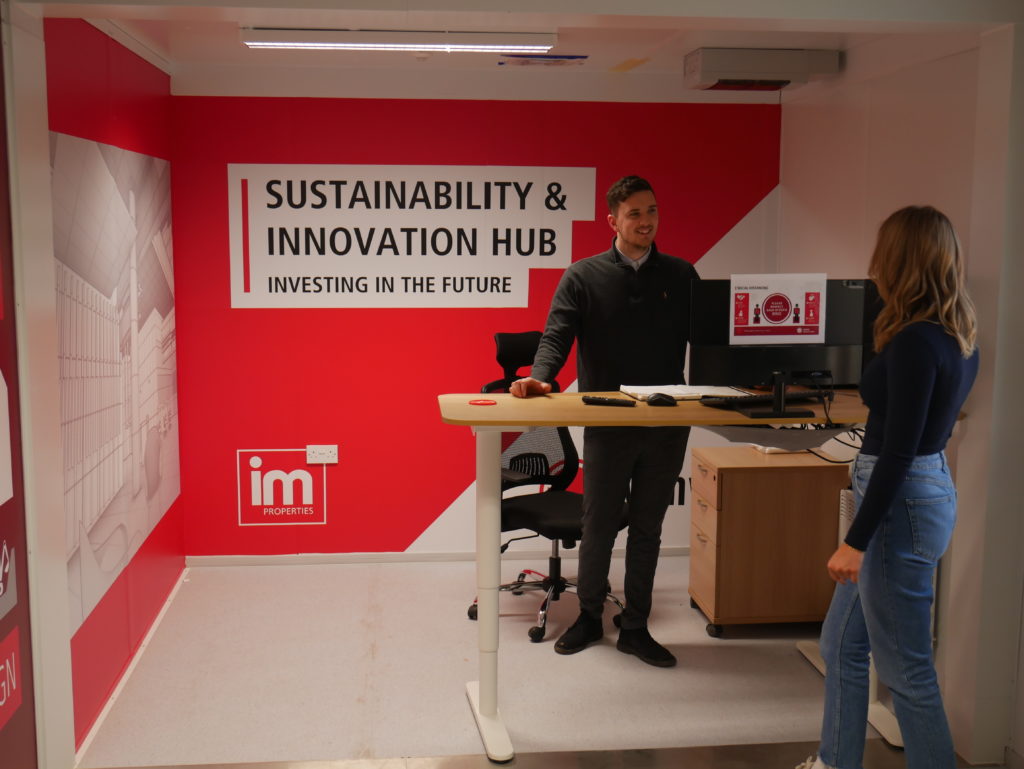 What is the Mercia Park On-site Sustainability and Innovation Hub?
The Sustainability and Innovation Hub (SIH) has been designed to increase digital engagement with the site team that is constructing the impressive Jaguar Land Rover (JLR) facility. We're very lucky that our client IM Properties shares our passion for all things green and state-of-the-art so it was natural for our first facility of this nature to be created at Mercia Park. What this means in practice is that the planners and designers can work on the 3D BIM models in real time and make immediate changes when required. Then, those from the operational side can also immerse themselves in 360-degree virtual reality (VR) to get an in-depth understanding of the project in 3D and 4D. For example, a mechanical and electrical supplier may visit the SIH's BIM CAVE and put themselves in any part of the 2.94 million sq ft global parts logistics centre so they can become familiar with a complex works programme prior to executing the activity in the building.
In fact, just last week some members of our site team used the 3D model inside the BIM CAVE to become familiar with the tight void where the fire curtain was to be installed. They were able to get an appreciation for the compact space and therefore foresee any issues before they moved to site to undertake the installation efficiently. All of our subcontractors are welcome to use the Hub for operational use as well as training. Helping to upskill our whole team – as well as the next generation of construction workers – is crucial in our fast-moving industry where digital is the future.
To put it in its simplest terms, we're facilitating tight collaboration and creating new efficiencies – and the incredible BIM CAVE is at the heart of that. It's a three-projector set up where the whole room replaces the more singular VR headset approach. People can enjoy the immersive experience together – literally walking around the digital building – to discuss challenges, review and make design changes and ultimately solve issues more quickly than ever before. The client can be in the room if needed, or they can dial in remotely.
What does your role as Digital Engineering Manager involve?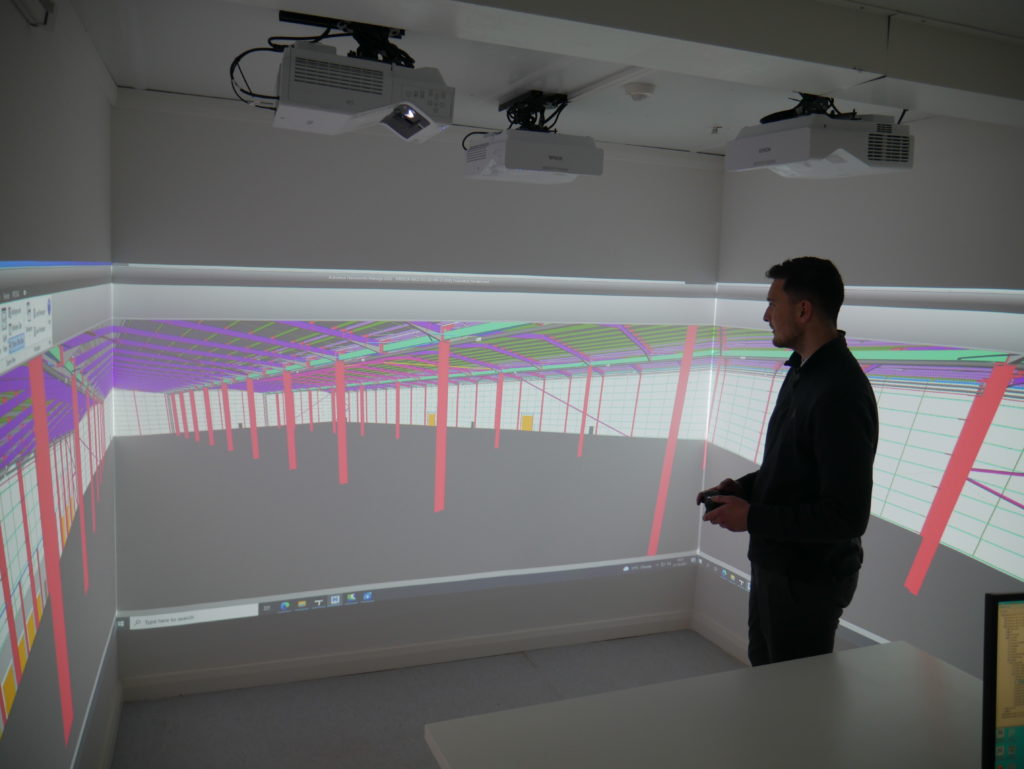 Apart from managing the SIH, which will include welcoming our client, supply chain and local students and showcasing the sustainable credentials of Winvic and the project, I'll be continuing to be part of the team working on our Innovate UK funded digital initiatives. These are  AI System for Predicting Embodied Carbon in Construction (ASPEC), AIVR Lookout and the Conversational AI project. It's almost unbelievable how these have been progressing and we'll be making some announcements in the upcoming months about the final products, which will be ready for others in the industry to make use of.
Another thing I am focusing on is amplifying the use of 4D planning for usage right through the construction phase, which is an evolution from one of the remits I had as VR Developer, which was my position at Winvic before June. 4D is just 3D plus the time element, so I would work on a project for around six-weeks, generally working on two at a time, creating a short video to accompany a tender submission. This would help the client visualise Winvic's proposal and the sequence of the project, with this 4D model addition the scheme becomes more accessible and easier for anyone to understand, especially if they're not trained in viewing drawings and plans. For example, it could illustrate the sequence of highways works and temporary road construction, all in the context of a building's construction progress, and how traffic flow would be managed and switched. What we want to do now is elevate those benefits to the next level and embed 4D into the BIM model at the pre-construction phase. I think this is a good example of how Winvic is always looking for the next client benefit, is open to new ways of doing things and even though it's a large company, any individual can have a real impact on processes. I'm not only proud that my skills have made a substantial difference to the company, but also that I'm mainly self-taught.
How has your career progressed?
I was a Technical Trainee at another company, undertaking an apprenticeship to gain a degree, and I got to work in all the different departments, getting a flavour of each one. When I reached the planning team I was tasked with drawing a construction site in 3D and I loved it. I was taught some things, tried out different software and searched YouTube a lot! So, when I bumped into a previous colleague one day and I heard about how his new employer Winvic was really prioritising digital design I was excited to be able to have a conversation with the firm and be offered a role. I continued my day release to university when I moved to Winvic and I completed my foundation degree, then topped it up over five years to a full Construction Management BSc.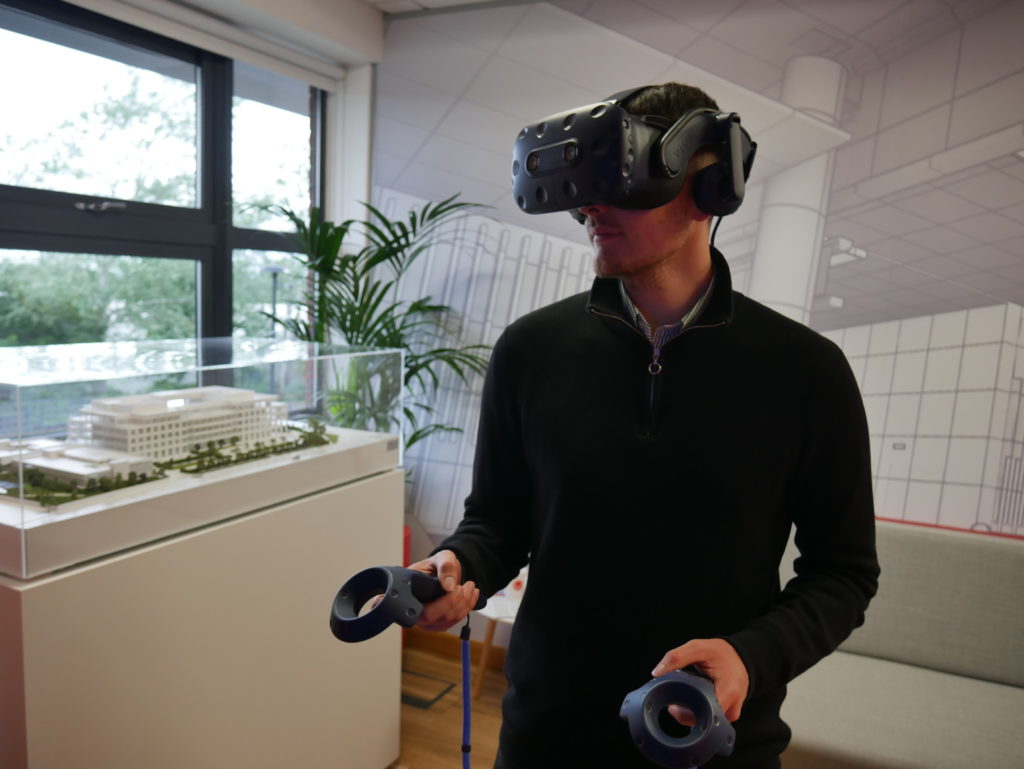 Being at the heart of all things BIM and 3D it was a natural progression for me to become involved in the full digitisation of our Operations and Maintenance Manuals. Now every little piece of information that is passed to the client or end-user upon a project's completion sits within the cloud, rather in tens of paper files. What's more, important dates, videos and instructions can be reached via QR codes that are placed within a finished building so again, it's about making things simpler and more efficient. The things that are already getting me excited about the future are the endless possibilities of wearable technologies, the advancements in hyper-realistic graphics and what can happen in virtual meetings with tools like Microsoft Mesh. Whatever the future holds, I am 100 per cent sure it's going to continue to increase collaboration and it's not going to be boring.