It's been an exciting time at our SEGRO Logistics Park Northampton (SLPN) project, as the team has started construction of the 170-metre long reinforced concrete tunnel. Trains will pass through the landscaped tunnel – therefore being screened from view – as they leave the Strategic Rail Freight Interchange (SRFI) – also a Nationally Significant Infrastructure Project (NSIP) – heading towards the West Coast mainline. We therefore thought it was the perfect time to ask the scheme's project manager, Richard Bark, to tell us about his experience of civil and infrastructure projects and to find out what the team is currently doing at the 450-acre site.
Tell us about your career to date?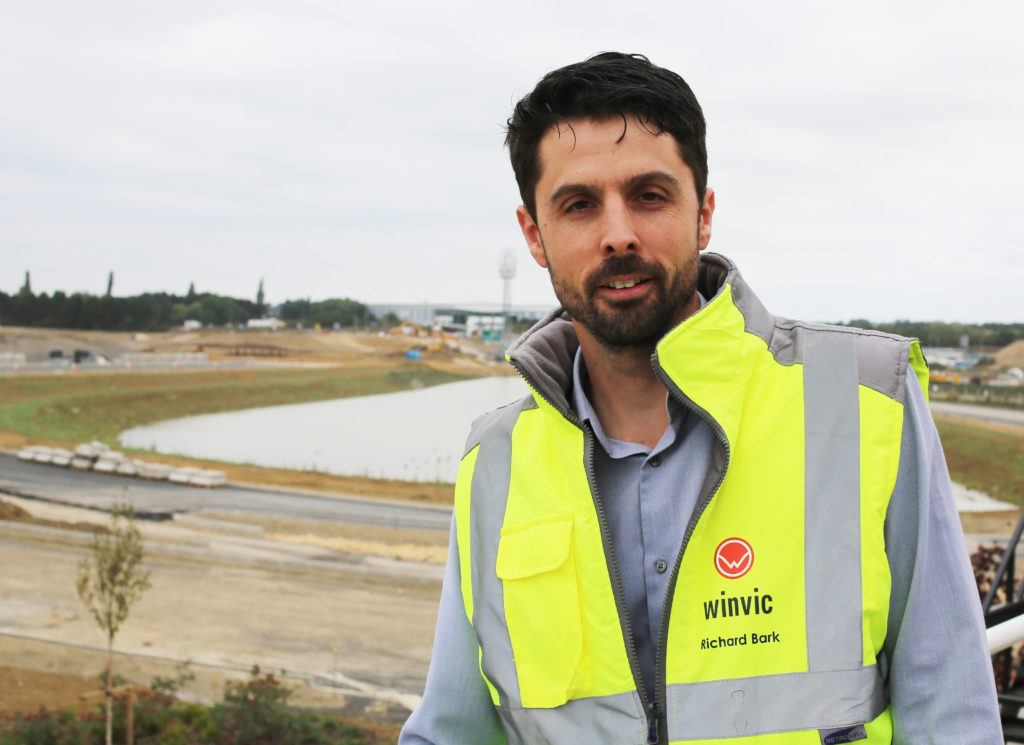 My construction career started when I was 16 and had to find somewhere to do two weeks of work experience. My mum suggested I speak to my uncle who was a civil engineer, and I was lucky enough to secure a placement. On my first day, I remember turning up in my best trousers and shirt to make a good impression and by the end of the day I ended up with mud all down them! I enjoyed working within a tight team and the work was fascinating, so I knew that it was the career I wanted to pursue. I finished my A-levels, undertook a degree in Civil Engineering – that included a year out on site similar to the experience that our Year In Industry students have here – and I then went into a Graduate Civil Engineer role. That year out was my first real taste of construction and I worked on the very first Smart Motorway Project (SMP) trials on the M4 and A42. I never would have imagined that 18 years later I'd be Project Managing a scheme that requires daily liaison with National Highways on the same safety initiative; the SMP infrastructure is being installed on the M1 at the same time as, and adjacently to, SEGRO Logistics Park Northampton (SLPN).
I joined Winvic in 2017, so in the previous 13 years I've worked on many civil and infrastructure projects. One especially large one was Birmingham Airport's runway extension where I spent almost three years; we diverted a one-and-a-half-kilometre section of the A45, just off J6 of the M42, to facilitate the lengthening of the new runway. My most recent project, before my move to Winvic, was managing the construction of two bridges over the River Nene for access to The University of Northampton's new riverside location as well as the associated S278 works on the A428. Highways works – and in particular S278 schemes – have featured in all of the projects I have project managed at Winvic. These have been through both local authorities and Highways England, which recently rebranded as National Highways, and have been undertaken to facilitate the additional traffic created by commercial and industrial business parks.
What projects have you worked on at Winvic?
At the 40-acre Bell Farm in Bedford, we carried out earthworks for the future unit plateaus, constructed retaining walls, installed drainage and created access roads for client LondonMetric, plus S278 works on the A428. My next project was Panattoni Park in Northampton, at J16 of the M1, which again was a scheme to facilitate a six-unit logistics park with significant earthworks, retaining wall construction and also the creation of environmental ponds. My expertise was next put to use on the S278 works at a 79-acre St Modwen site in Chippenham for a few months before I returned to Panattoni Park to manage the substantial highways works. The programme was extremely complex with many moving parts that all had to be executed in the right sequence, at the right time. We had to re-align the dual carriageway and construct two new roundabouts so it meant a lot of the existing infrastructure had to be altered. We diverted gas, water, electricity and telecoms services, all while working very close to a high-pressure gas main, so you can imagine how many stakeholders I had to liaise with! It was a big job, but it was very successful… which seemed to put me first in line for SLPN, which also requires a lot of team leadership and programme management skills as well experience in liaising with multiple agencies, partners and community members.
What works are you carrying out at SEGRO Logistics Park Northampton?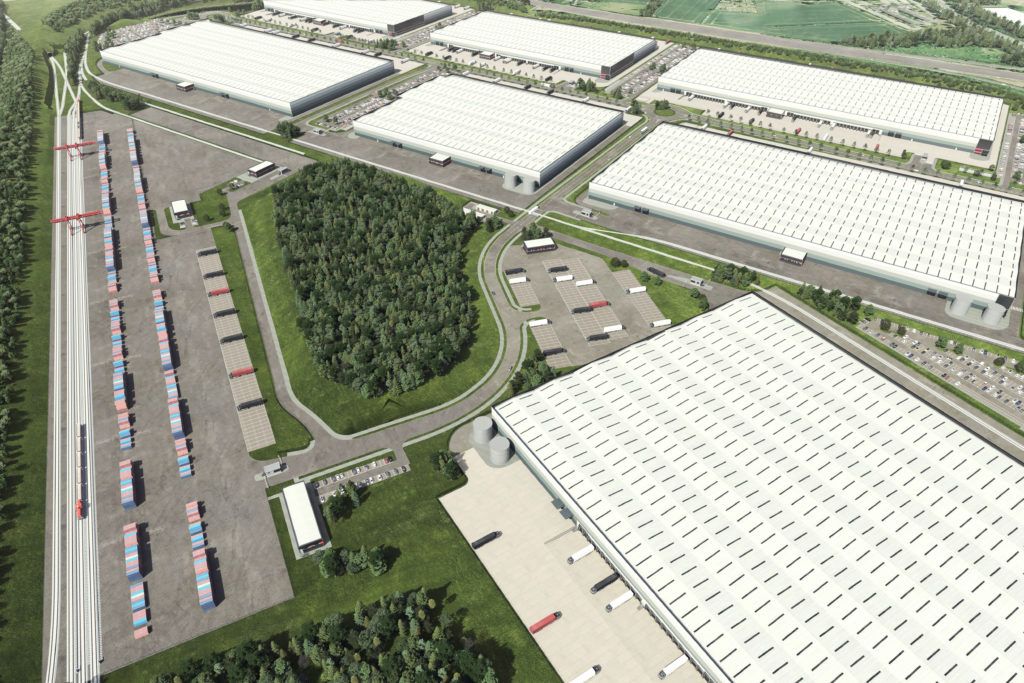 While SLPN is a Nationally Significant Infrastructure Project (NSIP) involving the creation of a Strategic rail Freight Interchange (SRFI) and works to facilitate the logistics park, the works to the surrounding road network is also a vast undertaking and in fact is so large that the works are being carried out under a Development Consent Order granted by central government. The National Highways infrastructure improvements comprise enhancing the gyratory system at J15 of the M1, as well as the on and off slips, and widening the A45 to accommodate the increase in traffic that the finished park and interchange will generate. With the A508 – which is looked after by West Northamptonshire Council – we are changing 750 metres of road from a single to dual carriageway, running from the M1 junction to the new site entrance. Plus, there's the on-site access roads and we also had to construct a one-kilometre-long temporary road right across the site so that vehicles could access the area where we are building the covered tunnel; and this we'll remove later.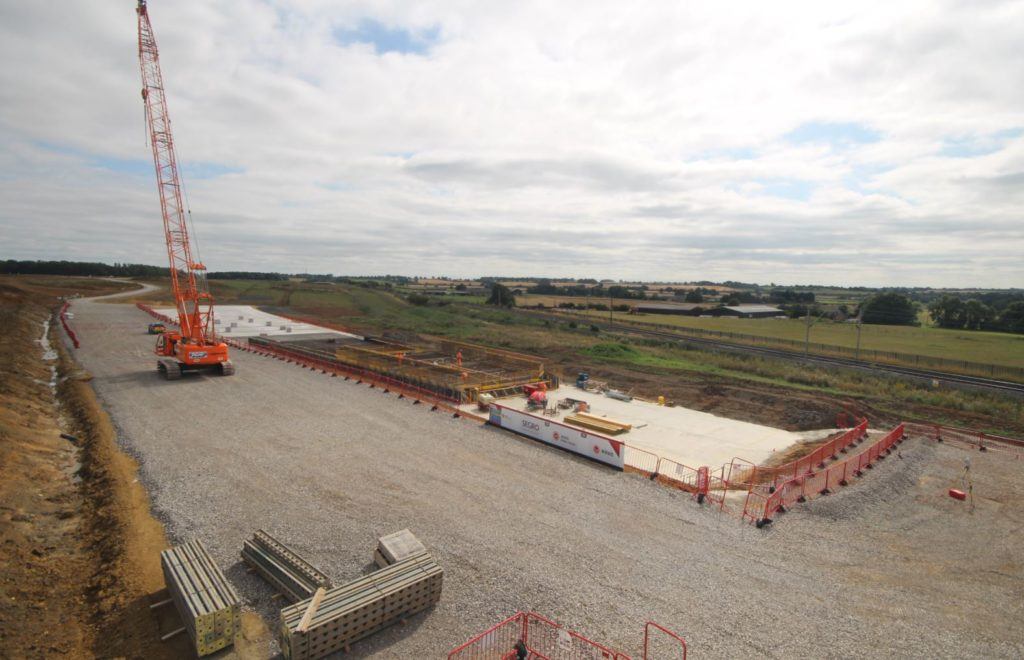 The tunnel that shields the trains from view as they enter and exit the freight interchange is unusual and so it's an exciting element of the scheme. It's 170 metres in length and after we excavated approximately three metres, we started pouring the concrete base and then the 20-metre-high walls. We're about three quarters of the way through in-situ base casting and we're undertaking two pours a week, which is equivalent to 400 cubic metres of concrete. By the second half of October the first pre-cast beams will arrive on site, and we'll install almost 200 over three months. In spring's better weather we'll cover the tunnel structure in earth and landscape it, planting grass, shrubs and trees, and create a footpath and cycleway over the mound which will connect to two existing paths. Across the whole of the project to date, we've carried out 1.8 million cubic metres of cut and fill works. 1.4 million cubic metres of cut is required to reach the correct level for the SRFI and its 377,000 sq ft concrete slab; around 75 per cent of the interchange cut has been completed. The ground isn't strong enough over the winter to begin the interchange and rail line works, so these will commence next spring.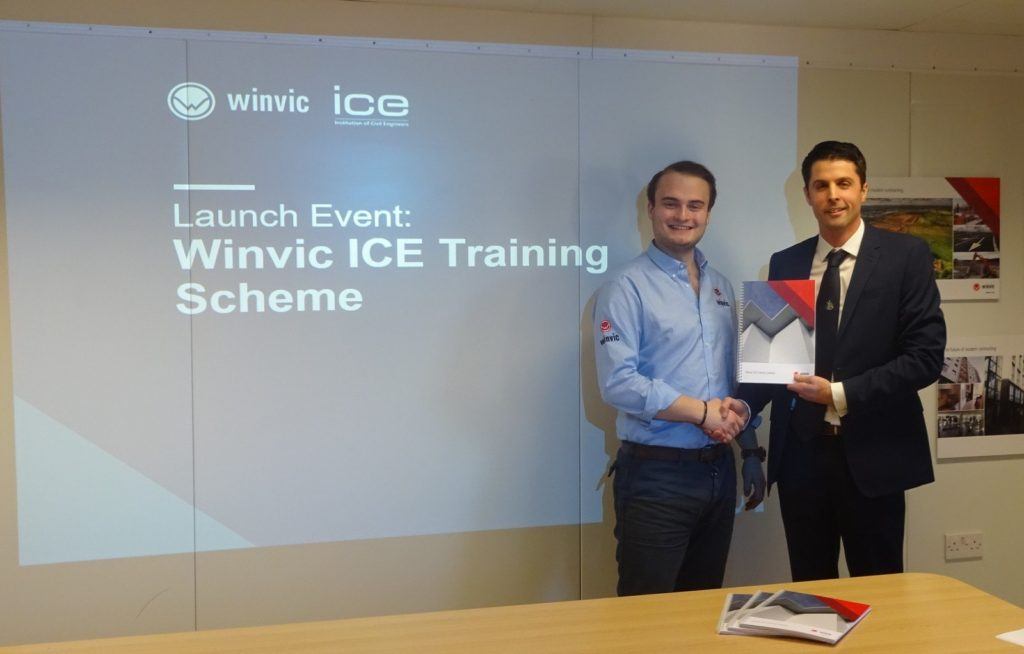 Looking back and writing this, I feel very proud of everything I've achieved with Winvic and, having joined when the company's civils and infrastructure team was really taking off, I'm also very honoured to be an integral part of the company's Institution of Civil Engineers (ICE) training support team. I wanted to be involved because I have been a Chartered Member of ICE 10 years and I think it's everyone's responsibility to help less experienced people to gain more skills and be as knowledgeable as they can – just like I was helped twenty years ago. We have 10 members of staff who are working on their ICE professional qualification, but also at the SLPNG site we have Alex who is undertaking a civil engineering degree apprenticeship, Tom Eustace who is a Year In Industry (YII) student and Trainee Site Engineer and Charlie who is an apprentice Trainee Quantity Surveyor. There's a long way to go at SLPN but I couldn't want for a better, more hardworking team and I'm sure I'll be on to the next project before I know it.
Richard Bark, Project Manager