Mark Skelton has been a member of the Winvic team for over four years, after joining us to project manage one of our largest and most complex schemes to date – SEGRO Logistics Park East Midlands Gateway (SLPEMG) – which we completed at the start of this year. Working on SLPEMG involved managing up to 700 operatives from 30 different contractors per day on the vast site, and approximately 50 stakeholder and community groups. Since June this year, Mark has been giving operational support to Winvic's new Civils and Infrastructure Director, Rob Cook, as Contracts Director; a pivotal role where he is responsible for all project teams in this sector.  We asked Mark to take a little time out of his busy schedule to reflect on his career to dat­­­­e, to share his highlights of SLPEMG and to detail what he's working on over the coming months.
Tell us about your experience and how it has led to your role as Contracts Director in C&I
I came from an area heavily steeped mining and manufacturing, and I knew at an early age I wanted a career. I started out as a Trainee Quantity Surveyor in 1990, but it wasn't long before I became more interested in the hands-on construction aspect and I quickly found an appetite for it. I knew I had to switch my focus and so I started to train as a Civil Engineer. I was a Setting Out Engineer at first and, in fact, the recent blogs by our Year In Industry trainees Hollie and Conah reminded me of my early days out on site, and how every task was exciting because I learned something new every day… although I feel like I've never stopped gaining knowledge. I worked hard to move up the ranks and worked at a couple of different companies as an Engineer, a Senior Engineer and then a Site Manager, and it was in 2006 when I first started running my own schemes.
I've certainly benefitted from a diverse career and I don't think it's particularly unusual within the construction industry to have the opportunity to switch roles as your knowledge increases and you grow as a person. When I speak to any young person about a career in construction, I always explain how varied it is. I can say, hand on heart, that I've never had a dull day at work!
I have always taken pride in and ownership for the quality of my projects, and I have often been told that my style of management reflects this. I think it's crucial for site teams to work towards a common goal as one team, no matter if you're a subcontractor, consultant or employee of the contractor, and as this resonates with Winvic's vision, it's one reason why I'm very at home here. Providing hands on, day-to-day leadership is important to me and I particularly enjoy projects that entail very involved partnership working and multi-organisation liaison. Exceeding stakeholder and client expectations is definitely a personal aim, as well as Winvic's, and when you receive praise from organisations such as Highways England (HE) and the Environment Agency (EA) as well as developers, end-users and the community you can go home feeling a lot of satisfaction.
SLPEMG was a vast undertaking for any Project Manager, what are your highlights of the experience?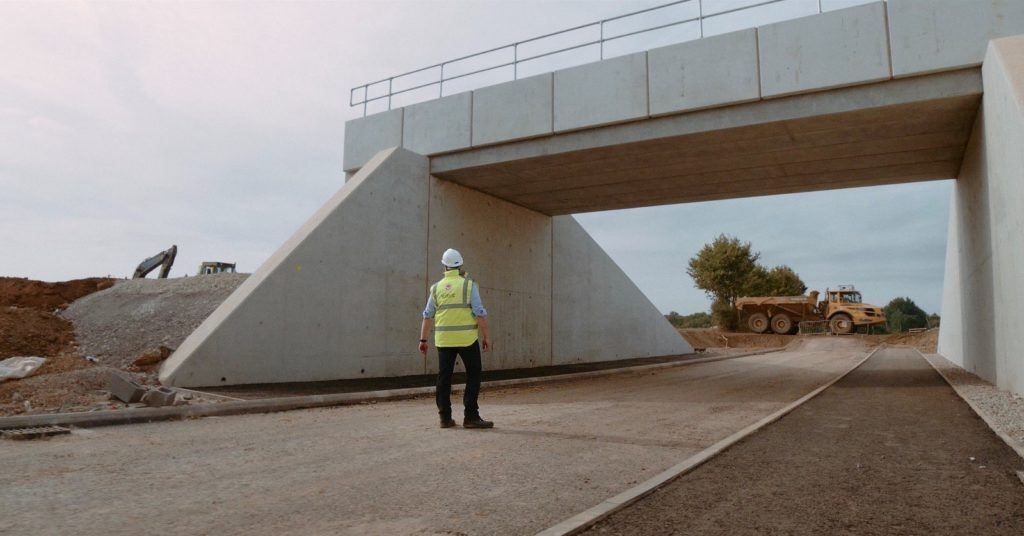 While the cross-agency working aspect of this 'Inland Port' project, including approvals and handovers, was mostly intense and complicated, communicative success was the linchpin to the project's realisation. I'm very proud of this. From a daily Highways England interface to mitigate the impact of works – 6,000m2 of carriageway, a 45 degree skew bridge and the concurrent M1 Smart Motorway implementation – to the three-year management of approximately 50 stakeholder organisations, I really feel standards were set for complex partnership working and the creation of flourishing, two way-relationships.
East Midlands Airport's runway was just 160m from the site so considerable Development Consent Order (DCO) planning and communication was required regarding raising the levels 2m under the flight path, limitation of crane and digger heights, boundary earthworks, the management of gathering birds becoming flight hazards and blowable waste. Other examples are working closely with Severn Trent Water (STW) and National Grid (NG) to divert the Derwent Valley Aqueduct and a gas main. The location of the new carriageway conflicted with existing pipes, which in the case of the aqueduct were very sensitive to vibration and over 100 years old. We laid over 1km of new 1m diameter steel water pipes, actioned the diversion and handed them back over to STW after 16 weeks. With the gas supply, not only did we undertake the installation, we also had to safely purge the old pipe of gas and manage the high risk of the dissipated gas plume entering East Midlands Airport flight paths. Exact calculations on varying models and timeframes were made on so many of these multi-organisation activities, and by working as one we met the real needs of all parties and executed every single one successfully.­
Nevertheless, through my almost 30 year career I have continued to be an engineer at heart and one of the two new bridges – to carry road traffic – was a fantastic challenge to manage. Skew bridges are fairly uncommon but on top of that the design and engineering parameters set by HE and the fact that it was the first time such a structure had been used on the HE network made it truly unique. Set at 45 degrees across the newly constructed M1 South bound offslip underneath, the Cat 1 integral bridge comprised 60Nr, 900mm continuous flight auger piles, each established at a depth of 20m. We tested various special blends of backfill to meet the distinctive performance criteria – a 38 degree angle of repose – and we designed it to include an increased amount of steel to reinforce the walls. The beams for the 38.33m clear span were prefabricated and lifted in pairs with 1,000 tonne cranes and we used 2,600 m3 concrete in total. The programme for this structure lasted 26 weeks – delivered on time and within budget – and over 2 million vehicles used the bridge within the first 4 months of it being completed, which was in August 2018.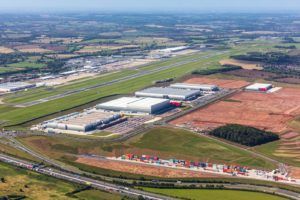 In terms of project highlights, it would be remiss of me not to mention the construction of the railway line and the Strategic Rail Freight Interchange (SRFI), which are central to the 700 acre logistics park. Much of the earthworks were atypical across the whole site and we undertook significant ground remediation to avoid excavating and replacing approximately 250,000m3 of material, but we also had to cut up to 25m below the existing level to accommodate the rail freight terminal. We constructed one new rail bridge and installed 7km of private rail track, linking the SRFI to the Castle Donington freight line. In fact, it is the first terminal to connect to the Castle Donington freight line, providing direct access to the UK's network of rail freight interchanges and all major UK ports.
The 50-acre SRFI element was the final piece of the project to be completed at the beginning of 2020, although we were engaged to construct a fifth industrial warehouse in 2019, which has been handed over very recently. Now the SRFI is operated by Maritime Transport and it is providing the first dedicated service between the Midlands and the Port of Felixstowe. It is capable of handling up to sixteen 775 metre-long freight trains daily and delivers storage capacity for over 5,000TEU, which is circa 250 containers. Clearly it is substantial in geographical size, in engineering expertise and exact management requirements, but the scheme is very significant to the transport sector, the UK economy and the environmental commitments of our country. For every single freight train, up to 70+ lorries are taken from the highway network, cities and towns, which means 1.5 billion fewer kilometres are driven and immeasurable CO2 will not be pumped into the air. Winvic is particularly environmentally aware – from our The Planet Mark™ certification to our commitment to the Considerate Constructors Scheme – so it's gratifying to be involved in schemes that are positively impactful on our planet.
What are you working on now and what does the future hold for Winvic's C&I team?
My current role as Contracts Director is a pivotal role where I am responsible for and provide hands on, day-to-day leadership across all C&I project programme areas. I enjoy liaising with large numbers of stakeholders so my experience of this and my expertise in directing C&I schemes has been instantly transferrable, working with each project, operations and design manager, as well as clients and third-party organisations like HE.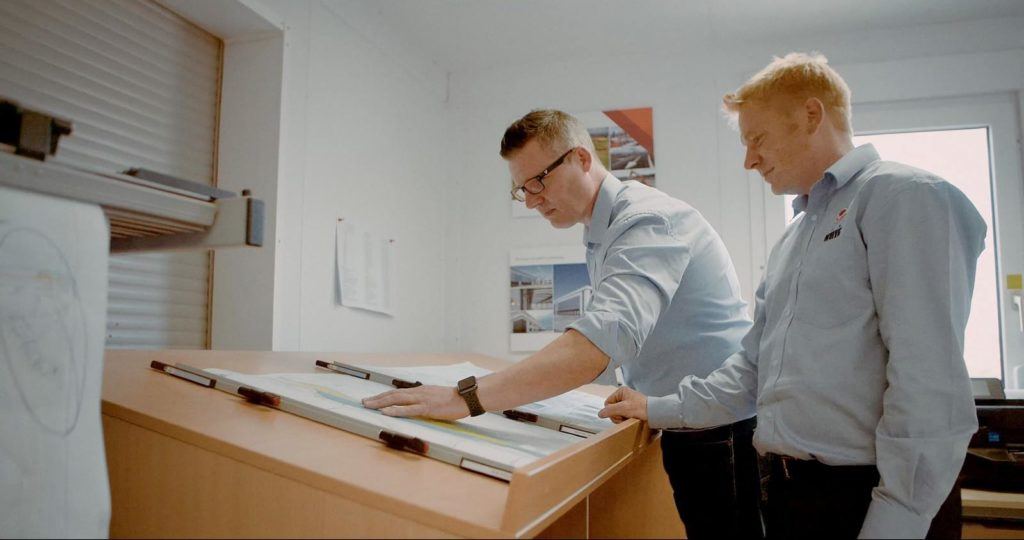 Each of our live civils and infrastructure projects have their own exciting challenges, but one that stands out – perhaps because of my very recent experience on SLPEMG – is the DIRFT III Intermodal Rail Freight Terminal for Prologis. This is another scheme that will help the rail freight industry to generate productivity for the UK economy and expediate the movement of goods by rail, an infrastructure need that has been highlighted even more during the coronavirus pandemic. Furthermore, the movement of construction materials via rail is something that will no doubt continue to increase in line with the government's pledge to speed up and intensify the country's investment and infrastructure spending.
We began the state-of-the-art Intermodal Rail Freight Terminal at Prologis RFI DIRFT in Northamptonshire – part of the extension to the well-known Midlands logistics park – in June, and started with re-engineering the plateaux that was first created around four years ago. This bulk-earthworks programme has comprised approximately 60,000m2 of cut and fill works and the team has positioned 40,000m2 of sub-base in advance of the concrete slab pouring programme, which starts in August and will take circa 20 weeks. Some of the most exciting parts of this scheme to me are similar to those at SLPEMG, namely extensive liaison with HE and the EA as part of the requirements to construct three complex bridges. One of the bridges will carry two rail tracks over the busy A5 and have a span of 30m; although it will be built on private land, extensive planning and design elements are being undertaken alongside Highways England and minimal disruption to road users is a priority. As an example, we're taking an unusual, but forward-thinking approach of designing and installing a permanent restraint barrier system at the roadside, in conjunction with the temporary traffic management solution. Not only does this mean that drivers are less inconvenienced – through fewer closures and the capacity to allow higher speed limits on the busy trunk road – but it is also a much safer for vehicle users and the people who will be constructing the fully integral, single-span, prestressed concrete structure.
The terminal itself encompasses a 79,000m2 terminal slab constructed from 30,000m3 of stress resistant, fibre reinforced concrete, which we have designed to withstand the weight of containers stacked four high and loaded to 21 tonnes each. We will also be constructing 9km of rail track that will lead into the terminal that will have a five-track, 800m long siding. I very much hope that I will be able to be on site when we install the specialist Rail Traverser, as this type of equipment that moves trains perpendicularly from one track to the next is rarely used on UK railways. Another moment I hope to witness is the installation of another bridging structure solution – a 45m long precast arch – that will carry the freight trains over Clifton Brook Tributary. We've been working very closely with the Environment Agency to ensure wildlife in the sensitive ecological area isn't disturbed during the construction, or in the long term, and mitigation measures include the temporary diversion of the tributary, utilising both pipe culvert and diversion channel methods.
I think you could probably guess that I could talk for hours about this project and the other live schemes we have on the go, but I'll just reiterate that it's an exciting time to be working at Winvic as we deliver and construct some of the most multifaceted and enthusing civils and infrastructure schemes around. They involve highly complex – and thus rewarding – planning, design negotiations and communications as well as unusual feats of engineering that make me very proud to say 'I helped make that happen', and even more fulfilled when clients tell us they're happy.
Mark Skelton, Contracts Director