Winvic joined Rail Minister, Chris Heaton-Harris on Friday, 28 February to mark the official opening of the new Strategic Rail Freight Interchange (SRFI) at SEGRO Logistics Park East Midlands Gateway (SLPEMG). Representatives from SEGRO and the SRFI operator Maritime Transport, along with 350 plus guests from across the East Midlands region and the wider transport and logistics industry also attended the event.
Winvic started works at the 700 acre logistics park in September 2017, first undertaking significant infrastructure and highways works which would facilitate the 50 acre SRFI and 6 million sq ft of industrial space. Four units are complete and being operated by end-users Amazon, XPO Logistics, Kuehne & Nagel and ShopDirect. A fifth unit is under construction and is due to be handed over to Games Workshop Limited in the summer.
The 17-acre open-access terminal, capable of handling up to sixteen 775 metre-long freight trains daily and providing storage capacity for over 5,000TEU, is the first to connect to the Castle Donington freight line, providing direct access to the UK's network of rail freight interchanges and all major UK Ports. The first dedicated service between East Midlands Gateway and the Port of Felixstowe, which is operated by Maritime Intermodal, a sub-division of Maritime Transport, has commenced.
SRFI and Rail Phase Statistics: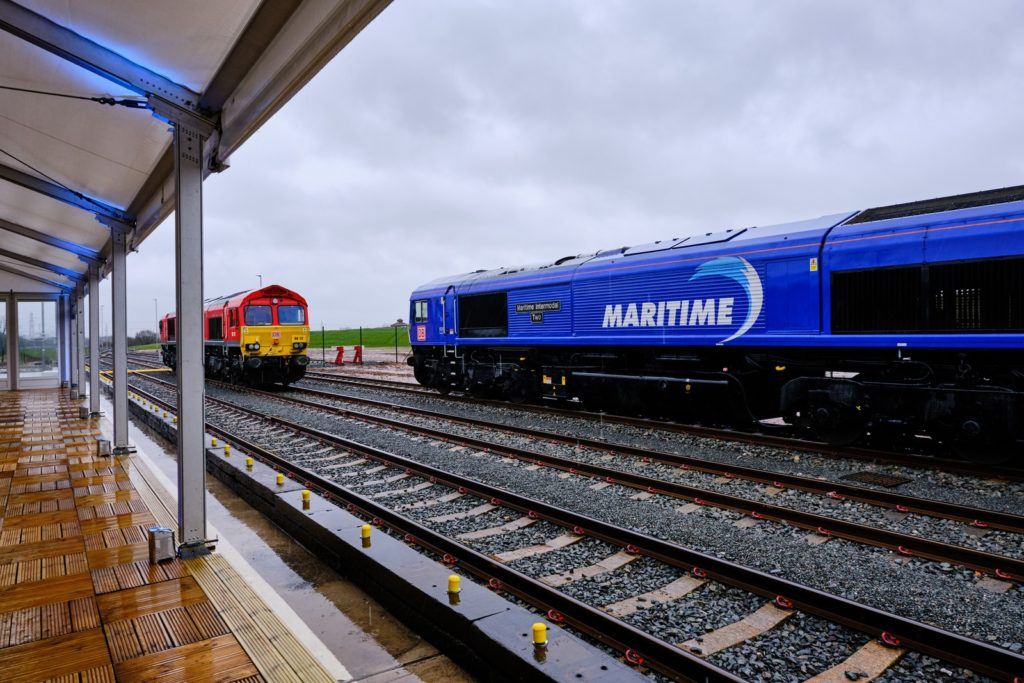 Construction of a new rail bridge
7km private rail link to the Castle Donington freight line
Earthworks cut up to 25m below existing level for rail freight terminal
1km of new one-metre diameter ferro concrete pipework in the diversion of Derwent Valley Aqueduct (DVA), serving 600,000 customers in the East Midlands
Terminal comprises 190 concrete slabs providing space for the storage of circa 250 containers
Infrastructure Statistics:
126,000 m2 carriageway constructed including M1 off and on-slips
Construction of one new road skew-bridge and modification of traffic over one road bridge
5,322,000 m3 of earthwork fill executed
6 million m3 of plateau, screening and topsoiling earthworks
2-metre rise in the level of a newly laid section of the A453
105,000m3 of earth moved in any one week at peak of earthworks programme
65 pieces of large earth working plant operating on site any one point
126,040m2 of new surfaced pavement
163km of new services
Over 300,000 tons of aggregates
Industrial Warehouse Statistics: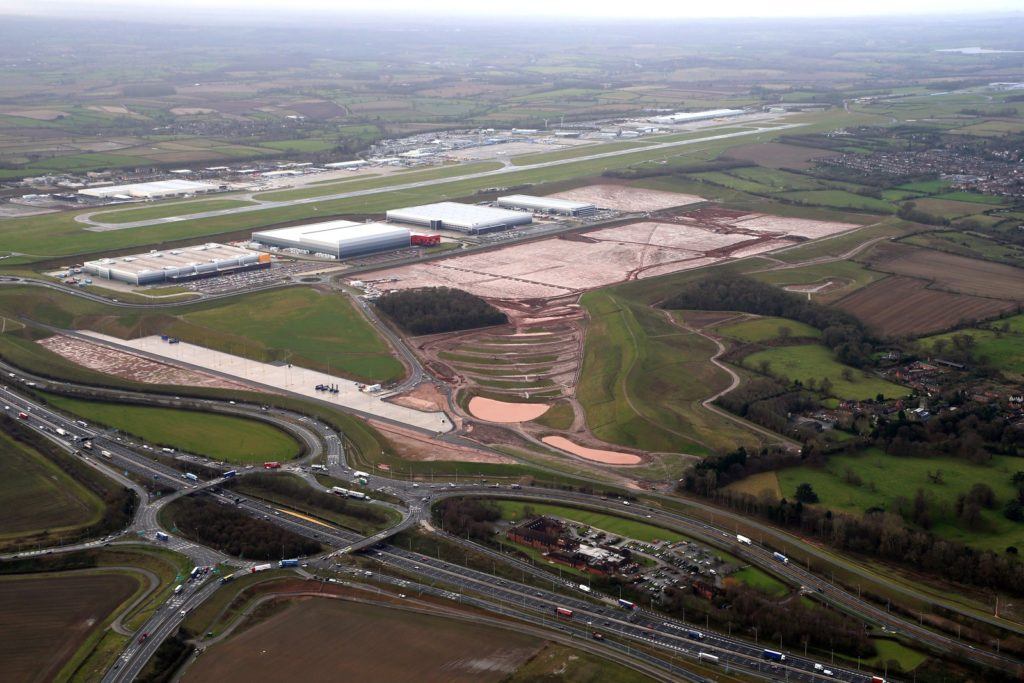 Plot 1 – Amazon – 1.3 million sq ft, two storey removable mezzanines, 7,500 tonnes of steel used
Plot 2 – XPO Logistics – 638,000 sq ft, temperature controlled 35m high bay and low bays
Plot 3 – Shop Direct – 542,000 sq ft, bespoke mezzanine flooring supporting conveyor systems, 43,000 sq ft offices
Plot 4 – Kuehne & Nagel – 163,000 sq ft, 40,000 sq ft temperature controlled area for pharmaceutical products
Plot 5 – Games Workshop – 177,000 sq ft, plant deck, 101,000 sq ft yard
Mark Skelton is the Winvic Project Manager who has orchestrated the vast scheme for over three years. He commented: "This project is awesome in both senses of the word and it's been a privilege to have worked on a Nationally Significant Infrastructure Project. The project statistics go some way in describing what goes into delivering a 700 acre vision, but in reality it is a far-reaching team of expert and committed people who carefully craft successes like SEGRO Logistics Park East Midlands Gateway.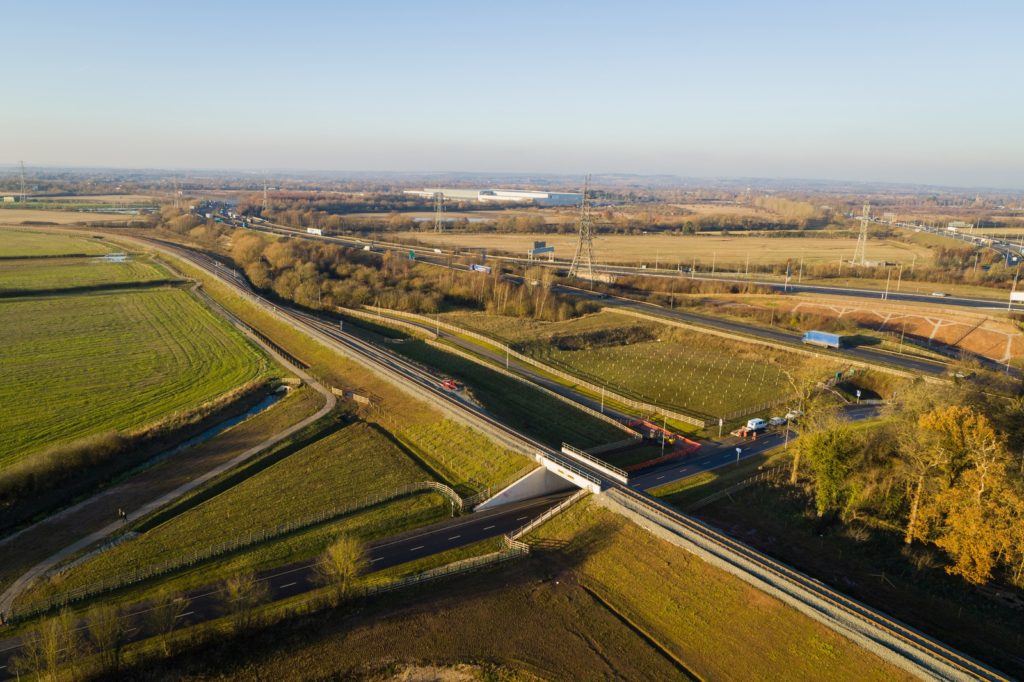 "Winvic has elevated its status from leading shed-specialist to a creator of enormous schemes and much is owed to our robust partnerships with SEGRO, Maritime, other end-users and scores of agencies and community members. While this element of the project took three years, Winvic remain on site to continue construction of the fifth industrial unit and spur road; seeing huge trains coming in and out of the interchange is a welcome daily reminder that we really have achieved something momentous."
David Sleath, Chief Executive Officer, SEGRO, said: "The new rail freight interchange is a fantastic addition to SEGRO Logistics Park East Midlands Gateway and makes it a true multi-model 'in-land' port which facilitates the efficient and sustainable movement of goods around the country.
"We are keen to build on the success of East Midlands Gateway by continuing to grow our footprint in the Midlands. We have planning consent to create almost 15 million square feet of industrial or logistics space in the region in the coming years which will represent around £1 billion of further investment and bring significant long-term benefits for the economy, our customers and local communities."
For more information on Winvic, the company's latest project news and job vacancies please visit www.winvic.co.uk. Join Winvic on social media – visit Twitter @WinvicLtd – and LinkedIn.