Jaguar Land Rover and Prologis have revealed that a new net zero logistics facility built during the pandemic has delivered more than £12m worth of social and local economic value for communities and businesses in the West Midlands.
Located near to Jaguar Land Rover's Solihull manufacturing facility, the new Logistics Operations Centre (LOC) will support the automotive manufacturer's long-term operations, whilst delivering a range of social, economic, and environmental benefits for the region.
Built by the UK's leading developer of logistics parks, Prologis, and construction partner, Winvic Construction Ltd, the project has already delivered £11.1 million in local spend, provided 97 weeks of work experience opportunities and 118 weeks of training opportunities given to those looking to develop skills working in the construction sector, alongside community support and volunteering initiatives.
In 2018, Prologis became the first property company in the UK to require its supply chain to adhere to a Social Value Charter. This charter enables Prologis and its suppliers to measure and attach a financial value to the environmental and societal benefits their combined activities bring.
Throughout the build process, Winvic Construction Ltd recorded activity against a social value plan, which saw the company providing work experience opportunities, sourcing goods and materials locally wherever possible, as well as supporting a number of projects in the local community.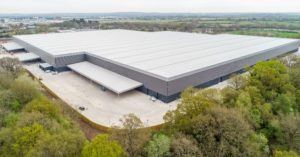 Through a partnership with Planet Mark and climate action charity, Cool Earth, Prologis and Jaguar Land Rover have measured and reduced the building's whole life carbon footprint and mitigated five times the unavoidable embodied carbon emissions (carbon associated with the construction of the building) by protecting vital areas of rainforest. The LOC is protecting 760 acres of rainforest canopy in the Peruvian Amazon, which is locking in 197,600 tonnes of carbon and supporting indigenous communities to protect the rainforest.
This dedicated sustainability programme is also funding education officers from the Eden Project to go into local schools close to the LOC development to help children understand the role they can play in protecting the planet.
Speaking about the initiative, Simon Cox, UK Head of Sustainability at Prologis said:
"Being a responsible business is right at the core of everything we do, and the coronavirus crisis has highlighted the important contribution that we can make to both local and global communities. By working with Jaguar Land Rover, Winvic, and through our partnership with Cool Earth, the LOC will help improve the lives of people who call the rainforest their home, as well as those in the immediate local area.
"Even though it's thousands of miles away from the UK, protecting the rainforest is essential in tackling climate change, as well as bringing wider benefits for society, cultures and biodiversity. Cool Earth's work is centered around empowering local communities to help keep rainforest standing. As the planet's global safety net, protecting the rainforest is the smartest, most positive climate action there is."
Danny Nelson, Winvic's Head of Industrial, Distribution and Logistics, added:
"Sustainability and social value are just two of the key areas where Winvic and Prologis share the same values and, over the past 20 years of working in partnership, we have very much grown together and developed strategies to deliver long-lasting benefits to local communities. The now-completed LOC is an excellent example of what can be done with a project when principles, tenacity, and a considered approach come together. We are very proud of our contribution to Local Economic Value on the scheme and look forward to continuing our relationship with Prologis to deliver further social, economic, and environmental benefits in tandem."