Winvic Construction Ltd, a leading main contractor that specialises in the design and delivery of multi-sector construction and civil engineering projects, has celebrated the handover of a BTR scheme – The Almere in Milton Keynes – to leading pan-UK BTR developer, Packaged Living and Invesco Real Estate, the global real estate investment manager. The city centre project began in January 2020 and comprises 148 one-bedroom, 137 two-bedroom and nine three-bedroom apartments. Winvic delivered a design, build and full fit out contract.
Invesco Real Estate and Packaged Living agreed a £74m forward-funding deal for this exciting new scheme.
Winvic first undertook significant earthworks on site to facilitate an undercroft car park and cycle stores that will house 47 vehicles and 294 bikes and then poured the concrete frame in-situ over a 118-week programme. The Almere features a classic brick façade utilising four different bricks. The finish provides a contrast to the surrounding fully glazed and panelled buildings in Milton Keynes city centre but is striking due to the selected green glass brick that covers the whole of the ground floor's exterior.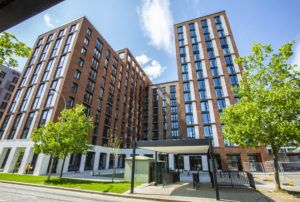 It is a H-shaped building comprising two primary towers and a link block of 10, 12, 14 and 18 storeys and within 294 apartments and a 2,900 sq ft communal area on the eleventh floor – with a rooftop garden – can be found. 4,100 sq ft of community space including a kitchen has been created on the ground floor as well as a 2,500 sq ft commercial unit that faces Avebury Boulevard.
Furthermore, the scheme takes advantage of the city's Combined Heat and Power (CHP) energy station, located close to the site; Winvic has connected the apartments to the district heating plant, meaning residents will use a renewable source of energy for their hot water and heating. This standout, low carbon provision has removed the need for alternative renewable technologies in the design, such as solar panels, as well as boilers in the apartments.
Winvic also started on site for Invesco Real Estate as the client on a Birmingham city centre project in February 2022. The 484-apartment scheme called Holloway Head will be complete in late winter 2025.
Mark Jones, Winvic's Director of Multi-room, said: "Our safe and swift delivery of The Almere – right the way through the pandemic – has exceeded our clients, Invesco Real Estate and Packaged Living's expectations and it has been a pleasure to build a strong relationship with their teams over the past two years. The significant groundworks programme and in-situ concrete frame pour within a very tight boundary and the Combined Heat and Power energy station connectivity have been the biggest challenges on site, and I'd like to thank our team for navigating them expertly. The fit-out of the project has been executed to our usual elevated standards and we trust the new residents will enjoy their apartments and shared spaces.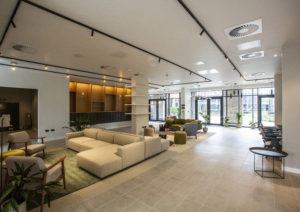 "Furthermore, being awarded another significant city centre apartment scheme by The Almere's owner, Invesco Real Estate, illustrates that we have really met their commercial vision and quality goals in Milton Keynes. I have every confidence in the team to deliver once again in Birmingham."
Mark Woodrow, Joint Managing Director at Packaged Living, commented: "The Almere is a hugely significant deal for Packaged Living, being the first scheme we undertook as a business. I am therefore delighted to have reached this huge milestone alongside Invesco Real Estate and Winvic and look forward to welcoming the residents of Milton Keynes to the town's newest place to live, work and play."
Tom McFerran, Director of Fund Management at Invesco Real Estate, commented: "Working together with Winvic and Packaged Living, we have delivered this tailored scheme on time and on budget, despite the headwinds of a global pandemic and various lockdowns. The Almere now adds another notch to our growing, stabilised residential portfolio of c.2,600 units across 11 investments."
Join Winvic on social media – visit Twitter @WinvicLtd – and LinkedIn.