The third blog in our series following National Careers Week (1 – 5 March 2021) has been written by Ed Hern who is studying for a BSc (Hons) in Quantity Surveying at Sheffield Hallam, alongside Abbie who wrote our blog on Thursday. Like Elliot – who speaks about it in his blog here – Ed completed a year of university before choosing to change courses and start his first year again. The switch was from geography to his current course, but his desire to work outside has remained throughout and doing on-site inspections is one of his favourite activities. Ed tells us how he's getting on at Aubrey Place in Milton Keynes and how he got here.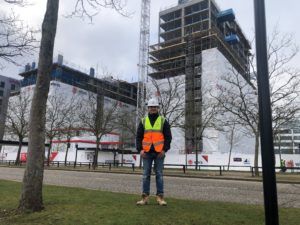 "It's a bit strange to be writing this because I'm from Northampton, where Winvic is based, so I've seen their big red signs around the Midlands for some years and even driving up the motorway to university. And now I work here! But it was at the uni careers day when I realised who they really were, what kind of projects they construct and how exciting a placement could be. They were the only company to bring VR goggles with them, so it was obvious they were passionate about state-of-the-art construction. It was also really helpful to speak to George at the fair about his experiences as he was a Year In Industry student at the time. He really sold it to me and I'm happy I got a placement because a year in construction is something I planned from the offset. I know that quite a few people on my course had their work placements cancelled because of the pandemic, so I feel pretty lucky. I'd like to come back here after university and be part of the multi-room team if I can because I'm enjoying it so much. It's a bit cliché, but it's like a big family here and we value the same things. I feel 'very Winvic' if you know what I mean!
"Some of my actual family work in construction, so even though I started a geography degree, working in the industry was always in the back of my mind. My dad thought quantity surveying would be a good career for me and I spoke a lot to my dad's friend who has been a QS for many years, so that's what helped me make the decision about my degree. When I first started at Winvic I was quite nervous. It was quite daunting as it was my first full-time job but there were six of us in the same position and we were made to feel at ease in our induction. Simon the Managing Director came to meet each of us before were given all our PPE kit and laptops and we learned a bit about where we'd be working. For the first week I shadowed Trevor, who is a health and safety manager, and this was a really good way to start as I wanted to do everything right and safely, and I got to see a few different projects. I visited some civils and infrastructure works at Hinckley Park and a fit-out project too, then an industrial warehouse at Warth Park in Raunds, the Lionel House build-to-rent scheme in Birmingham and Lidl's UK headquarters in Tolworth.
"I then shadowed Peter for a week at Winvic's first hotel scheme, Hotel La Tour, and I still speak to him quite a bit now. He was in the 2018/19 Year In Industry cohort and he was offered a job here as an Assistant Quantity Surveyor after he graduated. It was so great because I could hear about his experience as a QS, as a Winvic year out student and about his final year at university. The project I was placed on is literally just down the road from Hotel La Tour. We're both in central Milton Keynes, but I'm working on Aubrey Place, which is a build-to-rent scheme comprising 294 apartments. It's one of the tallest buildings in the city at 19-storeys, so that's pretty exciting for my first role! A lot of my job entails getting quotes, presenting costs to the team and organising orders, but a really important part of it is to build good relationships with everyone, and I enjoy being on the phone to subcontractors negotiating. I think if you do this well in your job you're only going to make your life easier down the line when you speak to them again.
"The project QS and senior QS, Ben and Chris, aren't on site due to keeping numbers down in line with Covid-19 restrictions so I'm lucky Winvic think training young people is a priority and they've made it work so I can be here. We do Teams calls,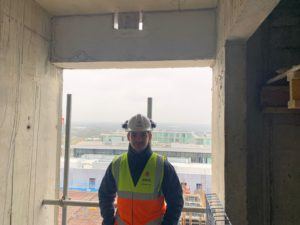 they're really supportive and I feel like it's pushed me to use my initiative more. I probably speak to a wider range of people too because Ben isn't sat right next to me in the site office. This last year has just been bizarre from that point of view but also because I didn't imagine I could learn so much more in a few months, than I did with two years in the classroom. I love my degree but it's like construction is a practical language. It's fine seeing it in a book, but it's when you see it for real when you learn the most and it's really important for me to understand how the operations side fits together with the commercial side. I frequently walk out on site with an engineer, Louis, to do inspections, like examining the block work setting out and that the rebar – for the concrete building frame – is laid correctly. We check the spacing between bars, that shape codes are correctly installed and the cover to all sides of the concrete face is correct. I've also done a groundworks workshop, because that package was already complete at Aubrey Place when I started, and I will be doing a placement with the Design Manager in the next few weeks. All of these things mean I can see the activities relating to the costs I'm working on, but I can see why we're taking one decision over another too.
"Louis, John the Project Manager and Carl the Site Manager are all really knowledgeable and I remember John saying to me 'don't feel like any question is stupid'. I've gone from being quite nervous to being confident about doing independent tasks and it's with their support. I've also realised there's so many different things I could do in a long construction career, as I go along gaining new perspectives and knowledge. I would like progress as far as I can go and I'm already thinking about undertaking a Royal Institution of Chartered Surveyors (RICS) certification after I've graduated. I'm looking forward to my final year at uni, especially if we can get back to normal life, but I'll definitely have to take a trip back to Milton Keynes in Spring next year to visit the completed Aubrey Place."
Ed Hern, Trainee Quantity Surveyor
You can hear more from some of our Year In Industry students in this Video.