To celebrate National Careers Week – and because we #loveconstruction – we've asked our 2020/21 Year In Industry students if we can take a peek into their lives to find out more about their roles here at Winvic and how they got here. You'll find our first blog from Trainee Site Engineer Elliot here. Today, Abbie who is a Trainee Quantity Surveyor tells us how she's gone from not being sure about her career path to loving construction, her degree and now her job at Winvic.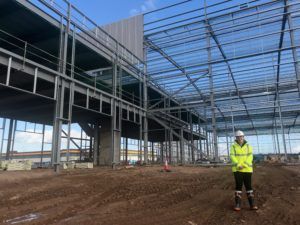 "If you're a secondary school pupil and you're worried because you have no idea what you want to do as a career, then my advice would be to speak to as many people as you can about what they do in their jobs and something will definitely inspire you eventually. I had no idea either, but now I can't explain how happy I am in my degree and at my year out placement at Winvic! I would recommend construction to anyone and I'm sure most people don't know how many different jobs there are in the industry. I chose my A-level subjects – Design and Technology, English Literature, English Language and History – based on what I enjoyed at school and what would give me options, but I had no idea what I wanted to do. I ended up enjoying my design and technology classes so much I started to be curious about becoming an architect and I got a one-week placement at an architect's firm. I realised that it wasn't what I wanted to do after all and I spoke to my uncle, who is a project manager for a construction company, and my cousin, who had started a degree apprenticeship in Quantity Surveying, about different construction roles.
"These were the two people who got me really interested in the sector and the more they told me, the more I thought that Quantity Surveying was interesting and important, and how working on a site would be exciting. An eight-week summer internship with a Quantity Surveying company helped me to make a firm decision, and I was soon off to Sheffield Hallam University to start my BSc (Hons) in that subject. The on-site aspect of the course was very appealing, and I was looking forward to my year out since my first year, but I've liked all my lectures and seminars, and I've learned a lot. I clearly remember speaking to Winvic's Year In Industry students about their experiences and the company when they visited our careers fair and it sounded so exciting that I couldn't wait to submit my CV. The rest is history, as they say, because I was offered an interview, then a place and here I am, absolutely loving being on site!
"I got the chance to talk to another previous Year In Industry student – George Johnson – in my first couple of weeks on the job. George was also a trainee quantity surveyor here two years ago and when he finished his degree he was offered a full time job at Winvic, so learning about his experience was really motivating. I would really love to be able to come back after graduating, keep growing with Winvic and make a big difference to the projects they deliver too. I met him at the Prologis Logistics Operations Centre (LOC) project in Solihull, which was one of the first sites I visited, and it was also really interesting and important to work for a whole week with the health and safety team early on. I spent a few weeks working from home, getting more used to the systems and every-day tasks that a QS does. This was challenging, but I definitely didn't feel alone. If anything, it made me feel very responsible and independent. I spoke to other members of the team on the phone and on video calls every day, and my mentor and Project Surveyor Victoria, was more supportive than I could ever have imagined. Then at the end of November, I was able to work full-time from site, which was a new project and just half an hour's drive from my home. You can see the progression of the project – Plot 9 at Avonmouth, Bristol – on Winvic live, and the steel frame is almost fully complete. It's a 337,000 sq ft industrial warehouse and it will be handed over to the client Mountpark Ltd in July 2021.
"The types of activities I do often follow the same processes but at the same time it's very different every day. For example, I'll use an architectural drawing and ask suitable subcontractors to tender for work, and I'll compare their measurements with my own and set out all their costs on a spreadsheet to discuss with Victoria. When the supplier has been chosen, I organise the order and prepare the contract, which includes things like insurances and warranties. When the work is being carried out, I manage the interim payments based on my contract sum analysis, to arrange payment for the amount of work completed during the previous month, plus any variations that may have been agreed. Currently I'm working with the design team on a placement and it has been really exciting to see how that part of the process impacts the commercial department. All of the  placements give me an appreciation of what everyone does, making me a more rounded QS and also helping me to see all the options available within construction when I finish university. Being given the opportunity to learn about the whole of a construction project means I can make the right decision about my postgraduate career.
"I'm seeing and learning so much – there's so much to learn on site! I found that when I'm in the lecture theatre at university it's much harder to understand how something actually works, but now, I can see it in front of me, and everything goes together in my head. Being part of a team also helps because they explain everything clearly and I'm encouraged to ask questions. I'm really happy with my site team because I have found that working well with others is very rewarding and we all like to have a laugh. I just feel like Winvic really looks after me."
Abbie Stansfield, Trainee Quantity Surveyor
You can hear more from some of our Year In Industry students in this Video.