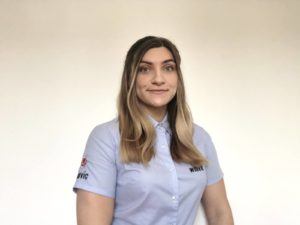 For our third and final blog post to celebrate this year's National Apprenticeship Week, which ended yesterday, we asked Amber Toseland – who has already featured in our recruitment brochure – to tell more of her story, as when she started working at Winvic she had already started her BSc (Hons) Quantity Surveying and Commercial Management Degree Apprenticeship with another company. She reveals that it isn't just about the type of qualification or way in which it is achieved, but it's crucial for any apprentice to have the right employer for them, supporting them every step of the way.
"I feel like through most of my life I didn't know what I wanted to do or know where to turn to find out, but this seems to be a common story. I'm thankful to say that it all changed when I came to work at Winvic in April 2019 and for the first time I felt that I was where I was meant to be. Going back to my school and college days, I wanted to be a doctor so I chose my GCSE then A-level subjects based on that – biology, physics and maths with a chemistry AS level. However, things didn't slot into place as I thought they would do, and I even dropped chemistry. On top of that I felt under pressure to apply for university because that's what A-level students do. I settled on applying for Psychology degrees because I didn't want to give up on learning, but I remember thinking it wasn't really what I wanted to do.
"I was also toying with the idea of getting a job because I was unsure of my direction and it would be nice to start earning money, and that's when an apprenticeship started to make more and more sense. However, I didn't really realise what options were out there and I filled in another form about my interests to see what might be a good fit for me. It was my head of year that suggested a Proposals Trainee role that was available with a different construction firm to Winvic, because I was strong at maths and confident talking to people. I applied and I was happy to get the placement and job. Unfortunately, it turned out to be much more focused on the tender writing, rather than the estimation side of things, and I didn't feel very supported. After a while I was able to move to the Quantity Surveying department, but it never felt like the right fit for me. I spoke to some recruiters and almost two years ago I ended up getting this Trainee Quantity Surveyor job at Winvic. I was very glad I was able to continue my apprenticeship, because I had been enjoying my uni studies.
"At Winvic I'm treated as an individual and moving forward in my career isn't dependent on my studies. My place in the company is very much about doing a good job and I've been encouraged by everyone since my first day, from the HR and accounts departments to my manager and the Directors. Over the past 22 months, as I've continued learning and have proved myself to be a safe pair of hands, I've been given more responsibilities and worked more independently. I'm currently working on the project Plot 12 – a 695,000 sq ft industrial warehouse – at SEGRO Logistics Park East Midlands Gateway, although I've been home based since March 2020. At the moment, a large part of my role is centred on design variations, for example there's recently been the addition of another lift. I receive instructions from site, obtain quotes from suppliers, prepare contracts, place orders and liaise with site staff to ensure that works have been carried out relative to contracts and budget lines. I also arrange for subcontractors to be paid, attend various meetings and continually liaise with Shaun Cross, who is my supervisor and the Senior QS on the scheme, as well as the Senior Engineer and the Project Manager.
"It's a down-to-earth environment where everyone is committed to doing things properly, so I'd say to anyone who is looking for an apprenticeship placement to apply to Winvic if they're not afraid of a challenge or working hard. I love to be organised, am good with numbers and enjoy talking to people so being a QS really is a perfect job for me. I got there in the end! Plus, my degree – which is one day a week and online because of lockdown – has got more interesting as I've gone along and I'm always gaining new perspectives. I've enjoyed my measurement modules and have been surprised how much I've loved learning commercial law too. I feel very lucky to have a job that I am passionate about, especially because it's been a tough year for many people, and when I graduate in 2023 I'm going to be very proud of myself."
Amber Toseland, Trainee Quantity Surveyor
If you enjoyed Amber's blog, why not read our other National Apprenticeship Week 2021 stories: