National Careers Week began yesterday, so we thought it was the perfect time to catch up with our Year In Industry students – as we do every year – and ask them to tell us about how they got to where they are today and what their roles entail. Many year out programmes have been put on hold due to the pandemic, but we've worked hard to continue supporting the next generation of construction talent. First to take over the Winvic blog is Elliot Smith, who is taking a year out with us before his final year Construction Management degree studies at Nottingham Trent University. He is one of six people to have joined our 400 strong team in August, getting vital hands-on experience to complement the two years of undergraduate classroom learning he has undertaken. Elliot tells us about the first steps in his career as a trainee site engineer…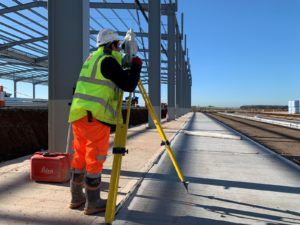 "When  I was first asked to write a blog for National Careers Week I was a bit surprised as technically I'm still a student. However, when I thought about it more I realised I feel completely at home, I am doing a real job and it's probably going to be strange going back to university life after this experience. I've never felt like an outsider and I've been treated like one of the team since my first day, so I guess this really is the start of my engineering career!
"My Grandad was an engineer, but working with machines, and I was always interested in what he did. I suppose looked up to him a lot. I think I was quite young when I decided I wanted to be an engineer and as time went on, and as I learned about the different disciplines at college, I came to the conclusion that construction would suit me. I'm a practical person, get satisfaction from seeing things built and I'm outdoorsy. I studied for an engineering diploma at a specialist STEM college and this covered many different areas, from learning the fundamentals of health and safety through to modern manufacturing systems. This led me to apply for and start a degree in Civil Engineering. It wasn't quite what I expected though and while I thought I was good at maths, it turned out it wasn't my strongest point after all! I didn't particularly enjoy the surveying module and the types of structures I was learning about didn't excite me, and I started to wonder whether an engineering career was right for me after all. I also started to worry that a civil engineering path might not lead me to the more practical, hands on side to construction.
"University was very supportive about my concerns and I spoke to my lecturers about the challenges, my options and what I thought I wanted. At the end of my first year l decided it would be good for me to transfer courses and start a BSc (Hons) in Construction Management, which would give me a wider range of options. While I had to start as a first-year student again, I didn't mind and I was glad I did because I liked site engineering. What's funny though is that now I've worked on a site for five months I see things slightly differently again. For example, before I would have said surveying wasn't for me, but now I really love it! We didn't have robotic total stations at university – which is basically equipment used to measure out – and the real-life way of working is much more appealing to me than it is presented in the classroom. Perhaps if I had done a civil engineering apprenticeship and had that hands on experience from the start, I'd have had a completely different experience and view. I think it just shows that everyone has to find the learning route that's right for them, but that practical education is very important, and generally more engaging for most people, than the theoretical side.
"Winvic had a stand at our university careers fair and it was nice to see a friendly face from my time on the civils degree. Me and Hollie had been in classes together and she had gone on to her second year and then to do her year out placement at Winvic. She couldn't speak more highly of the company and her experiences, so I applied, was invited for an interview and I got a place in the 2020/21 cohort. I spent a few weeks at Plot T160, at St Modwen Park in Tamworth and with supervision from my mentor and the rest of the site team I started to learn how to set out, in areas of the programme such as drainage and kerbing. However, I was moved to another brand new scheme – the DSV facility at Mercia Park in Leicestershire – because it was a more unusual and bigger project, and it would give me the opportunity to see an industrial unit programme from the very beginning to the end. It's been very exciting because it was just a large brown field when I arrived on site in November, and already there are three impressive steel frames, each well on their way to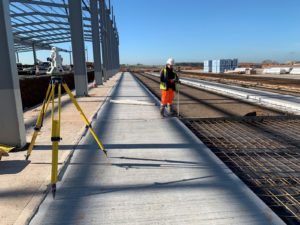 completion.
"As the weeks have passed and I've proven to my supervisors that I know what I'm doing, I've been given more and more responsibility. At the moment I'm looking after the 380,000 sq ft yard, which means I measure where each slab should be, physically pin it and set the level, then the subcontractor trims the stone and installs it for me to review. I did similar tasks for the buildings' foundations, using GPS to set the digging levels and then floated the bolts into position in the concrete ready for the steel frame. It won't be long before I'll move on to some internal activities and because I've not worked on an interior before I'm really looking forward to it. There's going to be lots of new things to learn. I attend a weekly meeting and generally know what tasks I need to do within the week ahead, and it's up to me to manage my time. The senior engineer, Gabe, and the other engineers I work closely with, Phil and Simon, check my work and progress, and they sometimes ask me to do complete additional specific tasks for them. Whether it's the engineers or the project manager, Dave, everyone talks me through the activities, the reasons behind decisions and the wider impact so I'm learning lots more than what's just required of me and my role. For example, I'm learning more about site management and quantity surveying too. I can see how construction careers can be quite flexible, and it's common for people to work in different roles over a long career. I find it easy to approach people on site and everyone is always saying there are no stupid questions. I feel valued and respected, there's always a great, team atmosphere on site, and I can genuinely say I look forward to going to work every day! I'm not sure everyone can say that about their job so I feel lucky to be able to work with passionate, kind people at a company that's doing some impressive work."
Elliot Smith , Trainee Site Engineer
You can hear more from some of our Year In Industry students in this Video.