We've already caught up what our other four trainees – Hollie, Conah, Josh and Joe – and in the last of our Q&As with our current Year In Industry (YII) students, we hear from George who is working on a modern logistics facility in Solihull.
We last heard from George in November and we learned that he realised an engineering role would be his dream role after he completed an engineering surveying module in his second year at university. He applied to Winvic to be a Trainee Site Engineer in his gap year and he's enjoyed his time and extended his engineering knowledge working on two sites over the past 10 months. We asked him a few questions before he heads back to university in September to complete his Construction Management degree at Nottingham Trent University.
Tell us about the projects you've been working on?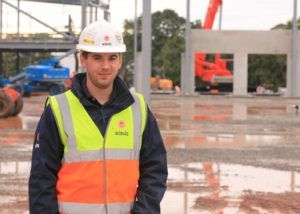 I initially worked at a speculative industrial warehouse project at St Modwen Park in Tamworth, but works were well underway when I joined the team and we completed the 385,000 sq ft scheme in January 2020. This meant I was lucky enough to start work on another project, a new logistics operations centre in Solihull, and I was on site from the start. Working here has been extremely insightful, every team member has helped me grow and I have learned so much more about engineering by seeing a project from the very beginning. For example, I now have an appreciation for the huge amount of work that goes into the earthworks phase of a programme. This was a stage that I missed at Tamworth, and I'm grateful I got to experience it in my Year In Industry.
How has it felt to socially distance at work?
Working during Covid-19 has been a challenge for everyone here and the industry as a whole, but Winvic acted fast to meet the guidance and make the team safe – and for everyone to feel safe which was just as important I think when so much seems unknown and a little scary. Maintaining the social distancing rules has honestly become second nature and as our site is very open and spacious my day-to-day duties haven't been affected too much. When someone needs to be in the office, we coordinate with each other but we also separated ourselves by having a main site office and cabins on site. Winvic handled the issues the same way as they approach all areas of wellbeing, and health and safety – that is, proactively and as top priority. In May Winvic launched a Doing It Right behavioural safety initiative that I believe they had been working on since January. I found it very impressive and inclusive for all our suppliers. The observation reporting tool means we can report any issues we notice on site to prevent an incident from happening later down the line and we are also encouraged to report good practice, so it's definitely motivational for the whole team.
What responsibilities have you had in the last six months?
I had a lot of involvement in the earthworks programme including the quality assurance aspects. For example, I undertook pre-strip and post strip topsoil surveys, reviewed soil testing data and compiled all the records, ensuring that they met the required specification. I also set out the line and the levels of the stormwater attenuation tank pipes, took 'as builts' of the inlets – which is the exact measurements and placements of the installations – and ensured that the backfill criteria was met. I was responsible for setting out the bases for the foundations using GPS, ensuring mesh and bolt type requirements were met, communicating the activity of each day's pour with various subcontractors and internal team members and setting the bolt sets in the bases with the total station.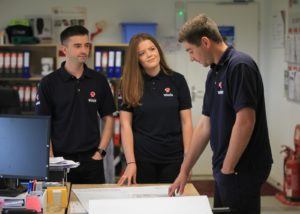 The foundations package has been my main area of work at the 1 million sq ft logistics facility and in total there were over 600 bases to pour. I am proud that after a short period of time I gained the correct competencies to oversee the pouring schedule for each day and I set out the steel bolts independently. More recently I have been establishing datums inside the building, which are for the Finished Floor Level (FFL) heights and FFL+1m, which are marked on the steel columns.
What are the most interesting areas that you have worked on?
I have enjoyed gaining the experience of setting out the foundations work package because it has challenged me, but it was also very rewarding to see the steel frame being erected on the bases I had been responsible for. Overseeing the pouring of the concrete foundations on such large industrial warehouse has given me more confidence. Knowing that my mentor, Charlie (Senior Engineer), trusted my skills meant I was really keen to get stuck in with the bases and bolts, and make no errors. I've learned that various external conditions can make it a tough job at times, for example, hot weather makes it more difficult to pour large bases with top mesh and even the smallest delay in the delivery of supplies means you have to move to plan B. However, having responsibilities and finding solutions are the best parts of the job and I've learned how important it is to be able to quickly adapt when needed. I experienced this when one of my teammates was furloughed in March. He was the engineer who was responsible for the stormwater attenuation tank works and I was notified at short notice that I would be taking over the setting out. I reviewed the drawings and worked a few hours over the weekend as I wanted to be fully prepared for my next responsibility.
I had expected to be finishing my placement before the summer, but the team has been so pleased with my work I was offered an extension until the third week of September. I'm grateful for every day of on-site engineering experience so I'm looking forward to be able to work on the yard slab work package for a while before I put what I've learned at Winvic into my final year studies.
Read what our other YII students say about their experiences –