Last time we caught we caught up with Trainee Site Engineer, Hollie, and today it's the turn of Conah who will be returning to his third year studies for a Construction Management degree at Nottingham Trent University in October. For his Year In Industry (YII) at Winvic he chose to undertake an on-site engineering role to learn the more intricate details of construction process; his aim after his graduation is to gain a number of years' of experience as an engineer before progress into management roles.
Since his YII began last July, he has been working at Parkside in Coventry city centre, a 505-room student accommodation project for UNINN that will see almost 200 apartments complete in September, with the remaining delivered by the end of 2020. When the coronavirus pandemic hit, the difficult choice was made for Conah to be furloughed but as Conah explains, he used his time at home wisely and is delighted to now be back on-site.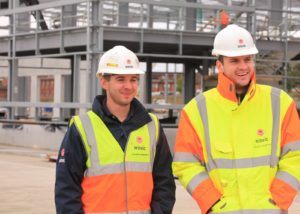 Tell us about working on the Parkside scheme?
I saw the progression of the Fairfax Street student accommodation project in my home city of Coventry and this prompted me to ask if I could work on a similar scheme in my interview with Winvic. Naturally, I was pleased to find out that I was placed on Coventry's tallest building by elevation, Parkside, which will be known as UNINN Infinity to all its student tenants. I was based at Parkside for the full duration of my placement so it has been very motivating seeing the building progress from the ground up like Fairfax Street, but this time I had a better view!
The building comprises a blue roof where water is stored in the build-up of the courtyard and also multiple sedum green roofs, so it has been interesting from a sustainability point of view, something I'm very driven by. The glazed link bridges, which allow people to move between the blocks above the courtyard, and the cladding – three colours of Equitone Tectiva fibre cement panels against a lighter coloured brick slip system – has made the exterior aesthetically exciting to work on, but the interior is also very complex and fascinating. In the basement, there's a cinema room, gym, liveable accommodation surrounding a lightwell and multiple plant rooms; in total there are 505 studio units across five towers, the tallest being 20 storeys where a sky-bar can be found.
What responsibilities have you had since October?
I have spent the year working as a Trainee Site Engineer, therefore my responsibilities have revolved around the dimensional and engineering control on the site, ensuring that quality standards and designs are met. I cemented myself as the go-to-person for setting out requirements for Winvic managers and various subcontractors, and as I progressed, I was able to take responsibility for managing my own time. This was done by speaking regularly to the subcontractors and Winvic managers, working to programme to ensure setting out was always completed on time, prior to any works beginning.
I have undertaken a lot of the setting out works by working through CAD drawings and our project information and collaboration Union Square. For example:
Setting out multiple upstands surrounding the podium slab for the build-up of the blue roof and the pouring of ground bearing slabs.
Working alongside and helping to manage those in the build-up façade, such as the cladding system installers, window fitters, dryliners and cladders, where gridlines were set out to sub-mm accuracy
Assisting to manage the diamond drillers and arranging call-backs to site when required. This included working out and providing all positions on the job in which I carried out clash analysis on drawings prior to setting out.
Setting out and drawing files for internal walls and blockwork, which I was able to assist with the logistical aspects like arranging the supply of the materials.
Give an example of a challenge you helped to solve?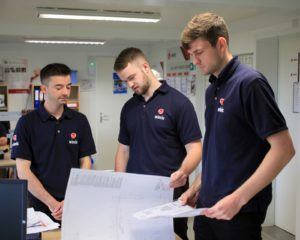 Whilst layering internal wall drawings in CAD – to ensure setting out can continue for the builder's work holes on the first floors – I discovered some steel and hole positions clashed. I made sure to make our Design Coordinator (DC), Connor Eastell, aware of this and we agreed that I would provide a drawing to illustrate the current position of the holes and the changes that I recommended. The positions were reviewed and approved by the architect and various Winvic team members, so I then set out the adjustments.
I also want to mention the challenge of working at height – up to 68m! The powerful winds in the colder months can make working high up the building rather difficult. However, I gained an understanding of when to make the call that efforts should be focussed elsewhere until conditions allowed for accurate setting out, therefore increasing efficiency.
What is the most interesting element you have worked on?
My favourite element will always be the façade, especially the cladding, curtain walling and window elements. I have thoroughly enjoyed seeing the exterior layer of the building build up and the drawings come to life! The way the fibre cement panels are supported on secret fixed framing system is particularly interesting. The method prevents trapped moisture from damaging the external face of the board over time, panels cannot become lose as stainless steel fasteners – rather than screws – are used and the finish is completely smooth. Nevertheless, seeing the dismantling of 65m and 75m tower cranes is something I really never expected to see during my placement year, and that was amazing to watch.
What have you been doing with your time during furlough?
I tried to use my time wisely and I went through the objectives within our placement handbooks, plus I was able to update and work through additional objectives even while not on-site. This meant was able to complete a university assignment over three months early, which reports and reviews my YII placement. I also decided to take the idea of using plastics within our roads forward as a dissertation idea where compression tests and further comparisons can be made. I spent some time researching this innovation as well as alternative packaging strategies with suppliers to reduce single-use packaging at source.
My construction knowledge has been put to good use at home as I practiced some woodwork. I made garden bars, flower planters and installed a picket fence at the bottom of our garden. Plus, I replaced the front suspension on my car, took down walls and laid a concrete base for an outdoor gym! I definitely kept myself busy, but I have to say I'm really pleased that I could return to site as not only do I enjoy every day, but it also feels I can properly finish what I started.
What are you looking forward to in your final year of university?
I am looking forward to getting back to the independence I enjoyed at university because I moved home for the year to work at Winvic, but I really want to get my teeth stuck into my dissertation about sustainability and plastics in construction. I also feel that having this great YII experience means I will learn in a different way and I'm in a stronger position to achieve my target of first-class honours. It's great to know that despite not being onsite with Winvic next year, I will always be able to get in touch with the team and I know that both my mentors, Richard Nelson (Senior Engineer) and Ben Fowler (Project Manager), will be there to offer a helping hand if needed.
Conah Langham, Trainee Engineer
Please get in touch with Rebecca Schwarz on rebeccaschwarz@winvic.co.uk for more information on our year in industry placements.