It's that time of year when hundreds of university students are back into the swing of lectures, but for five people studying construction related degrees, they switched seminars for sites. Winvic's most recent cohort of Year in Industry students started with us in July, straight out of their second year studies. As the name of our placement programme suggests, the students spend one year in the roles they have set their sights on; they will then return to university to complete their undergraduate degrees.
After spending almost five months on the job – applying what they've learned in the classroom, working with experienced professionals, delivering on real projects – we asked this year's famous five to tell us more about themselves and their experiences. First up is Josh, who is studying for a Quantity Surveying degree at Sheffield Hallam University. It was only after a week-long work experience placement (yes, with Winvic at Rushden Lakes!) during his college studies for a business diploma that he decided he wanted to work in construction. He explains…     
"During my time at college in 2015 I realised I wanted to try something different and I was lucky enough to do a week's work experience at Winvic's Rushden Lakes project. Throughout this week I was able to work with different departments and the feeling of working on a busy site was a turning point, and I knew I wanted to work in the industry. A family member is a quantity surveyor so I learned more about the role and chose that path for my degree, and it was a natural progression from my business studies. However, because Winvic have been so great at offering different ways of learning the whole end-to-end process, I've spent time in more areas, including health and safety and I've been on an engineering course. Every department and sector has extended my knowledge, and every team has been friendly – at the moment I feel like I've got so many options in terms of the roles I could do throughout my construction career.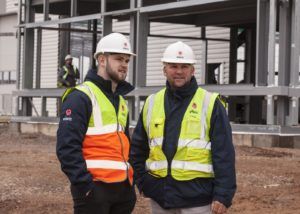 "The atmosphere in the site cabins and around the sites is always focused but relaxed and happy. On my first day in July, I remember being really nervous while about 12 of us had our induction in a meeting room, but over the course of the day everybody started to talk, and as we met different people within the company the atmosphere relaxed. Even when I went into that first week at Rushden Lakes, four years ago, with no prior experience in construction, I was treated with the same respect as everyone else. I think that's what helped me to enjoy it so much and what led me back to applying for my year out placement with the company. I have no regrets so far!
"My mentor, James, is a senior QS and he's been very hands on, teaching me the different processes and tasks which he undertakes in his role every day. That doesn't mean I've just been watching him though, as over time he's allowed me to take on a bigger role, with more independence, but being there whenever I had questions. It's not just James who has helped me, the whole team that I work with are very experienced. I'm encouraged to get out on site to learn by seeing the work happen, and somebody is always happy to explain the details. I'm based at Gateway Peterborough and at first I was working on Plot 400, which is due to complete in April. As I've learned more and more, my responsibilities have expanded to include the other industrial units – Plots 210, 410 and Aurora – in the same location. I've still got different departments and areas to get a full understanding of during my remaining time at Winvic – there's always something new to take in and I think that's pretty exciting in a job.
"Plots 210 and 410 recently started on site so I've been working on tasks such drainage take-offs and allocating the Bill of Quantities (BoQ) into package work. All four of the units I'm working on are at different stages which has helped me learn so many processes from the very start of a job through to practical completion. Predominantly I've been working closely with sub-contractors  on drainage, electrical and soft flooring, procuring the packages, measuring completed works and liaising on final calculations. The time I've spent with Winvic has helped me put all of my university lectures and seminars into perspective, and it has given me so much confidence. I know I have the ability and passion to work up to the next level and become an assistant QS when I come out of university, and progress to a senior role later on. Nevertheless, the last few months have also helped me realise that construction offers so many potential careers so over my life in the industry, I can see myself working in various roles and departments. All young people should have one week on a construction site, and it would open their eyes to a world of opportunities."
Josh Carter, Trainee Quantity Surveyor
Please get in touch with Rebecca Schwarz on rebeccaschwarz@winvic.co.uk for more information on our year in industry placements.