We had a quantity surveying George in our last Year in Industry cohort, and this year's George has his sights set on becoming a Senior Site Engineer. Studying construction management at Nottingham Trent University, George is the final one of our year-out students to share his story. This year's focused five started their placements in July 2019, and will be here until July 2020. If you missed the other blog posts, click here to read what Josh, Hollie, Joe and Conah had to say about their experience at Winvic.
Some were late to the construction party, only considering a career in the industry during college studies, but George has a different tale…
"I have had a keen interest in construction since a young age due to my Dad and older brother both working in the industry. I studied Business Studies, Chemistry and History levels, but I was eager to work as a labourer for a local builder after I finished them. I realised that I enjoyed working outdoors and was motivated by seeing a job progress. Over time it became clear that this was the industry for me and I was initially interested in site management. However, in second year of my degree, after completing the engineering surveying module I realised an engineering role would be better suited to me. I understood it would mean more time out on site, being directly involved with the build and being able to see the way things are constructed.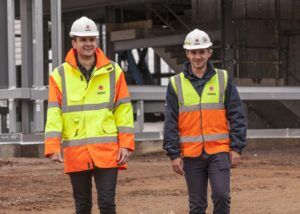 "As I was interested in a site engineer placement (there aren't many companies which offer this type of engineering year in industry) and I'm also interested in large industrial and commercial schemes, Winvic was perfect. Then when I met a year out student named Matt at the NTU construction recruitment fare I got a very good impression about the company. The placement scheme seemed very well structured and now I'm here, I can confidently say it is.
"On my first day I was slightly nervous to say the least, however the site team were very welcoming. I had a walk round site with Ben my overseeing mentor, met Jake my on-site mentor, then spent the day shadowing one of the site engineers, Andy. I was surprised that on my very first day I learnt how to set up the robotic total station, building on previous knowledge from uni. That's how my placement has continued. I have massively built on my (very basic) setting out knowledge from university, due to the expertise of the people teaching me and state-of-the-art equipment. I was surprised at how soon I was given trust to set out on my own and given substantial responsibility on the job and I feel this has benefited me a lot.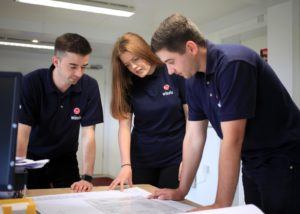 "My mentor Jake is a senior engineer. He has showed me so many important things, is supportive and helps me by tracking my progress against monthly and long-term targets. He taught me how to use CAD and this has been very useful as I had very limited knowledge on the programme before starting my placement. It has meant I can pull information from a CAD drawing and then make models, meaning I can undertake the setting out process on my own. I have been shown how to create take-off lists for materials, particularly drainage materials and manhole build-ups, how to read drawings effectively and Jake has given me valuable guidance on collecting quotes and ordering materials. I am thoroughly enjoying my time at Winvic so far, feel I am learning new skills each day and seeing a project progress has kept me motivated.
"The project I am working on is Unit 5 Tamworth East, which is a 385,000 sq ft industrial facility for St Modwen Developments Limited. When I was asked to write this blog and I listed the tasks I've done, I couldn't believe how busy I've been:
Setting out for kerbing in the proposed car park (kerb lines, radiuses etc)
Checking laid drainage for line and depth, working out grades for drainage, taking as-built information for drainage so progress records can be kept up to date
General setting out for external works (manholes, gulleys, kerbs, concrete plinths, duct runs, boxes etc)
Subbase grid survey inside the warehouse
Checking steel columns
Bund survey
Levelling dock levellers with dumpy level
Setting out tree pits using GPS
Ordering materials
Co-ordinating site layout drawings, making dxf CAD models for setting out
"Without a doubt, when trying to understand how things are built, being on site is a lot more beneficial than reading a textbook. I also don't doubt that this year at Winvic is laying the foundations for me becoming a competent site engineer. I know I can always ask questions when unsure and the team will assist in the best way they can. I have a good relationship with everyone and the atmosphere both in the office and on site is relaxed. Hopefully one day I will act as senior engineer on a Winvic project."
George Clowes, Trainee Site Engineer
Please get in touch with Rebecca Schwarz on rebeccaschwarz@winvic.co.uk for more information on our year in industry placements.