It's almost time to say goodbye to our Year in Industry (YII) students, as their year-long placements with us come to a close. Working across multiple sites and learning how to apply their knowledge in a real-world setting, our YII students have been able to access valuable experience over the last year. We've been catching up with them, following their blog posts last year, to see how their experience has impacted them – read what Hollie and Conah have already told us.
Here, we pose a few questions to Josh Carter, who is studying for a degree in Quantity Surveying at Sheffield Hallam University. The Coronavirus pandemic has seen Josh be furloughed for a short part of his placement, but he is now back at work doing tasks from home two days a week. You can read about Josh's experiences early on in his placement here, but this time, we touched base with him to see how his experience working predominantly on the Gateway Peterborough project – a groundworks, services, highways and 240-acre warehouse and distribution park scheme – has been going.   
Tell us about working on Plots 210 & 410 Gateway Peterborough?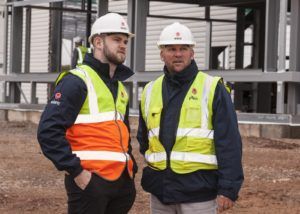 I was lucky to see the project right from the start, and working on two units – plots 210 and 410 – meant there was a lot of work to get on with, and I really enjoyed having to procure both plots. I was surrounded by a brilliant site team managed by the very experienced Project Manager, Richard Reid. There was always a member of the team to take me on site and run me through what was happening on site at that time, step-by-step.
Since October 2019, when I last spoke about my role, my involvement in aspects such as procurement has increased significantly. I became in charge of all aspects of several packages, from issuing the initial enquiry, right through to sending the order. I'm now responsible for all payments for Plots 210 and 410.
What's the most interesting element you have worked on?

My favourite part of my experience was getting on site and seeing the build come together and I have taken every opportunity to get out on site. Someone could explain an element of the build to me 10 times, but I have found that visualising it is the best way for me to learn. Being on site allows you to learn more about various important aspects across a scheme, such as health and safety and working as one team with different subcontractors as you are seeing it all in action.
What have you been doing with your time during furlough?
I had been out to site and in the office just once since social distancing started, and then I was furloughed. The social distancing measures felt strange at first, but Winvic worked very hard to put the correct procedures in place I certainly felt safe going into work. Since furlough, Winvic has done a brilliant job of keeping me busy throughout – I've been set training exercises throughout the last couple months which have helped me extend knowledge even further. I've also managed to start working on my dissertation, so I don't feel that I have lost out on any time learning or gaining experience. It feels really good to be able to work again, even if it's not on site or full time, as every experience will be valuable for my final year at uni and my future career.
Tell us about Winvic's vision and approach?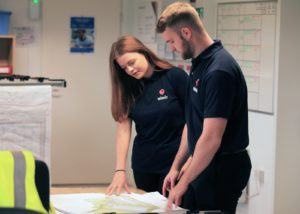 Winvic's aim has been to help me develop my skills and become knowledgeable across the whole business as well as what's required to become a first-class Quantity Surveyor. They didn't treat me as someone to look after but instead as someone to help develop into a key part of team, with real responsibilities. I'm very thankful for the way the placement was run and believe it puts me in great stead going back to university in a couple of months. Not only was this how I was treated, but every day I have seen this same one team approach where subcontractors and consultants from different companies are part of the efforts to deliver a successful project for the client Roxhill. This makes Winvic standout for me – building strong relationships with a tight supply chain makes procurement a much easier and smoother process for everyone concerned.
Tell us about Winvic's new Health and Safety initiative
Winvic's Doing It Right scheme is excellent. The observation aspect I believe is brilliant for someone of my experience as it gives me an opportunity to see what's being done really well and what isn't. This is a great way for me to learn about the Winvic Way and I've adopted it into my everyday work and on-site ethic.
After work experience, what are you looking forward to in your final year of university?
I'm of course looking forward to a year of living with my friends again and enjoying my time in Sheffield. However, more importantly, I'm looking forward to applying what I've learnt from my placement into my studies and trying to achieve the best grade I can. I know I can count on the colleagues I have worked with to answer any queries I have or provide me with information that can help me with my dissertation – that is the beauty of having these kinds of connections at this stage in my career, and I would love to work for Winvic again once I have finished my degree.
Josh Carter, Trainee Quantity Surveyor
Please get in touch with Rebecca Schwarz on rebeccaschwarz@winvic.co.uk for more information on our year in industry placements.