We've been speaking to our Year in Industry (YII) students one final time before their placements with us finish and they head off to their third year of university studies. So, as they prepare to say bye to their Winvic site teams and swap the workplace for the study hall, what have they learned and how will this help them with their final studies?
This week we spoke with Joe Kirk, a Quantity Surveying degree student at Sheffield Hallam University, who we first spoke to last October while he was working on a Private Rented Sector (PRS) scheme in Sheffield – you can find out more about his early experiences here. Joe has been working more recently in the industrial arena on the 11.6-acre, ICON scheme – a logistics and global content creation park at Manchester Airport – and a state-of-the-art industrial warehouse facility in Purfleet. Joe has been on furlough from Winvic, but is now working from home two days a week and he explains how his experiences has broadened his horizons.
Tell us about your experience working on a multi-room project, and then an industrial project?
In both roles across the PRS and industrial arenas I was largely office-based, as that's what's required of a Quantity Surveyor (QS), but of course I have spent valuable time in the thick of the build too. While on the Sheffield PRS project I was involved in pre-contract design elements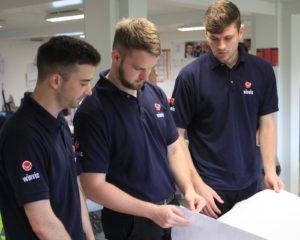 such as re-measures and amending internal bills for design stage aspects like groundworks. On ICON, I participated in activities such as managing payments and work orders for sub-contractors, and created site instructions.
A site as vast as ICON with three warehouses is very complex, and so I'm pleased to have been involved as it really boosted my knowledge and experience. Plus, the industrial sector was a fascinating contrast to the Sheffield apartment block. When I first started my placement, my activities were obviously closely directed and monitored by my mentor, James (Senior QS). However, as time progressed and my knowledge, experience and capabilities grew, so did the team's belief in me, and I was able to get on with the majority of duties myself.
What was most interesting aspect of your YII?
ICON has definitely given me more in the way of experience and breadth of skills – as well as more opportunities to get out on site – which I always found exciting and interesting. Seeing how the work I had done in the office then translated on to site gave me a greater understanding of the whole process. With it being a site that has so many consultants and suppliers, the QS work was more intense and involved, and this enabled me to grow my skills and confidence substantially.
Being out on site rather than at a desk in the site office was always great, and I was surprised at how much I loved all the different interactions with the team members. Not only did I get to see how the planning comes to life, but I had the opportunity to see how everyone works together, and forms relationships. It really didn't feel like where there was Winvic staff and external consultants and subcontractors, as every person was working as one team to reach one goal.
Is this indicative of Winvic's vision and approach?
Absolutely, and from what I've learned from so many subcontractors and consultants, working as one team isn't always how main contractors always work. What else has stood out is that The Winvic Way is a commitment by Winvic to constantly challenge its own approach with the aim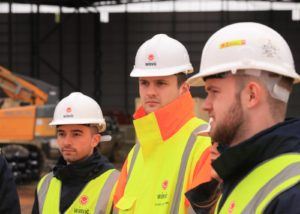 of creating continual improvement. I witnessed this approach in practice, and the ethos means a lot to individuals – it gives us permission to always strive to think and be better. It's been great to work with a company that lives up to its vision, and there is a real trust that runs throughout the organisation. This was of direct benefit to me as someone who was allowed to flourish under gentle guidance but with autonomy that increased my confidence. My responsibilities at Winvic were real and I felt like a valued member of the team.
What have you been doing with your time during furlough?
I came back to my family home on the Isle of Man, and Winvic have been so supportive, giving me information on previously completed projects so I could continue learning. While I haven't been on site, I have been able to extend my knowledge further by getting on with mock activities, such as making commercial comments on client amendments to a design and build contract. I have also been carrying out cash value reconciliations.
Another big task has been taking part in a group innovation project with the other YII placement students, where we looked key areas within the business and wider construction that we believed could be improved. The topic I researched was the impact of language barriers on health and safety in the construction industry. It was really interesting to research and discover statistics relating to the proportion of non-UK nationals in the construction workforce, and explore the effects where effective communication and understanding is critical. As health and safety is a top priority for Winvic – illustrated by its Doing It Right initiative – the firm is passionate about and dedicated to evolving processes and procedures. Before my YII, health and safety wasn't an area I thought that much about, but because Winvic is very focussed on making sites safe for all, I feel like it's second nature to be aware of potential dangers and flag them so an incident can't occur.
What are you looking forward to in your final year of university?
In my first and second years I really enjoyed uni life but having had a taste of the working world I'm now very eager to get stuck into my chosen profession. While it will be great to see my friends, I'm focused on putting all my efforts and the knowledge I've gained over the last year with Winvic into my degree. The knowledge, experience and contacts I have gained are invaluable and I'm grateful to have had the opportunity to work with such a forward thinking and ambitious company like Winvic.
Read what our other YII students say about their experiences –