Weddington Primary School and Winvic Construction Ltd, a leading main contractor that specialises in turnkey solutions for industrial, build-to-rent, student accommodation and commercial projects are celebrating the completion of an allotment space that will allow the young Nuneaton school goers to get hands on growing experience. Parents, carers and subcontractor teams who have also helped with the project have been invited to an opening ceremony at the Winchester Avenue school on Wednesday, 4 December at 1.30pm.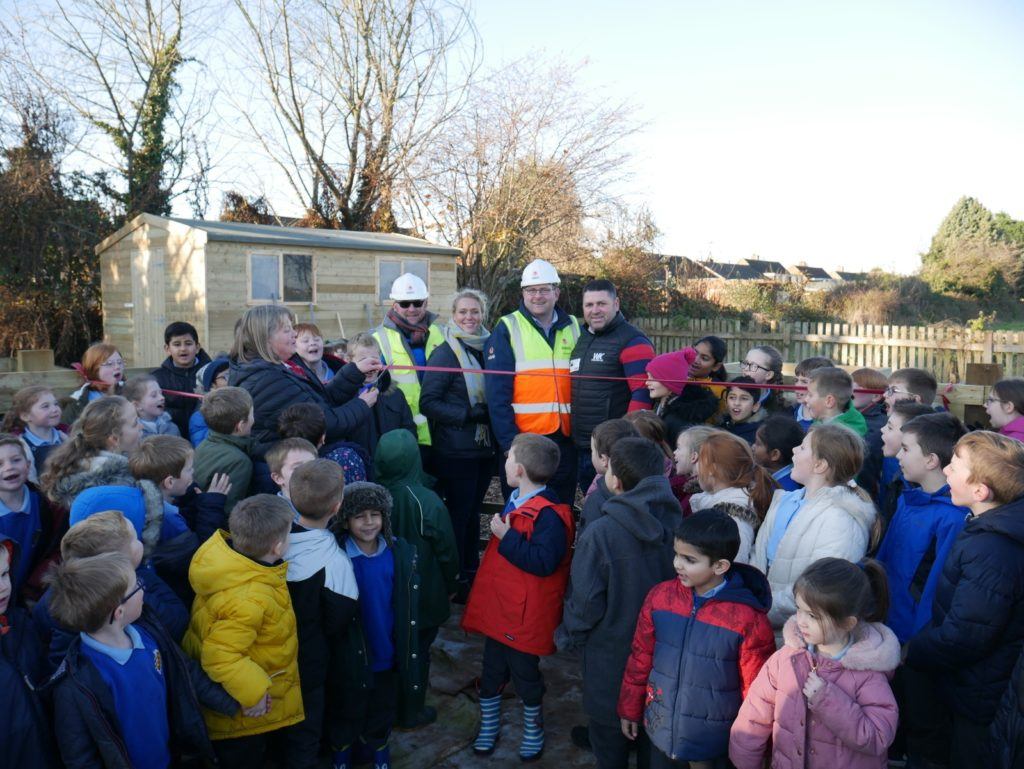 Winvic is constructing the nearby Hinckley Park scheme for IM Properties, comprising new road infrastructure, landscaping, a speculative 500,000 sq ft industrial warehouse and a £150m state-of-the-art 430m long logistics superhub for DPD; which will be the international parcel delivery company's largest sorting facility in Europe. As it does with all its projects, the main contractor sought local initiatives to get involved with in order to engage with and give back to neighbouring communities. When contact was made with Weddington Primary, it was clear that Winvic could help restore the school's old allotment, which had not been used in recent years and was therefore overgrown and in poor condition. Other key subcontractors on the Hinckley Park scheme – including Collins Earthworks, AA Lamb, WK Construction and Buildbase – were also keen to support the school, and therefore also donated time and materials.
The total cost of the allotment project, including man-hours, is £12,000.
To avoid disturbing the children during lessons and playtime, the majority of the work was undertaken at weekends:
The plot was cleared of overgrown vegetation and bushes, and dilapidated sheds were removed by Winvic and Collins Earthworks – three lorries full of waste were taken away
The existing topsoil was dug out and a layer of gravel was laid by Winvic and WK
New fencing, 7 large timber framed raised planting beds and a large shed was installed by Winvic and AA Lamb
New tools for the children have been provided by Buildbase
The school children will be planning what seeds to plant in early Spring, which is when Winvic will return to fill the planters will fresh topsoil.
Dan Barker is the Winvic Senior Engineer on the Hinckley Park project who has liaised with Weddington Primary School; he said: "We always get involved with community projects in areas close to our sites and we find the smallest of contribution can make a huge difference to people's lives. From rebuilding sports courts to donating televisions, from removing fly-tipped to waste to restoring environments – as we have done in Nuneaton with the dilapidated allotment – Winvic aims to add value to communities it works in. The teachers at Weddington Primary School have been amazing to work with and the feedback we have received about how excited the children are is wonderful to hear. The Hinckley project will be complete in February 2020, so I hope the school will invite us back in the summer and we can sample some of their delicious crops."
Lesley Cockill, Weddington Primary School's Reception class Teacher and Eco Council Leader, said:
"The allotment area looks fantastic. A simple thank you does not seem enough for everything that Winvic and all those involved have done – so many people from different firms gave their time at weekends and donated all the materials.
We hope that when the team comes together with parents, carers and pupils at our opening celebration, they will really be able to see how appreciative we are. I am looking forward to seeing the children learn more about growing food as part of the green living work we do and inspire them in new ways."
For more information on Winvic, please visit www.winvic.co.uk or follow the company on Twitter – @WinvicLtd – and LinkedIn for the latest project news, industry views and job vacancies.