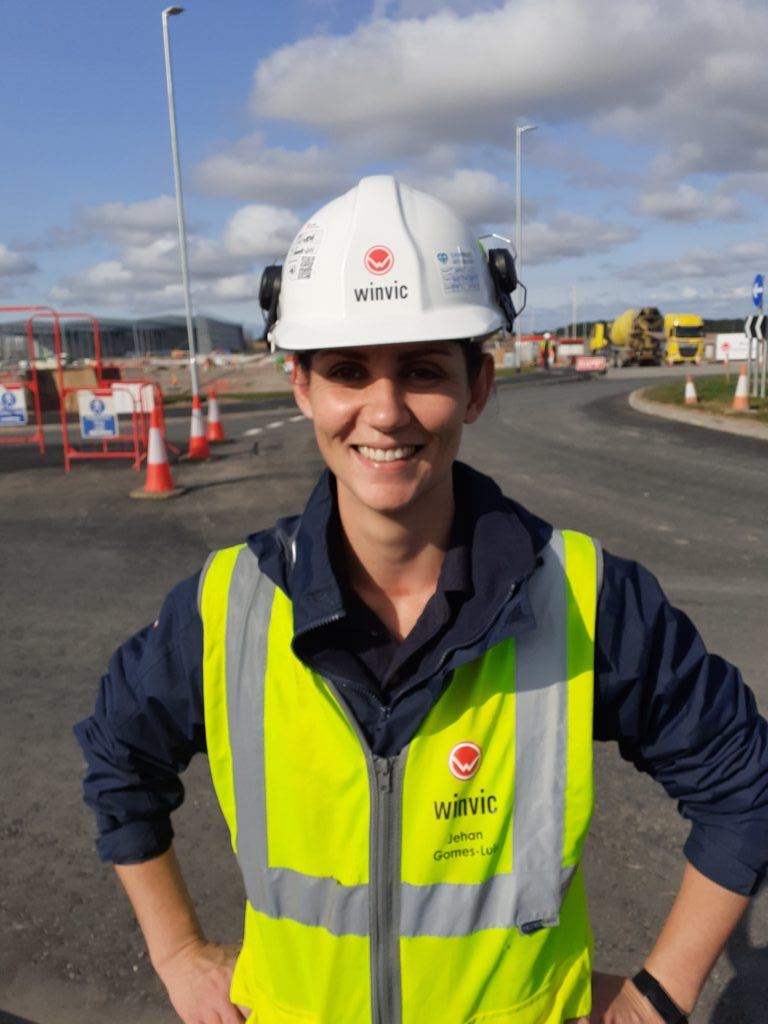 Our last blog came from Laura and Mike at one of our industrial projects, and looked at some of the wonderful community initiatives we are getting involved with in Gateshead. Today we're turning our attention to a different aspect of social value – training and employment – and we hear from Jehan Gomes-Luis about her journey from being unemployed to becoming a full time, permanent Winvic employee.
IM Properties is a longstanding client of ours and we share the same vision of leaving positive legacies in the communities in which we work. At the 82-acre Hinckley Park we have delivered earthworks, S278 roundabout and private highways works and designed and constructed the first two distribution warehouses. Plus, we've now just completed the fit-out of one of those facilities, which was initially speculatively built. In June 2019, a pilot began for a Sector-Based Work Academy that aimed to deliver fast track training and provide job seekers with the skills they require to take on groundwork roles. The training scheme was designed to meet the requirements of an Employment and Skills Charter agreed with Hinckley & Bosworth Borough Council, to ensure that local people benefit from the development, all part of our commitment to social value on the construction project. Jehan was an attendee on the very first course; as she explains, she hasn't looked back since. 
Back in April 2019 I was unemployed and my Jobcentre Plus assessor told me about a jobs fair that was taking place. I spoke to a number of different organisations and businesses there but one offering that really caught my attention was a training course being offered by North Warwickshire and South Leicestershire College, IM Properties, Winvic and a local groundworks subcontractor, which focused on groundworks and health and safety. When living in Africa some years ago I'd worked on open pit mines, helping to deliver the installation of fibre optic computer networks, and having a career in construction where there is an opportunity to work outside on sites was really appealing. When my children – who are now seven and eight – both went to school full time, it meant I could focus on a new, long-term career and that's definitely what I've found with Winvic.
I was accepted on to the three-week course and in June 2019 I walked into a college classroom as the only female out of 22 attendees – I didn't feel apprehensive about this, but instead, I thought prove you can do it and see what happens. The first week focused on employability skills, such as interview techniques, the second was all about groundworks – and this was all on-site at Hinckley Park as the earthworks were being undertaken there – and the last was back in the classroom for health and safety training, sitting exams and a job interview with a Winvic groundworks subcontractor on the project. I enjoyed every minute, and while out on site I started to learn how important site management and safety is – and how it's implemented – and that's when I decided that it's what I really wanted to do. I was pleased to obtain my CSCS card, an employability certificate and a City and Guilds Level 1 in Health and Safety. Unfortunately, I wasn't successful in getting one of the positions available with the subcontractor, but if I had, I wouldn't be in the great place I now find myself in. The subcontractor kindly passed on my CV to everyone they knew, as I had discussed my interest in Health and Safety with them and in November 2020 I was surprised to get a call from Winvic's HSEQ Director, Ian Goodhead. He invited me for an interview for a COVID Marshall role at the fit-out project at Hinckley Park… I was even more surprised to be on site in my new job a week later!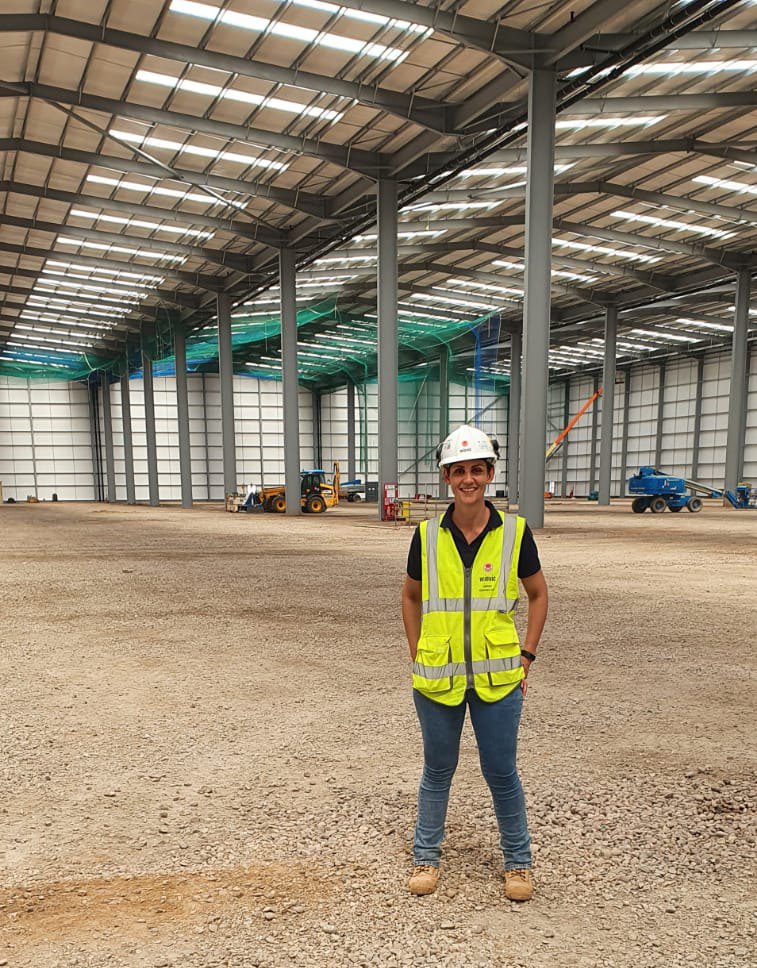 Learning new skills and knowledge
One of my first tasks was to arrange for the entire site workforce to be re-inducted over three days, this was to do COVID training, paying particular attention to reminding everyone of the Site Operating Procedures that were brought into effect earlier in the year for COVID-19. There was, of course, an awful lot for me to know and understand, but I have no problem asking questions and the great team were always willing to answer, help in any way and clarify things for me.
It's actually quite amazing how much you can learn from walking round a site talking to the different team members, asking questions! Trevor Swailes is the HSEQ Manager at Hinckley Park and on his visits he's always taken me on his walk arounds, happy to talk about the ins and outs, whys and wherefores. I've had so many people there to support me, I'd like to also say that Winvic's management teams couldn't be more understanding when it comes to being a single parent and I've always felt supported when I've had to juggle work and childcare.
By January of this year, I'd like to think I'd made an impression because, I was put forward by the Project Manager Duncan Paterson to do the Site Management Safety Training Scheme (SMSTS) course, I passed! I was given more responsibilities on top of my main remit of policing the COVID-19 regulations. For example, I started to manage the PUWER Register, which ensures all on-site plant has a valid test certificate, I continued to carry out all new staff and subcontractor inductions at Hinckley Park and any hitches that arose with the digital site sign-in system. Plus, as the fulfilment centre construction progressed and the mezzanines were installed, more fire points were required, and site safety maps needed updating. I took on that with the help of the M&E Coordinator Mike Griffiths with the drawings, other site management tasks and also started to have a better understanding of Risk Assessment Method Statements (RAMS). As with anything in life, you have to approach different people and tasks in different ways to get the successful outcome you want and as time has passed, I've managed to build a rapport with site staff, subcontractors, consultants and H&S teams, which has been very satisfying.
Building a long-term career
My COVID Marshall job unfortunately was always going to be a temporary position, and I was sad that it would end in August because I'd really enjoyed my time with the business. I wanted to continue working for Winvic and was happy to stay with the company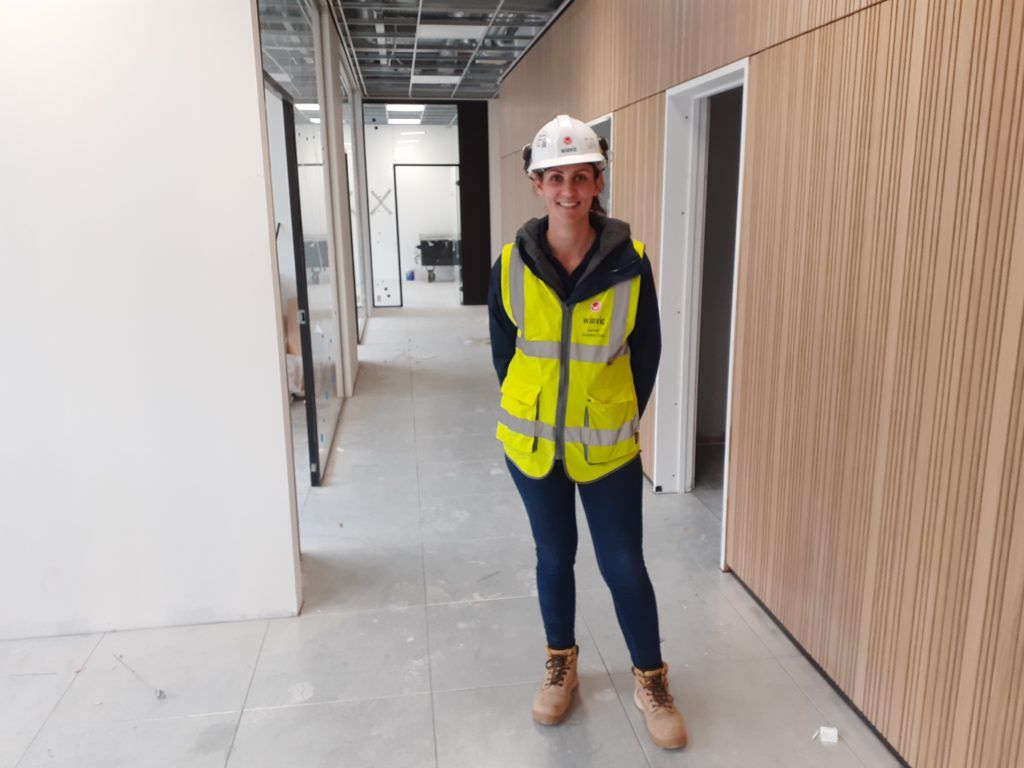 in any capacity. In May I was told 'we really appreciate your work' and I was very grateful, and to the various people who had sung my praises. When discussing potential options with Ian Goodhead, a position at IM Properties site, Mercia Park was mentioned to me. I had an interview with my now Project Manager Frank Hayes and HSEQ Manager David Powell, I'm happy to say that I'm now an Assistant Site Manager. I've now undertaken my Fire Marshall, Fire Co-ordinator, First Aid, IPAF, cherry picker, scissor lift and Confined Space Management training and I'm about to undertake my Temporary Works Co-ordinator Training and NEBOSH, which I'm hoping to complete it over six to eight weeks via distance learning.
In one way it's still hard to believe that a three-week training course through attending a jobs fair has really led me to a complete career change, a stable job in an area I was interested in AND that it's with a successful and supportive company! The pre-employment training course gave me the opportunity to make an impression on people in a field of work I would not have been able to any other way, which is an impression that can't be made with a CV, interview, or test. It allowed me to show a potential employer what I could do, what I was willing to do and what I was like as a colleague, showing them how I wanted to work hard and learn. A lot of people need chances like this as not everyone has a stand-out CV or are good at interviews or tests for a number of reasons – like myself! – and this can put people at a huge disadvantage. When organisations like Winvic and IM Properties talk about leaving legacies in communities and making a difference locally, I can say from experience that lives really can be transformed. I am very grateful, not only for what this course has done for me, but also my children.