If you follow Winvic's news and social media you'll know that we try to get in amongst the local communities in which we work whenever possible – finding projects to help with and employing local people – because we truly believe in leaving positive legacies beyond the buildings we construct. We contribute to meeting communities' economic, environmental and social wellbeing needs in a variety of ways, and one of our current projects – a 500,000 sq ft fulfilment centre in Gateshead – has facilitated some exciting social value delivery. Not only are we contributing to a number of community initiatives but it's been a priority to support local unemployed people affected by the pandemic and a high proportion of the people working on site are local.
Laura – the scheme's Office Manager – and Mike – the scheme's site manager – are the driving force behind this and they are responsible for the multiple community projects that are currently underway. We caught up with them recently to hear all about the initiatives and their passion and enthusiasm for the CCS pillar 'Respect the Community'.
RESTORING PATH HEAD WATER MILL
Mike: Path Head Water Mill in Summerhill, Blaydon on Tyne is a heritage site and working museum, with a restored and operational water wheel. Their large scale, long-term restoration project is now underway and we are donating approximately 5 tonnes of waste wood, which comprises pieces from pallets, timber stallages and timber cut-offs. Much of it will be used for a range of ongoing site maintenance projects, including repairs to fencing and roofing. However, a number of other activities that encourage many different members of the community to get involved take place at the location, and each of these groups will also benefit from access to the materials: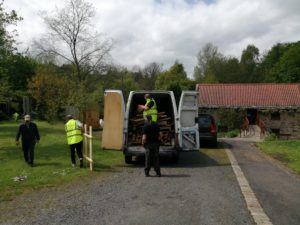 Men's Sheds is a national project, providing places in the community for men to connect, create and talk.
Gateshead Libraries, Arts & Heritage service delivers an Arts programme across the borough of Gateshead, inclusive of all ages and abilities.
The Art Diamonds initiative focuses on retired people living in Gateshead and delivers a wide range of free creative and cultural activities and workshops.
We make every effort to reduce the amount of waste from our sites, so naturally we look at how it can be recycled. In fact, we have some quite impressive targets on diverting waste from landfill through reuse, recovery and recycling initiatives – 95 per cent for 2021 through to 100% in 2030 – and donating materials to others who can make good use of them is one aspect.
SUPPORTING COMMUNITY COHESION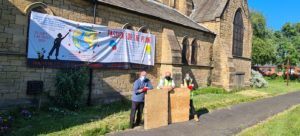 Mike: Damn Cheek is an innovative touring production company dedicated to new material and challenging performance, which visits mainstream and alternative venues, and delivers community projects, site-specific work, theatrical installations, and workshops. We arranged to drop off a range of resources, including wood, cardboard, shrink wrap, plastic bottles on 22 June ready for its three days of drop-in workshops where people in the community learnt how to make theatrical masks and puppets. I took my daughter to one of the sessions and Laura, and a few other people from the Winvic team, also went along. It was a fun day for us but also great to see lots of people with smiles on their faces, learning new skills with the help from Winvic. Some of the creations are going to be used in their 'Passion for Planet' show, which is being performed not far from our site, in Felling, in July and August.
INSPIRING THE NEXT GENERATION OF SPORTING HEROES
Laura: As I'm an avid Netballer, I reached out to Netball England North-East, which is the regional development agency for the sport, to see if there was a school close to our site that would benefit from improvements to their netball courts. We were delighted to find that the Senior Lead for PE at St. Robert of Newminster, Mr Fisher, is particularly passionate about inspiring the next generation of sporting heroes and has the ambition to see the school gain status of a Netball Hub for the community. Our support will essentially equip the school with the facilities for netball PE lessons, school teams, adult 'back to netball' sessions, walking netball sessions, community club games and more to flourish. We will be undertaking the work in August 2021 while the pupils are on summer break:
Installation of a new fence around the perimeter of the sports area that has two separate doors and a vehicle access point, totalling 280m in length
Mesh will be fitted to the back of the existing palisade fence that runs across the rear of the sports pitches – this type of vertical slat fencing is currently impractical as tennis balls can easily escape
The external gym hall doors are run down and will receive a fresh coat of paint
Mike: We always try to speak to local school children about careers in construction and sadly this is one of the areas that has been affected by the pandemic's restrictions. However, we're very much hoping that I can deliver a presentation to the sixth form pupils at St. Robert of Newminster about the industry and the many varied roles on offer. With a majority young female-based audience at the school, it's a great opportunity to raise the profile of construction as a career option to young women considering their next steps.
The workforce at Gateshead has truly embraced The Winvic Way ethos and while we want to say a huge well done to our team, their hard work has also been recognised recently by the Considerate Constructors Scheme (CCS). We're delighted the site achieved 45 out of 50 score and some wonderful comments including: "this site has impressed me greatly – considering its size and nature this is probably one of the tidiest and best-managed sites I have seen during my 21 years as a CCS Monitor."
Over the course of the summer, as we see what the materials we have donated get transformed into and as our team helps to provide better Netball facilities for pupils and the community, we'll be posting updates on our social media channels. Follow us on Twitter @WinvicLtd and LinkedIn or revisit our blog to see the images.