International Women in Engineering Day – brought to the world by the Women's Engineering Society – is once again celebrating the amazing work that women engineers around the world are doing and theme for 2021 is #EngineeringHeroes. The initiative is profiling the best, brightest and bravest women in engineering, who recognise a problem, then dare to be part of the solution and we thought we'd do the same. We asked one of our newer recruits, Design Manager Maia Stride, to tell us about her journey and how she dared to change her career to be part of the solution for a main contractor, rather than working for a specialist consultancy. 
I was pleased to be approached to write about my career for International Women in Engineering Day because I love my new role at Winvic and any effort to highlight engineering opportunities to young females is really important. I've always said that 'gender doesn't matter, I'm an engineer' but the truth is not everyone has the confidence to think that. I guess it's likely there will always be some gender bias, in the same way as there are more female nurses than males, but I think individuals in the industry have a responsibility to shout about the career opportunities available whenever they can. I run a brownie group, for example, and the girls love getting involved in designing and building activities, and they've all gained their 'Engineering Badge' and 'Physicist Badge'. To work out how to build a structure without it collapsing could be the inspiration some of them need to consider construction as a career, and I feel proud about that.
I remember always having a fascination with buildings and how I liked their varied designs for many different reasons, so in school I wanted to be an architect. However, I was not that good at drawing and I was really strong at maths, so my Mum suggested I should consider the engineering side. I also come from a long line of engineers so it must be in my blood! My Dad was a Navy engineer and my Grandad an electrical engineer, and he researched back to find a civil engineer six generations back. I studied Biology, Politics and Maths at A-level as well as a Further Maths AS, and then I undertook a Civil Engineering Degree at Loughborough University. Structural engineering is a specialism within a Civils degree and I took as many modules relating to buildings as I could, although we covered everything from geotechnics to bridges to drainage. I was there five years in total because I had a year out working with an engineering consultancy – much like Winvic offers with its Year In Industry programme – and I also chose to top up my degree, going straight into a masters to achieve MEng Civil Engineering when I graduated in 2010.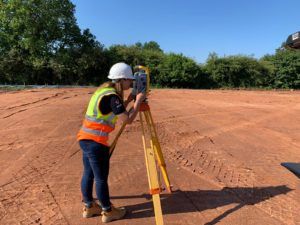 The next 10 years of my career were spent at three different structural engineering consultancies where I worked my way up from a Structural Engineer to a senior and then associate. I also became a graduate member of the Institution of Structural Engineers (IStructE) when I left university and then worked towards my chartership to gain full membership in 2016. I worked on a wide range of projects during this time including a lot of student accommodation schemes, retirement homes, hospitals and schools, and I worked on a Winvic industrial project in 2019, which was a Wilson Bowden Developments unit for Sarstedt at Optimus Point in Leicester. I think it was around this time when I began to think about what the future held for my career and whether there were new ways in which I could use my expertise. On the whole I had always enjoyed my roles but they were never perfect and I think I was also itching for a new challenge. I now realise that being a Design Manager is what I was destined for; it's basically all the bits of my old job that I enjoyed the most and none of the parts I didn't like!
Winvic certainly left an impression on me while working with the team on the Leicester project and that was why I approached the company when I'd made my decision to switch to the main contractor role. It was obvious to me that it was a very good company, the staff were happy – with some real personalities – the project was managed exceptionally and I liked how organised everybody always was. Now I'm here I can confirm it's a great company to work for and while I have needed to learn some new processes, my structural engineering knowledge means I have insight from, and can appreciate, both angles. For example, there are times when I don't need to ask a question, or can make a decision more easily, or I'm asked for my opinion as an engineer. Two other women who at Winvic as design managers have also taken a similar route to me and it's funny as I know both of them! Tasha worked at one of the same structural engineering consultancy's that I did, albeit in a different part of the country, and me and Charlotte studied together one evening a week on an IStructE chartership revision course. You can read Charlotte's blog post from January here.
I feel like one of my main strengths is dealing with lots of moving parts at once, so attending to a number of different packages and ensuring each fits into the next is perfect for my 'spinning plates act'! I have to liaise with a lot of different stakeholders, subcontractors and consultants, and I really do love being organised and being at the centre of problem-solving. When I began in April 2021, I was assigned to Prologis DC2 at Fradley Park in Lichfield, which is a 354,000 sq ft industrial facility with 2-storey office space. The architect's work for planning approval had been completed at this time and since then we have been working on the design, from the foundations and steel frame to the windows and electricals – all the details really, ensuring we deal with any package clashes effectively. The project started on site on Monday and when the cabins are fully up and running in a couple of weeks, I'll start to work from site at least two days a week. It will be great to get my feet under the table so to speak and watch my first ever project as a design manager come to life outside my window.