Compliance Manager Jackie Hall is part of our HSEQ team here at Winvic and on Tuesday she and a group of employees travelled to London to attend the Women in Construction and Engineering Awards (WICE) evening. Unfortunately Jackie wasn't announced as Best Woman in Health and Safety, but we asked her to share her thoughts on the awards process, women in construction and her role.
"While I can't thank the WICE team enough for kindly recognising my achievements and shortlisting me, I have to be honest and say it's been an emotional roller coaster. When it was suggested that I was to be nominated I was in disbelief for a good few days; then fear, excitement and anxiety were sprinkled in the mix, punctuated by masses of motivation. After the awards' presentation day I was simply awestruck by the number of talented women I met, who are also focussed on raising their industry profiles to the next generation. But please note that I say the next generation, not young women; one thing every woman in that room hopes for – and probably women in all sectors – is to be recognised as the 'best person' in their field and I am proud to be doing my bit to make that a reality. However, it wasn't my proudest moment to accidentally knock a glass of water over one of the judges. Huge embarrassment is what I felt then; clearly that wasn't the way I had planned for the judges to remember me, and maybe that's a tip for next year's applicants… don't be too clumsy!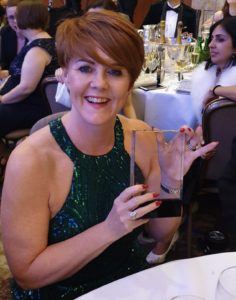 "Of course it's a shame that I didn't win, but I'm not sure I can even describe the way I felt about being shortlisted – perhaps I would have been frozen in my seat unable to collect the award! I am very flattered to have got so far in the process, but I think I've mainly been in shock and still now keep thinking of ways that I can utilise the honour and make a difference somehow. Making a difference – even to just one person – is what drives me on a day to day basis and mental health and wellbeing is one area I have been particularly focussed on over the past year. Alarming statistics came out of the Construction News Mind Matters Survey in 2017, highlighting that one in four construction workers have considered suicide. 55 per cent of respondents said they had experienced mental health issues, 29 per cent had taken time off work for these issues and 60 per cent of these people said they had hidden the real reason for absence from their employer. My personal motivations paired with Winvic's robust set of values – which translate as always 'doing the right thing' – resulted in me questioning what more should we be doing for our staff and subcontractors. By the time the following year's survey results came out and the data showed the picture has worsened, HR and I were already in the middle of developing Winvic's Mental Health and Wellbeing Programme. What this means is that all office and site staff, including those in the supply chain, are given one hour of mental health awareness training to give them access to strategies to manage the demands of everyday life. An additional half day of training is delivered to managers and we have a campaign in place which comprises mental health charity fundraising events, literature and helpline numbers, use of an app and access to mental health awareness groups.
"Mental health issues don't just limit individuals and impact site safety; if problems are not addressed it can dramatically impact an individual's home life and work relationships, and Winvic is a very genuine and caring company. Furthermore, but something that isn't spoken about much, it affects the way the construction industry is perceived. An industry I love. An industry I have worked in since 2001, as just one of eight employees at Winvic. An industry I want the next generation to be excited about, not cautious of. Parents are simply not going to encourage their children to be engineers, building designers or project managers and that saddens me. I'd like to think that with every activity in my role – whether it's keeping operatives safer by using a biometric hazard board, helping a project team to engage with a community or standing in front of a school girl showing her she has every right to excel in construction – I'm positively promoting the industry I love and changing perceptions for the next generation and years to come."
Jackie Hall, Compliance Manager