If you're a regular to our blog, you'll know we like to ask team members to tell us about the projects they're working on, their experiences or Winvic initiatives that they're involved in. At the end of August we spoke to Mark Gould, one of our project managers, to ask him about his career and his highlights of working at SEGRO Logistics Park East Midlands Gateway (SLPEMG). Mark has been part of our team for six years and almost half of that time has been spent across three different projects at SLPEMG, the most recent of which has just started on site. With a construction career spanning 25 years, we knew he'd have some insights to share.
Why construction?
My grandad was a carpenter and joiner, and it was a natural step for me to take a job alongside him after school. I worked as an apprentice when I was 16 years old and I remember just enjoying work and finding that I was actually pretty good at it! I'm good at hands on tasks, but I learned it's just as important to plan and be organised – I think I could see myself managing projects quite early on. I got my HNC and HND in Building Studies, worked predominantly as an engineer and in the year 2000 the CIOB awarded me its Management Cup, which gave me loads of confidence. Just talking now, it's a good reminder about how lucky I've been to have had a really diverse career. There are so many opportunities and different jobs to do, including the wide variety of digital roles too now, so I'd tell anyone wondering what to do for a career to seriously look at construction. An apprenticeship started me in good stead, so I like to help any youngsters we have on site to learn on the job like I did.
What made you apply to Winvic?
It was a happy accident really and, if I'm honest, I thought it might have been a short-term role… but here I am six years later, and I have no plans to move elsewhere! I'd been working in a very different area of construction – bespoke and expensive homes, often for celebrity clients –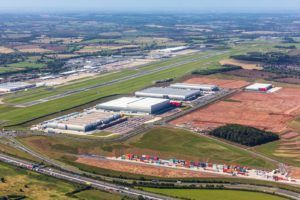 sometimes as an employee, sometimes self-employed. I'd been to America and managed some large and very high spec house builds, and it wasn't uncommon for project values to be upwards of 10, 15, even 20 million pounds. However, I was back in the UK and had just accepted a job with a renowned London bespoke house builder when through a connection I met up with Richard Butler, Winvic's Operations Director. The company was expanding and Richard turned my head with his personal views, the company's vision and some exciting projects. I recall working at Grange Park, a 340,000 sq ft BREEAM Outstanding warehouse for Prologis, as my initiation to Winvic back in 2014. What can I say apart from Richard wasn't wrong! Winvic was going places and has continued to, and I'm glad I'm part of the success. Again, I've enjoyed a varied project management role at Winvic through working in different sectors, from multi-room to commercial to civils to warehouse projects. Perhaps the only thing I'd still really like to do at some point is work abroad again, so I'll be there if Winvic ever moves overseas!
You've spent a significant amount of time at SEGRO's EMG site, tell us about your highlights
I've worked on three of the six warehouse projects, so it's been an exciting time, starting on Plot 3 back in September 2018, moving on to Plot 5 in December 2019 and just last week I've arrived on site to project manage the civils and infrastructure phase for the largest plateaux on the 700-acre multi-modal logistics site.
Most recently, I handed over the fifth modern industrial facility at EMG to Games Workshop, and that's been a very unique project in light of Covid-19 but it was a good job and it went like a dream. Around the same time as lockdown came into force, the end-user asked us to complete the 178,500 sq ft warehouse ahead of schedule to accommodate new game launches and an expectant busy period of distribution. What could we say but yes! One thing Winvic should be hailed for is always finding a way and Games Workshop is one happy tenant. In addition to the base build, we effected £18 million of Cat B variations and hit three early access dates, it was a successful project all round. Another challenge on this project was the summer storms we experienced not too long before handover, but because of our approach to water management we handled the torrential rain without too much bother. Currently, as we move into rainy autumn and then winter, we are really taking care of the holding ponds, balancing ponds as well as the V-ditch around the perimeter of the sixth plateaux.
I am currently project managing the earthworks on this plot and by summer next year a large modern industrial warehouse will be standing, and it will be the second facility at EMG constructed with a high bay. The first project I worked on here was Plot 2, which has a 35 metre,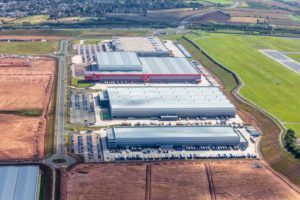 temperature controlled high bay and to date this is the tallest industrial facility that Winvic has built. Not only is the height unusual as most warehouses reach 20 metres, but a significant challenge of working at EMG is being adjacent to East Midlands Airport. The runway is just 150 metres from the site boundary. Operational restrictions are in place across the whole site, but our relationship with the airport team has gone from strength to strength. Having worked with them to obtain approvals of crane usage for a long time now, I would describe our processes as efficient, uncomplicated and very successful. In fact, I would say that building relationships with stakeholders and the team is at the heart of building warehouses, or any type of project.
Do you associate a successful project with one team working then?
Absolutely. When everyone is singing from the same hymn sheet, anything can be achieved, whether that's delivering a project early, delivering complex variations or working to early access dates for specialist fit-out teams. I also really enjoy that part of my job, pulling everyone together, creating a rapport across the supply chain and instilling a sense of achievement in everyone throughout the programme. When you're surrounded by good people, a project comes together smoothly and as a PM I appreciate Winvic's approach to one team working and its ability to attract the very best suppliers and staff. Working with some of the same team members on different projects is also really great because you know that your expectations and attitudes are already aligned. For example, engineer Tom Brooke was a new employee on Plot 6 and he's now working with me on the sixth plateau and Tim Crocker, did an amazing job on Plot 2 with me. I'd like to mention and thank each individual who has helped make my job easier at the projects at EMG – they're the band who make the music – I just wave the baton!