Winvic Construction Ltd and developer and operator client Packaged Living have been jointly shortlisted for Best Build To Rent Development – in the South, over 100 homes category – in the Build To Rent Awards. The Almere is located in Milton Keynes city centre, it is supported by funders Invesco and operated by Native. The scheme not only put people at the heart of its market strategy, design and construction, but made community the driving force within the residential hub for many years to come.
The winners will be announced on 2 November at an afternoon ceremony being held at The Londoner in Leicester Square.
While MK centre boasts one of the UK's top shopping centres and is a thriving commercial hub, few residential opportunities existed. The Almere presented an opportunity to be sustainable and to make a positive impact on the local economy through increased footfall, particularly in the evening. The rental market demographic has broadened over the past 10 years and with the economic climate increasing barriers to purchase, flexibility of space was crucial in the design.148 one-bedroom, 137 two-bedroom and nine three-bedroom quality apartments were constructed, which would appeal to all ages and people.
The pandemic – which hit three months into construction – shaped changes in the design; home layouts were considerate to homeworking requirements, the resident's co-working space was made more prominent and adaptable and the parcel store was made larger. An underground parking provision was also created for 47 vehicles – with five electric charging points – and 294 cycles.
With community high on the agenda from day one, the entertainment spaces, facilities and working areas were carefully designed and constructed for residents to come together and welcome their friends, family and colleagues to a home beyond the walls of their apartments. The Gathering Space is a 1,160 sq ft open plan area which can be booked by residents and the wider community for private events. It leads to an eleventh-floor roof terrace with bookable BBQ area and shared kitchen and on the eighteenth floor there is 3,250 sq ft rooftop terrace. While not at the highest point of the city, The Almere is the tallest building in MK.
What makes The Almere extra special are the programmes of courses and events that people living there can take part in, which are organised by Native's on-site Community Manager. These range from yoga, screenings of large sporting events, table game competitions, children's craft sessions and cooking lessons. Not forgetting the Almere's Neighbourhood Heroes – which are predominantly local, independent businesses – working in partnership with Native to provide discounted products and services.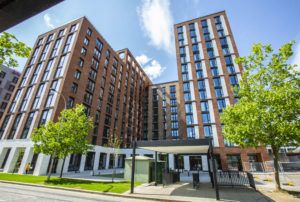 Construction of The Almere began in January 2020 and was completed by Winvic in May 2022; the first residents were welcomed in the same month. The location also meant it was possible to take advantage of the city's Combined Heat and Power (CHP) energy station; residents use a renewable source of energy for their hot water and heating, removing the need for boilers in the apartments and alternative renewable technologies in the design, such as solar panels. Biodiversity was a significant consideration and the landscaping undertaken by Winvic included over 1,000 trees, shrubs and ornamentals across almost 100 species.
Mark Jones, Winvic's Director of Multi-room, said: "Delivering Packaged Living's vision of The Almere – with people's practical needs and community at its heart – was a fantastic experience and since we handed over the project, residents have given excellent feedback about their new homes. Winvic's open and robust relationship with Packaged Living allowed us to make design changes during the pandemic which would meet 'new normal' needs and we were delighted to complete the project on time, despite the challenges during that time. I'd like to wish everyone the best of luck in winning this Best Build To Rent Development award, as it would be a well-deserved achievement."
Sophie Gunn, Associated Director at Packaged Living added: "The success of The Almere is a testament to Winvic and everyone involved who worked collaboratively to create a building which we are incredibly proud of. Feedback from residents has been excellent and as a result the building has been voted best place to live in South East England on HomeViews – well done to everyone involved."
For more information on Winvic, the company's latest project news and job vacancies please visit www.winvic.co.uk. Join Winvic on social media – visit X (Formally Twitter) @WinvicLtd – and LinkedIn.