Dominic Turner joined the Winvic team as a Site Engineer over four years ago, but when he read one of our blog posts written by Mark Sanderson at the end of 2019 he wondered whether a change in career would suit him as it did Mark. Last year, Dominic was promoted to Design Manager and he came to us, asking if we thought his story would also make an insightful blog for people who work in construction or have aspirations of getting into the industry…. naturally we thought it was and we found out more…
How did you get into construction?
As a teenager I knew I wanted to work in some kind of technical role because it was what I felt naturally good at. My Granny was a maths teacher and my Dad is a mechanical engineer, and those areas definitely influenced me. I studied maths, physics and chemistry at sixth form college and also undertook some work placements in civil engineering consulting and contracting offices. I enjoyed my experiences, and it didn't take me long to choose a Civil and Structural Engineering Degree at The University of Sheffield.
My degree was challenging but I really enjoyed most of the work. My favourite areas were learning about sustainability and structural mechanics as well as fluid mechanics – basically how fluid flows through pipes – which comes in handy when I have to consider siphonic drainage on a project. I was lucky enough to be awarded a QUEST scholarship with the Institution of Civil Engineers (ICE), which meant I went on two summer placements with a partner company during University.
Tell us about your engineering career
Between 2013 and 2017, I took a four-year graduate scheme role with a main contractor, who was also my partner company during university.  I was working on the production side of engineering rather than design and I was promoted to Site Engineer in 2015. I got to work in various locations on a wide range of projects such as a multi-storey car park in Wembley, a waste-water treatment works in Cork and a large corporate headquarters in Stoke. After a three-month sabbatical travelling, I felt like I needed a new challenge and one of the opportunities I found was at Winvic, which I'd already heard was a great place to work. At my interview at SEGRO Logistics Park East Midlands Gateway (SLPEMG), I was really impressed with the gateman, and I knew straightaway that Winvic must be a company with high standards.
What Winvic projects have you worked on?
In March 2018 I started working at SLPEMG as a Winvic Site Engineer and spent just over a year working on Plot 1, which is the 1.3 million sq ft Amazon fulfilment centre, and in April 2019 I moved on to the SLPEMG infrastructure project. I helped to deliver the 50-acre Strategic Rail freight Terminal (SRFI), from managing drainage installation to setting the levels for the 190 concrete slabs, until November 2019. This is when I went to work in Solihull at Jaguar Land Rover's Logistics Operations Centre, a development by Prologis, to build 1m sq ft of warehousing operations for JLR.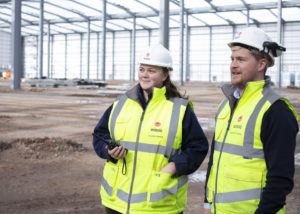 In January 2020 – now as a design coordinator (DC) – I continued working on the Solihull project and also began working on two units in Didcot.  In January 2021, I moved over to the impressive Jaguar Land Rover project located at IM Properties' Mercia Park. In February 2021, I asked if I could take on a second scheme within my workload and I was therefore appointed to manage the design on T118 at St Modwen Park, Tamworth, a 120,000 sq ft speculative warehouse, on my own. This completed in November 2021, and I started my first project as a design manager – an extension to Decathlon's facility in Northampton – in October 2021.
When and why did you move from engineering to design?
It wasn't long after starting work at the Jaguar Land Rover facility when I read one of the Winvic blogs, written by Technical Design Director Mark Sanderson, where he explained how he switched from being a site engineer to a design route. I met with him in January 2020 and by the end of the month I was reappointed on the same site as a Design Coordinator!
Mark's blog – and other's written by those in the design area – really got me thinking and a design role immediately felt like it would be suited to my abilities and personality. That's another element of Winvic's high standards really – people do listen, and the company is committed to training, qualifications and helping staff achieve personal goals, including being encouraging of career moves.
How are you getting on?
I am quite introverted, so at first, I found managing people within the design process a little daunting but the people around me have boosted my confidence. It's a family feel at Winvic, everyone looks out for each other and when everyone is fuelled with passion for their jobs it makes a big difference. I am also currently undertaking my ICE training scheme. In August 2021, I completed my Engineering Technician (EngTech) professional qualification and I am now striving towards completing my Incorporated Engineer (IEng) and Chartered Engineer (CEng) professional qualifications.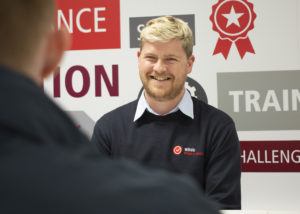 For those interested in design management, what does the job entail?
I manage interfaces between internal departments, external consultants and clients and processes where, for example, a drawing comes in – often now in digital form – comments are made and collated and distributed to everyone again. The design manager (DM) role is a hub of any project and information must be efficiently managed. We look at comparative costs for various design options and value engineer where possible, and many DMs have a previous specialism – such as architecture, sustainability or engineering – so it's always good to speak to other Winvic design team members to get a different perspective. My engineering and project background gives me a wide knowledgebase and that helps me to complete tasks more efficiently. My advice to anyone starting out in construction is don't worry too much and find your fit based on ability and interest. Any experience will be beneficial as you progress and if you work for a company as good as Winvic, you'll be supported to take a different path if that's what's right for you.