If you're a regular to our blog, you'll know we've been hearing from our current Year in Industry cohort, gaining insight from those in the spring of their careers, filled with wonder at the choices ahead of them. This made us think of one of our Technical Design Managers, Mark Sanderson, who started out life as an engineer. However, as he progressed he didn't want to take the perceived natural step towards becoming a project manager, and instead Mark chose to switch roles and climb the design ladder. He explains…
"I was interested in construction from my mid-teens, enough to tailor my A-levels – maths, physics and design – towards a career in civil engineering. With family members in the industry I knew enough to understand a desk job wouldn't suit me. When at Loughborough University earning a BEng in Civil Engineering, I settled fairly quickly on progressing to an on-site engineering role and being out in the field seemed the best way of learning the practices. I enjoyed three years at a very large company after I graduated, but ultimately felt I was a number in the machine and I got frustrated with the corporate mentality; for the next three years I worked for a much smaller company, but then I found my ambitions were greater than the schemes I was engineering. This was when I turned to freelance contracting and it was great for where I was in my life, having just got married with my first child on the way.
"It was as a freelance site engineer when I first came to work for Winvic. Before then I wasn't sure I'd ever go back to a full-time position, but my experience of the company's approach, values, workforce and very high standards made me completely change my opinion. At first it was a bit of a culture shock – I didn't know flexible companies like Winvic existed! I had worked for businesses of various sizes but they all had fairly rigid structures with regards to working processes. Winvic offers more freedom than some people are used to, and I suppose it's not for everyone, but I loved it; I was told early on that it was ok and even good to "get out of your comfort zone". The rest of team trusted me, saw that I was an expert in my field and I just got on with it. The company offered me a role as Senior Engineer in November 2007 and I snapped it up!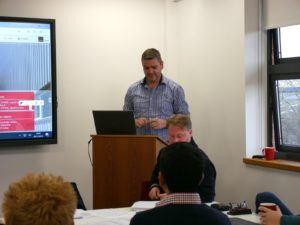 "I had always accepted being away from home was part of an on-site engineer's life, but now I was a little older and married with 3 children, a desk job seemed inviting all of a sudden. Also, the perceived natural progression from Senior Engineer was to move up to Project Manager and that high-level overview role never sparked my excitement; I like to get into the details and be able to consider different options, and some days I do miss this in my current role. It was when I'd been working away for almost a year in Bradford – on a 1 million sq ft industrial facility for Prologis and end-user Marks & Spencer – when in a calm moment, I had a tumultuous idea. The PM Robin Orgill asked what I wanted to do next, and I remember pointing at Tim Reeve, our Technical Director, and saying "I fancy giving design management a go".
"The years I had spent on all sorts of projects on-site set me in good stead for the design path; I was confident of what an optimum design was, I had to just learn the design department processes that went on behind the scenes, which I had not seen before. Tim guided me through this process and acted as a mentor, he still does now. My hands-on engineering background meant I had expert knowledge of civils, such as drainage and foundations and as I've been a bit of a technology geek from a young age I felt I had a lot to add in terms of making the process more efficient.
"I progressed after just 6 months from Design Co-ordinator to Design Manager (DM) and in 2012 I became a Senior DM. Ten years after I joined Winvic's staff, in October 2017 I was offered the job I'm in now – Technical Manager. I report to Tim and along with Scott McDermott we oversee all industrial, commercial and civils schemes, managing 7 DMs, 3 Seniors and 6 Design Co-ordinators. Day to day, I allocate team members to projects and drop in to provide guidance on the live projects as required; I generally have less involvement in the design details these days. Currently I'm working with a few teams to get some new, large projects up and running, creating the foundations for an efficient and organised end-to-end design process before full time Design Managers are assigned to the schemes. I can't say what they are, but we'll be announcing the contract wins shortly.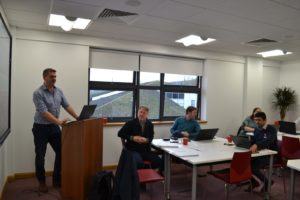 "My role primarily focuses on upcoming projects, from the tender stage, achieving a consistent approach to design management across the business and ensuring client expectations are met. I also look after the office administration teams, so human resources and managing people now takes up a large percentage of my time. While this aspect represents one of the more challenging aspects of my job compared to my engineering days I enjoy working with a wide range of personalities. The three Lidl Regional Distribution Centres that we have constructed in the last few years were the last projects I fully managed. I was Senior DM for the first Lidl unit in Exeter so it made sense to manage the next two, even though my title had changed.
"I've never been overly bothered by titles and I'd turn my hand to any task if it meant strengthening my design team and therefore Winvic. For example, I'm going to be getting more involved with mentoring the junior members of the team so the design coordinators can grow into solid design managers. In turn helping the design managers progress on to more senior roles. Creating a team that are focused on the Winvic Way, doing it right. It can be easy for a young designer to become overawed by the scales of the projects Winvic delivers. However, I believe there is a simple, central process to be followed and outside this I hope to encourage the freedom I experienced – and was so excited by – when I first started at the company.
"The areas that excite me these days are the opportunities and benefits that come with off-site fabrication and using Building Information Modelling (BIM) to its potential. Our brand new Centre for Innovative Construction (CIC) is a designers dream and the teams across the whole business are itching to be assigned to a scheme requiring the full works. We're very lucky to have benefitted from being able to hire some of the most talented people in the industry and now the Centre with its VR BIM CAVE is launched, we hope to attract more of the very best. It is great to be able to trust the teams you work with, have confidence in their capabilities and know they have your back. However, working for a company that is 100% behind you and your aspirations I think is rare. I'm not sure if any of the other companies that I've worked would have allowed me to move from engineering to design, let alone encouraged me. Construction is so broad, I may even squeeze another career change in before I retire!"
 Mark Sanderson, Technical Manager