71-hectare Employment Park Focuses on Delivering Vast Community Benefits
Winvic Construction Ltd has been appointed by IM Properties to undertake significant civils and infrastructure works at Peddimore, Birmingham. The major new high-quality employment park is located in Minworth, close to Royal Sutton Coldfield. Winvic started on site in July 2021 and handover is scheduled for June 2022.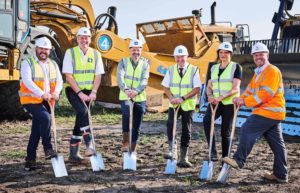 IM Properties is Birmingham City Council's development partner for the first phase of Peddimore, which comprises all infrastructure works and the development of 37-hectares of the 71-hectare site.
Winvic will be delivering all of the site's infrastructure including earthworks, utility and drainage installation – including telecoms and water diversions – a new roundabout on the A38, estate access roads, landscaping, lighting, footpaths and cycleways.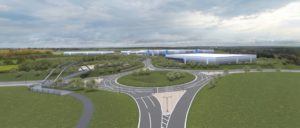 Currently Winvic's team are stripping top-soil from across the site and constructing screening bunds to the north and south of the site; these vary between 80 and 300 metres in length and between 2 and 3.5 metres in height. Cut and fill works will be undertaken next to create the warehouse plateaux, reducing the ground adjacent to the A38 to meet existing carriageway levels. Subsequent programmes will include laying 4,500m of drainage pipes, extensive planting of thousands of trees and creating the new roundabout; roundabout works east and west of the existing A38 will be undertaken off-line, then traffic will be switched onto the alignment of the new roundabout so that the on-line works can be constructed, including the centre of the roundabout. Furthermore, a 60m pedestrian footbridge – which will span the width of the A38 and provide a new walking route into the development – will be constructed.
IM Properties and Winvic have made a long-term commitment to deliver a programme of community benefits, which has in part been informed by the Birmingham Skills Investment Plan, Birmingham City Council's skills strategy to 2026. In addition to supporting thousands of jobs, helping local people access new employment opportunities and improve their skills, Peddimore will deliver a long-term social return on investment and create a positive legacy for years to come.
Winvic's commitments include:
Promotion of local employment opportunities with Winvic and its supply chain – working with Birmingham City Council's Employment Access Team and the Peddimore Community Partners to source candidates
Providing training, placements and Apprenticeships – through an onsite construction training hub working with local colleges and West Midland Combined Authorities' Adult Education Budget training providers
Other careers and skills support – mentoring, school visits and work experience
Increasing local spend – committed to spending with social enterprises, SMEs and businesses located within 30 miles of the site
Supporting local communities and charities – donating money and voluntary hours through Community Partner Organisations
Sustainability and Innovation Hub – a permanent on-site facility in 2022 aimed at educating young people about sustainability in the built environment
In January 2019, IM Properties launched the Peddimore Community Fund, which was set up to provide financial support for projects that are local to the area and can demonstrate a wider community benefit. The £270,000 fund is independently administered by the Heart of England Community Foundation – details about how to apply are available here.
Rob Cook, Winvic's Director of Civils and Infrastructure, said: "This major new employment park is supported by a comprehensive programme of community benefits and as Winvic has worked in partnership with IM Properties on many projects, we're well placed to deliver on every level. We are already working with a number of partners to deliver our social value commitments – creating opportunities for training and skills, employment and business engagement and donating time and money to the community and its charities – and it's exciting to be able to help people local to Minworth in a wide range of ways. The programme of civils and strategic infrastructure works is significant across the 71-hectare site, however, our experience of undertaking similar projects, including IM Properties' Mercia Park, means we are confident of delivering on budget and to schedule."
Andy Reynolds, project director for IM Properties added: "Winvic Construction is a trusted supply chain partner and equally committed to our social value and sustainability agenda. They will be working from day one to open up opportunities for local SME's, social enterprises, young people and individuals looking to gain new skills, with on-site training facilities providing valuable experience towards achieving employment."
More information about Peddimore can be found on the development's dedicated website www.impeddimore.co.uk.
Join Winvic on social media – visit Twitter @WinvicLtd – and LinkedIn.