While summer is often a time for everyone to take a slight breather, it couldn't be a busier time for our Talent Development Manager, Kayleigh Merritt, who facilitates the various placement-based qualifications and Continued Professional Development courses we support at Winvic. As well as supporting assignment submissions at the end of the academic year and saying goodbye to a Year In Industry cohort, she's been arranging summer work experience placements and welcoming in new trainee team members since July.
Before Kayleigh and the team start preparing for the university careers fairs that we attend in October and November (scroll down for locations and dates), we grabbed her for a chat about her role and the different construction qualifications we support. And if you're inspired to choose a career in construction or are an experienced professional looking for a new challenge, head to our careers page.
How long have you worked at Winvic and have you always worked in this area?
Before I worked at Winvic I was a Training Manager in the adult care sector, so while it wasn't construction related, I had a very good knowledge of how apprenticeships worked and how to help, develop and get the best out of people. I started here in April 2018 as a Training Coordinator and over time my role and responsibilities have expanded.  Since the introduction of the first Apprenticeship Standards and the apprenticeship levy in 2017/18 we have increased our number of apprentices to 32, this has been a great success for me and really allowed me to make the role my own. Training and professional memberships have always been the backbone of growing talent at Winvic, but now we're structured to help many more young people enter the industry. In November 2021 I was promoted to Talent Development Manager which essentially means, I'm the glue that holds the important components together. Training and development at any level is a team effort. Our internal teams and subcontractors make huge commitments in supporting young people on site – they really do take the time out to mentor and teach. And of course, the different education providers we work with deliver the important classroom training and make the assessments.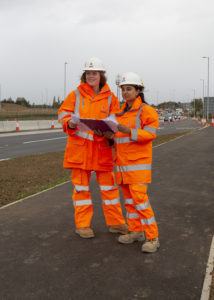 Tell us about the Apprenticeship route with Winvic
This year we have nine new apprentices starting and these are a mixture of Degree Apprenticeships – Quantity Surveying and Digital Marketing – and four-year long placements to achieve Level 4 Apprenticeships – Construction Site Supervisor, Civil Engineering Senior Technical and Construction Design and Build Technician. The teams works hard to try and match the onsite experience with what the apprentice is learning in the classroom and focus on areas they may need additional help with. Quarterly reviews are undertaken, so we can check on their learning modules and help them to evidence the Knowledge, Skills and Behaviours required for the qualification. Starting this September, I also ensure each new apprentice works in different departments that are relevant to their qualification, and this really helps them understand how their role fits into the whole end-to-end construction process.
Our number one aim is to give each individual high levels of exposure to the real world of work – we  facilitate them to put what they have learned in the classroom into practice and continue to support them until they have achieved the correct understanding and operational proficiency. Apprenticeships are so valuable in construction and those who don't get hands on experience during their education pathway find they may have a longer adjustment period when they begin their first job. Apprenticeships  offer people from all walks of life the opportunity to access college or university and gain important qualifications. It's always nice to know our efforts to inspire the next generation are making a difference as we often receive applications from young people who have been introduced to Winvic through one of our school visits. However, before we take on any apprentice, we invite them to undertake a work experience placement to ensure they are comfortable onsite, and they have the right attitude to take on the commitment.
And we have six people within the 2022/2023 Year In Industry cohort?
That's right, and they are across three disciplines this year – we have our first ever Trainee Design Coordinator placement, three Trainee Quantity Surveyors and two Trainee Site Engineer students. They are working on the multiroom projects at Sylvester Street in Sheffield and Crown Place in Nottingham, the civils and infrastructure scheme SEGRO Logistics Park Northampton, Plot 5 at SEGRO Logistics Park East Midlands Gateway, Symmetry Park Rugby and Peddimore. Plus, I'm delighted to have recently welcomed back the five students that left us one year ago – now they have finished their degrees they have been employed as full time members of staff. Our Year In Industry students come to us at the point of their third year of university studies and they take a whole year out to work with us on site. It's very competitive and we get hundreds of applications – we'll be visiting careers events at Loughborough University, Sheffield Hallam University and Nottingham Trent University in October and November so if you're a student at one of those institutions, please come and say hi to our friendly team and ask your questions.
The year in industry programme has been running for several years and since joining Winvic we have continued to develop and improve our offering, our goal is to provide an industry leading scheme and I'm confident that we are achieving that goal. . Throughout the structured scheme that we have put in place each student visits different core departments for a week at a time, attend courses where they learn key activities and are given knowledge targets relating to their university degrees. For example, they get to shadow a design manager, a health and safety manager and learn about sustainability when working on Net Zero Carbon projects. They are also taught how to use a total station, how to set out and how a concrete pour works. Personal skills, such as being confident on the phone, are also important areas that we work with trainees on, and of course we tailor our support for everyone's needs. Tangible monthly targets and objectives are set so they can appreciate all areas of their chosen discipline, and these are decided and appraised during monthly review meetings. Furthermore, each student must deliver mid and end-term presentations about what they've done and learned and undertake an innovation project – on a subject of their choosing. Last year's cohort visited the London EXPO for inspiration and chose to explore the digital side of construction further with a 360-degree camera project.
Where do industry placements fit in?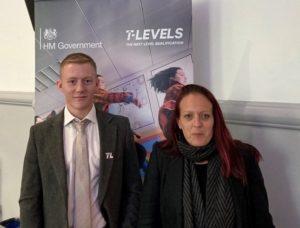 We work with various colleges where spending time on site is a requirement of students' courses, and often this takes the shape of four days a week at college and one day at Winvic. For example, we've recently worked with Burton and South Derbyshire College and provided a 350-hour T-level placement for an engineering student. Not only are we able to support the classroom experience with related hands-on activities but we can help students to map future career pathways on the basis of them passing their courses – such as moving on to a Level 4 or Degree Apprenticeship. Industry placements definitely give people a head start in their professional careers, and this is an area at Winvic, which I'm concentrating on expanding. I'm currently speaking with a consortium of colleges in Birmingham, so we hope to be welcoming more placement students quite soon. A lot of our trainee team members go on to apply for permanent roles or undertake further qualifications with us, so college programmes such as T-levels and BTECs that require this onsite industry placement open the door to a long-lasting, loyal employer-employee relationship. The extra benefit to us is that we can instil our values early on and the 'Doing It Right' and 'Winvic Way' visions become second nature.
If you attend one of these universities, come and see us –
Loughborough University – 26 October
Sheffield Hallam University – 9 November
Nottingham Trent University – 26 October
If you have any questions about how to undertake an industry placement with Winvic, joining our 2023/24 Year In Industry cohort or starting an Apprenticeship, contact us on training@winvic.co.uk. For broader information on entering the construction industry and learning about the many careers of on offer, visit the Go Construct website.