Yesterday marked the start of National Apprenticeship Week 2022, and with 19 apprentices across our business, we thought it was the perfect opportunity to catch up with some of them about their journeys, roles, and projects.
First up, it's Elliot, a 24-year-old Assistant Quantity Surveyor who is studying for a degree apprenticeship at Nottingham Trent University. Not only is he currently working on his dissertation – in his final year of his BSc in Quantity Surveying and Commercial Management – but six months ago he also started his Chartership with the Royal Institute for Chartered Surveyors (RICS). Over to you Elliot…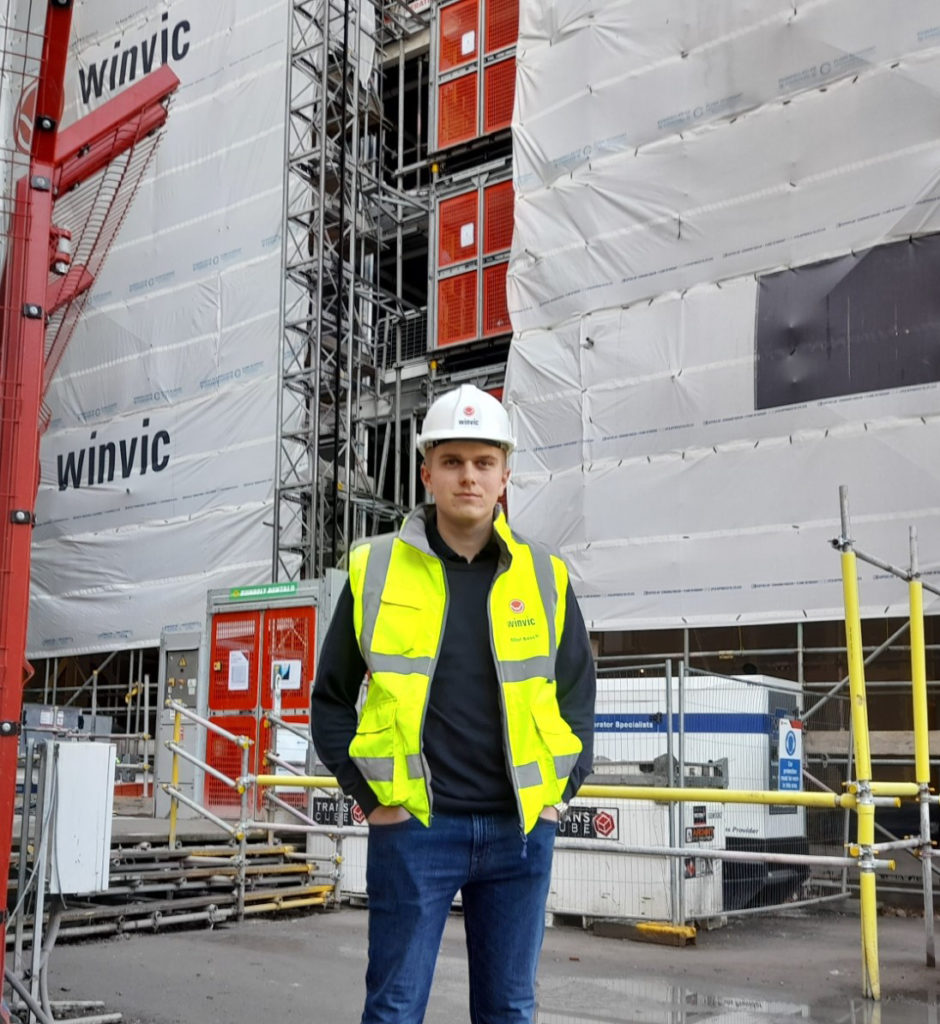 "I remember always having an interest in buildings and the construction process – how you can go from having a plot of land with nothing on it to having a fully functioning huge building in a short space of time is amazing. Before I left school, I started to look at what area of construction would suit me and while I didn't particularly want to be out on-site all the time, I wanted to also learn about the different options. I explored the opportunities and decided to take a Level 3 Advanced Apprenticeship in Construction Contracting Operations. This was great because it was a broad course and it helped me understand what path I wanted to take. Also, I undertook work experience at a main contractor and a consultancy so I could see how roles differed between type of company.
"For those currently considering whether to go into the construction industry or undertake an apprenticeship route, I'd recommend they think about their skills and interests and do as much research as they can. Work experience is hugely valuable – get yourself in there so you can speak to lots of people for their advice and opinion – and start with an all-encompassing course – so you delve into different departments and eliminate the roles you're not interested in. For me, the traditional A-level and university route wasn't appealing, and because in construction there is so much to learn, live and breathe, a hands-on route with more exposure to the job made much more sense. Not only did it seem better for me development-wise, but I was able to get the same qualification, in employment where I was earning money and gain so much more experience.
"My then workplace asked me what I wanted to do next, and I was sure by then that it was quantity surveying so I started my 5-year long degree, attending university one day a week. After a couple of years, some other students I knew were speaking highly of Winvic, and it got me thinking about moving firm. An ex-colleague of mine said that Winvic was a supportive company with a good future workload. So, I sent off my CV to the Surveying Director, Dave Markie, and since March 2019 he's been my line manager.
"I got my feet under the table at a 1204-room student accommodation project in Coventry, assisting the Senior Quantity Surveyor and getting reasonably involved with management accounts for the last four months of the build. I next moved to the Student Castle project in Oxford around the time that the concrete frame for the 515 roomed scheme was being completed. I was there until practical completion in September 2020 but continued to work on the retention release payments to subcontractors throughout the ongoing contractual defects period. For a couple of months I also assisted on the 23-storey Tyndall Street scheme in Cardiff and began to prepare for the Dumballs Road build-to-rent project, also in Cardiff. With Oxford and Cardiff, this has meant working away and staying in a shared house or hotel – another consideration for people wanting to go into our industry. It suits me and I like working away, but it's not for everyone – although a supportive employer like Winvic tries to be considerate of individual situations.
"But I'm sure you're thinking 'what does an Assistant QS actually do?'! Much of my work relates to 'package management' and 'internal/external evaluations', which is basically procuring subcontractor services and products, checking work undertaken and making payments to them, and undertaking similar processes to ensure the client remunerates Winvic for works completed. For example, I am given the specifications, drawings, and information for a particular package – such as windows – and I send out enquiries for subcontractors to price-up. I check that they are correct and compare costs before appointing a company and creating a formal contract for the order. Each month I evaluate each subcontractor's work and arrange payments for work undertaken. However, throughout the whole process I must also quantify changes to the original contract, agree scopes and costs on variations and issue site instructions to proceed with changes. On external evaluation side, I must value Winvic's works to date as accurately as possible, and the client appointed Professional Quantity Surveyor makes an assessment on this on behalf of the client. You can think of it as a big cash flow monitoring exercise, where me and my team ensures any spend is being recouped correctly.
"I've been here since January 2021 and will be until handover in September of this year – you can see project's progress on the live on-site cameras here. It comprises 206 one-bed and two-bed apartments over two tower blocks – climbing to 12 storeys – as well as two ground-floor commercial spaces and shared resident spaces, such as a lounge and gym, which we are fully fitting out. All projects are different but having worked on multi-room projects at Winvic I'm at home in this sector and hope I can continue to do more of the same. I will graduate later this year and so I'm focusing on completing my dissertation now, which is on Modern Methods of Construction (MMC) and its impact on the residential market. Only around 8% of homes are being built using MMC – such as modular units and off-site construction – and with an industry skills shortage and a lack of affordable housing, I'm investigating the benefits, disadvantages, and sector impact if there were to be greater adoption.
"I won't quite be finished with my studies though as Winvic is also supporting me to become a Chartered QS through RICS. Hopefully by mid-2023 I'll have completed my competencies, a case study of a project I'm working on, time undertaking continued professional development training and a RICS panel interview. My career and qualification path may seem like a long one, but every day is worth the hard work, and I'd definitely recommend an apprenticeship route."