Charlotte Wildman, a Design Manager at Winvic Construction Ltd – is starting the New Year on a high as she takes her place on the Board of The Institution of Structural Engineers (IStructE).
The Board was elected by the IStructE Council in November, but January marks the official appointment of members for the two year – 2020 and 2021 – term. Charlotte was selected from a number of candidates to become one of 11 Board members, comprising the President, three Vice-Presidents, a Past President and six Council members. The Board, whose members are the Institution's Trustees, works to define and develop Institution strategy and policy, ensuring that IStructE continues to lead and support the development of structural engineering worldwide, in order to secure a safe and resilient built environment for all.
Charlotte has been involved with the Institution since 2012, became a Chartered member in 2017 and was elected to Council from January 2019. She has chaired the Young Members Panel and has been involved with various committee and task groups; it has been these arenas that have given Charlotte a voice to promote the industry, particularly supporting young people to pursue a career in engineering. She said: "I was two years into my civil engineering degree when I became a student representative at the Institution, and I immediately saw how valuable my role was in feeding young people's views into the industry mix. I have also always been an advocate of equality in construction and think it's important to encourage inclusivity whenever possible, whether that's gender, class or racial equality. I am over the moon that my passion and commitment has been recognised and paired with the enjoyment of my new role at Winvic, I think 2020 is going to be an exciting year."
A MEng Civil Engineering graduate, who has predominantly worked as a consulting engineer since graduation in the retail and leisure sectors, Charlotte was welcomed into the Winvic team in October 2019. She is the Design Manager on a 661,000 sq ft industrial scheme in Biggleswade.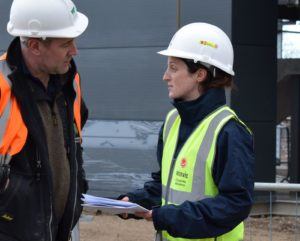 Winvic Technical Manager, Mark Sanderson, added: "We would all like to congratulate Charlotte on her esteemed appointment to the IStructE Board, where we have every confidence that she will help steer the Institute's strategy, policy, objectives and resources passionately; her commitment to the Institution and the industry is evident in many years of involvement. Since joining Winvic, she has already proven to be a valuable member of our team, showing us that she is ambitious, a problem-solver and thinks laterally, and in innovative ways. We wish her every luck for the next two years in her Board member position."
Martin Powell, Chief Executive of the Institution of Structural Engineers, said: "Charlotte has been a passionate, active and engaged member of the Institution for many years, volunteering her time on our committees and panels and working tirelessly as an advocate for the needs of younger members. As an Institution, we are committed to making sure opportunities are available and open to all members to serve and support their profession and have no doubt that Charlotte's drive and enthusiasm will be an enormous asset to the board as we shape the future of the Institution over the coming years."
For more information on Winvic's latest project news visit www.winvic.co.uk/news and for job vacancies please visit www.winvic.co.uk/careers.
Join Winvic on social media – visit Twitter @WinvicLtd – and LinkedIn.