Following National Careers Week (1 – 5 March 2021) where we heard from three of our Year In Industry students – Elliot, Abbie and Ed – the blog take over continues with Jonathan's story. Now six months into his placement with us, the trainee site engineer explains how he started off a little shy, but he pushed himself out of his comfort zone and is enjoying his new-found confidence working at SEGRO Logistics Park East Midlands Gateway.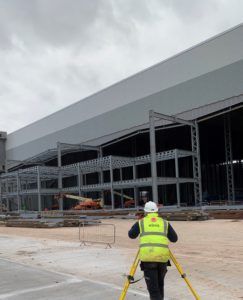 "When I was at school, I had no idea what job I wanted to do, but I knew I definitely wanted to go to university for the experience and to give my future career a solid academic base. My mum runs a development business and so I did understand a bit about construction from her, and because I have a few friends who have gone into trades it made sense that I should explore that path somehow. I was interested in it, but I suppose I just didn't have a burning passion at the time like I've found now. I started a National Diploma course at college to learn how to become an electrician, but I knew after a week that it wasn't for me and even though I was interested in doing something practical, I decided that a broad range of A levels would set me up for more choices when I had to pick a degree. I did geography, psychology and applied sciences and I found all of the subjects interesting all of the time, but they still didn't help me to choose a career! So, again, I went for a flexible option at university, and I got a place for a BSc (Hons) in Construction Management at Nottingham Trent.
"I loved my first and second years at uni, but in particular the practical elements, like the laboratory work where we did things like create concrete cubes and test them. I thought I wanted to do a site management role, but since I've been at Winvic I now know it's definitely engineering, and looking back to the uni modules that interested me the most, that makes complete sense. It feels like I've been here at Winvic for a lifetime, probably because I've taken in so much information in a short space of time. In fact, in the first month I felt overwhelmed by it all and I am quite a shy person, so it took me a little while to come out of my shell. Kayleigh in training and development has really looked after all of us on placement and she encouraged me to get outside more and grab the opportunity with both hands. She was right to persuade me to push myself and because I enjoyed getting more and more hands on, I built up my confidence.
"I'm working on Plot 12 at SEGRO Logistics Park East Midlands Gateway, which is a massive site that Winvic has been building out for three years, and this 694,000 sq ft industrial warehouse is the sixth one to be constructed. For the first three months I shadowed an engineer called Tom and he and Rich, the senior site manager and my mentor, took a real interest in me, helped me to get stuck in and got me feeling comfortable. Looking back, it's good that they didn't give up on me just because I was shy. They treated me like a valued member of the team and wanted to help me grow. I paid attention to all the packages, but worked predominantly on the foundations – I must have worked on over 100! I got given my own kit to use which was a real achievement as it meant they trusted me to set out independently. I'd use the robotic total station to measure up, pin the corners, spray the lines and set the dig levels. Once that was right, the subcontractors would lay the board and I had to re-inspect before any concrete pouring could commence, checking it was within the 5mm tolerance.
"A real turning point for me was when I was given the responsibility of looking after the yard and I will see that package through to its completion. It was a big confidence booster because I knew that they trusted me to do it accurately. This involved a similar process of measuring, setting out and examining each stage of the work carefully before moving on to the next. In a morning I make sure everyone has what they need for the day to continue on the yard and I assist around the site, helping the three other engineers while also keeping an eye on the yard's progress. I might assist on the drainage, or kerbing or cladding, so I'm getting a well-rounded view of the project. I feel lucky that I will get to see the scheme go from an empty plateau to a fully built facility, so next I'll get to work on internal packages, such as wall partitions and stairwells.
"That's one of the best things about my Year In Industry placement. I'll get to learn about the majority of the packages on an industrial unit so when I'm in a full-time job after uni I'll know the basics and I'll be able to be effective from the start. I'd definitely like to go into a site engineering role when I've graduated and if Winvic offered me a job I'd be really happy. I'm hoping I've impressed them enough! But to be honest I'm just pretty chuffed that I got the chance to be part of a placement programme that I can throw all my time and focus into, because some people on my course didn't due to Covid-19. University recommend that we undertake a placement to gain knowledge and a different perspective, and it's definitely opened my eyes. I am looking forward to going back into my third year and starting my dissertation though, because being here has really helped me to think of ideas about what to write about. Lots of people in my team have also offered to help me with research if I need it, so it's good to know I'll still be able to stay in touch with them and tap into their experience and knowledge. I'd like to thank everyone who has helped me so far, and continues to help me, because I have a much clearer perspective on my career and I can see myself being a site engineer and go into management later down the line."