Today is International Women in Engineering Day 2022 and to celebrate we asked Sophie Shacklock, who is part of the SEGRO Logistics Park Northampton project team, if she would like to take over the Winvic blog to inspire women everywhere and of all ages. Working as a sub agent, focusing on the National Highways programme within the vast Civils and Infrastructure (C&I) scheme, Sophie tells us about her role and how she thinks women have a lot to give within the construction industry.
I was excited when I was asked to write a Winvic blog, because I think one way that we can encourage more women to consider a career in construction – or in engineering – is by showcasing the roles on offer. By my title, Sub Agent, most people would never guess that I'm an engineer, but I undertook a Civil Engineering degree at Newcastle University and that really has been the solid foundation to my career that my brother told me it would be! I did maths, science and design technology for GCSE's and A-levels, but I didn't really know what I wanted to do. My brother had finished his BEng in that subject, and he encouraged me to go down that route… and I loved it.
As you may expect, it was very male orientated, and I think there were six girls out of about 200 students in my year. I can understand why some women would be apprehensive, but I have two brothers and come from a family of farmers, so it was an easy fit for me. Perhaps it's about being confident, but I've always felt there's a constructive dynamic between men and women. Males and females can approach things in a slightly different ways, so I think it's another opportunity to continually learn. Diversification is always positive and Winvic values that, from gender to cultural, and I definitely feel that women have a lot to give the industry.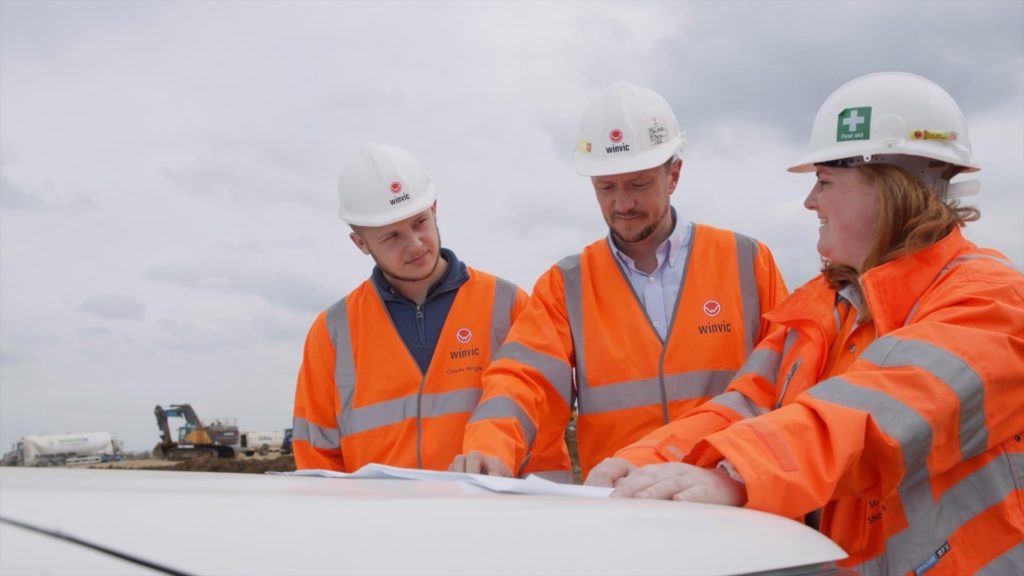 From the male-heavy classroom I entered the male-heavy working office and I started out as a trainee structural engineer. I still wasn't sure what career I wanted and thought it would be beneficial to see the on-site side of a project, not just planning in CAD at a desk, before I made any long-term decisions. Therefore, after a year I changed companies to become a trainee site engineer for a small groundworks company and I enjoyed planning and working with drawings still but also the setting out and working outside. Two and a half years later I moved to a heavy civils firm and between 2016 and 2020 I progressed from being a site engineer, to a senior engineer and then to a site agent. One reason was because I realised that management of both projects and people was one of my strongest attributes and I enjoyed it. After some time away from work for maternity leave, I started at Winvic in September 2020 on the enabling works at SEGRO Logistics Park Northampton (SLPN). This early stage in a project is crucial to pinpoint the challenges and plan the solutions, for example around access and egress, programme clash detection and meeting the needs of ecology and architectural officers.
A site agent is a role specific to civils projects, and on a significant C&I scheme – like SLPN – there are also sub-agents below them in the team structure, who undertake similar tasks. A sub agent is a unique role to the Civil and Infrastructure Industry- and more often than not, site and sub agents come from engineering backgrounds and that knowledge filters in to so many areas of the roles.
I'm issued the programme by my site agent and it's my job to implement it, working very closely with all subcontractors, from plant to materials to any other operations. If an issue arises then it's my role with my team to find a solution that impacts the overall programme the least. We naturally try to avoid issues arising, but if they do, my focus is the solution and getting the job done right. Talking of Doing It Right, a big part of my role is health and safety and I'm also very proud to be one of Winvic's mental first aiders. Colleagues said I'd be good at it, I genuinely like helping people and the training has given me so many new tools that I can use day-to-day. I like to get to know my workforce and I check they're all ok every day, and because they know I care we work together and communicate better.
The National Highways works that I am responsible for comprise the reconfiguration of a major junction on the M1 and we're now just 10 weeks away from completion. Handover isn't until October, but there are rigorous quality assurance measures in place and surveys to be undertaken. This means we're on a massive final push with inspections and activity, such as final highways surfacing works, lifting gantries and lighting columns and landscaping. What we have achieved with the works reshaping junction 15 of the M1 is really something, and I've enjoyed working on National Highways so much, I'd really like to continue. It's so big and the live traffic element has been a challenge that has driven me. I like being busy, thinking of solutions and solving problems, all while managing a whole range of personalities! It could be because I'm well practiced at home, having children too, but I love my job and being a woman in engineering. I just hope my words encourage a woman out there to think 'I could do that, and I will'.