Today marks the beginning of Net Zero Week 2023 – the UK's national awareness week of the world's answer to stopping climate change. With 20 directly delivered Net Zero schemes completed or underway and our commitment to be a Net Zero business by 2025 still as strong as ever, we couldn't miss the chance to ask our Technical Services and Sustainability Director to share his thoughts and explain some of his work here at Winvic. From dreaming of designing cars to now paving the way in Net Zero construction best practice, Arun Thaneja tells us about today's industry challenges and Winvic's solutions. 
As with most things in life, you can do a job in an acceptable way or you can aim to exceed expectations, and Winvic strives to continually raise the bar. With our approach to Net Zero through our Sustainability Strategy pledges, we're not only 'Doing It Right', but we're also doing what we can to elevate the wider industry standards, strengthen partnerships to innovate, and educate as we go. I have spearheaded Winvic's drive to becoming a Net Zero business by 2025, and also I'm leading our internal teams in the delivery of numerous Net Zero industrial projects and civils and infrastructure schemes, such as SEGRO Logistics Park Northampton and Bardon Hill.
It feels like a particularly exciting time, as we experience a shift change from the typical innovator stage into one where more widespread activity is being executed by early adopters, and I'm proud to be able to say I'm personally helping to shape the future of Net Zero. When there was a call out for experts by the UK Green Building Council (UKGBC) to apply for its Carbon Offsetting and Pricing working group, I jumped at the chance. Winvic is a member of the UKGBC and aligns with its process for declaring projects as Net Zero in Construction and Operation.
The UKGBC states that projects must first significantly reduce embodied carbon emissions before offsetting, and this must be undertaken through a verified scheme – Gold Standard or Verified Carbon Standard (VCS). However, that was really the long and short of the guidance… until now. Through workshops and meetings over two years, I worked collaboratively with other industry experts, sharing processes, ideas and thoughts on what best practice should look like. The new UKGBC guidance on 'Carbon Offsetting and Pricing' – published on 27 June – equips those who purchase offsets or make investment decisions at building asset or organisational level with guidance to do so in a way that aligns with their climate goals and accelerates the wider transition to Net Zero. This is our chance to get it right for our planet, so ensuring carbon calculations and offsetting are done uniformly, correctly and transparently is vital. My colleague Robbie is also on the UKGBC Embodied Carbon task group and has been working on the embodied carbon measuring and reporting project; the culminating report will be published very soon.
Day-to-day, the pressing challenge is the lack of verifiable carbon data on products and materials, and we've been working especially hard with our Green Supply Chain partners in this area to ensure we can correctly calculate and efficiently deliver the Net Zero schemes we've been contracted for. We rolled out a Sustainable Procurement Framework to help us source materials more sustainably, ethically and – where possible – locally. The reduction of our suppliers' carbon output is crucial to us achieving our Net Zero ambitions as well as clients' Environmental, Social and Corporate Governance (ESG) goals; therefore, we started working collaboratively with our Green Supply Chain two years ago to develop innovative and sustainable materials, product solutions and methods of construction. Even when we have it, data can be tricky, so we've prioritised creating robust management systems and processes; we're working with a lot of suppliers, delivering high numbers of project simultaneously.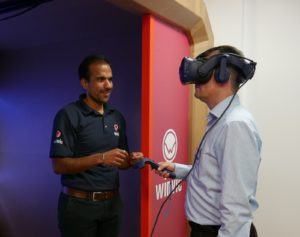 The business has been measuring its operational carbon footprint for 11 years, committing to measuring, managing, and reducing operational Greenhouse Gas (GHG) emissions annually, with intensity metrics due to the business growing both its employee numbers and turnover year-on-year. This year, we have achieved the Achilles Carbon Reduce Certification in line with ISO 14064, which we're proud to add to our portfolio of ISO accreditations. This globally recognised, third-party verified certification is aligned with industry best practice for emission measuring and reporting. The certification demonstrates that our GHG emissions reduction plans and progress have been reviewed in line with Toitū Carbon Reduce programme requirements.
Further to this, we have Sustainability Working Groups full of passionate people, centred around the four pillars of our Sustainability Strategy. The pillars of People, Planet, Innovation and Community form the framework of our strategy and our business approach to sustainability, outlining a roadmap to work towards our ESG goals. The Sustainability Leadership Team assigns each 'pillar group' a research task every quarter and their findings lead to further investigation and specific trials, which if successful are then rolled out across other projects. It's important to Winvic that we invest in our in-house expertise and team to ensure we can continue to lead the way; innovation means always moving forwards, taking risks and challenging and questioning, the latter being one of Winvic's core values. For example, the Planet Pillar looked at the waste on a completed scheme; what were the trades; what were the materials; what produced the most waste. They researched 'take-back' initiatives, whether the material could be reused into same product or recycled into something else; we uncovered hidden options and new solutions that have now become part of our standard processes, feeding into the circular economy.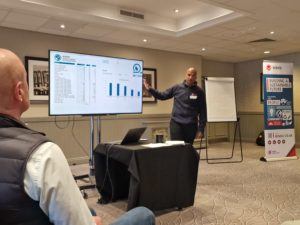 Through the Working Groups, we have trialled and now successfully utilise green steel – which is manufactured in an electric arc furnace – and worked with a range of specialist consultant engineers to test 'green' concrete – which uses alternatives to cement. Currently we're doing extensive PV modelling, examining the use of hydrogen and testing electric plant. Through the Community Pillar we also began working with the National Community Wood Recycling Project (NCWRP), which is a nationwide network of over 30 wood recycling social enterprises across the UK that collect waste timber and create local employment, training and volunteering opportunities for disadvantaged people. And for every laptop bag Winvic purchase's from Madlug, a pack away travel bag is given to a child in care so they can move their belongings with dignity.
It's funny to think I would have probably been working on electric vehicles of a very different type if I'd have followed my passion as a teenager and become a car designer! The right degree wasn't available at the time and so I decided to design buildings and study architecture instead. I was a Chartered Architectural Technologist for 11 years and it was my separate role as a BREEAM Assessor that led me to meeting Winvic's previous Technical Director. I was the Project Lead and Winvic were constructing the Routeco office project. That was another exciting time for sustainability enthusiasts and it was when my passion grew – around 2008 – as rainwater harvesting, air source heat pumps, PV and understanding energy consumption in buildings through zoning were new but ever improving and achievable outputs. After five years of undertaking Winvic's BREEAM assessments, I joined the Winvic team and I've never looked back. I started here as a Design Manager ten years ago and it was an honour to take the role of Technical Services and Sustainability Director almost two years ago. I couldn't predict what the Net Zero landscape will look like in two years, let alone ten but I'm pretty sure I'll still be talking about innovative materials, transparent processes and striving to do it right for a sustainable future.
Join Winvic on social media – visit Twitter @WinvicLtd – and LinkedIn.